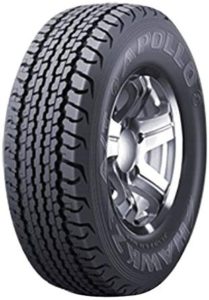 The Apterra AT2 is Apollo's new all-terrain tire designed for SUV cars and off-road enthusiasts.
There are 8 popular sizes available for this tire.
It is engineered to deliver comfort on rough roads and give an excellent all-terrain performance.
The tire is built with designed tire contour and construction, center to its cross shoulder grooves, wider shoulder groove, unique tread pattern, and high-quality rubber compound.
All this and the technology involved in making this tire ensures a high level of safety when driving at high speed and it aids precise braking.
Let's, get to know more about this new tire in this article.
---
Apollo Apterra AT2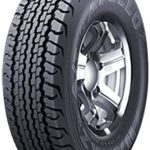 Popular Cars That This Tire Can Be Used On
The Apterra AT2 available sizes will fit these cars; Range Rover Sport, Evoque, Velar, Ford Endeavour, Toyota Fortuner, Mitsubishi Pajero, Mahindra Scorpio, XUV 500, Tata Hexa, Isuzu MU7, V Cross, and others.
Another six sizes of Apollo Apterra AT2 will be added in phase II to cover over 90 % of the all-terrain vehicle market.
About The Brand
Apollo Tyres Ltd is the world's 7th biggest tire manufacturer which was incorporated in 1972.
Its first plant was commissioned in Perambra, Thrissur, Kerala, India.
The company now has four manufacturing units in India, one in the Netherlands and one in Hungary.
It has a network of nearly 5,000 dealerships in India with over 2,500 been exclusive outlets.
The company focused on the production of truck tires in India because it is founded there.
However, by 1996 it expanded outside India and has been expanding since then.
Features
Patented Multi-directional tread design with saw-tooth shoulder technology for maximum traction on mud and snow surface.
5th Gen polymer blend compound with DPF technology to resist puncture and ensure outstanding durability.
Herringbone Grooves with a wider tread for precise steering and stability with full control when driving through any terrains and especially during cornering.
3-D interlocking sipes are used in designing the Apterra AT2 tread.
Triplex casing and high tensile steel belts aid durability and enhance its resistance to puncture
Wide tread grooves that ensure water evacuation when driving through the rain or when on a watery surface. Also, it gives its driver better control when driving on the off-road surface.
Tire Size
265/60 R18 110H, 235/60 R16 100H, 255/60 R17 106H, 265/65 R17 112T, 245/70 R16 111T, 265/70 R17 115T, 235/65 R17 104H, 235/70R16 105H
About The New Apterra AT2
The Apterra AT2 is the new all-terrain SUV tire that is especially suitable for off-road enthusiasts.
This tire complements your SUV in looks and performance, totally keeps you in control when driving both off-road and on-road surfaces, while at the same time giving you exceptional all-terrain performance with sustainable durability.
The tire has been tested in South Africa, U.S, Middle East, India, and Southeast Asia before it was released to the market.
Apollo Apterra AT2 will be produced at the company's Vadodara unit in Gujarat.
This is an SUV tire that is suitable for enthusiasts and shares the passion of adventurous drivers while delivering performance superiority and great all-terrain capabilities.
During the launch of the tire, Satish Sharma, President, Asia Pacific, Middle East & Africa (APMEA), Apollo Tyres Ltd said, "We are sharpening our focus on the SUV segment in India, with specialized tires for different terrains, as this vehicle segment is growing faster than passenger cars. The excellent test results, and the global efforts that have gone into developing the Apollo Apterra AT2, give us the confidence that this tire will set a new benchmark in the all-terrain tire space, and will further propel our leadership in the SUV segment."
Pros
Well priced
Nice soft ride
Excellent handling & grip
No noise
Cons
Hard to find any disadvantage being that the tire is so new

Alfred's Take
The tire is capable of absorbing shock without loss of geometric stability.
We consider Apollo Apterra AT2 a tire that is great on all terrain from mud, to slush, to gravel, to sand.
Plus, it gives a great grip on a wet and dry surface.
---
Conclusion
We hope you find this Apollo Apterra AT2 tire article informative.
You can check it out if it suits your driving style.
If you have a comment, question, or review, leave it in the box below.
We will be glad to hear from you.
---