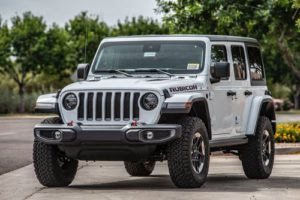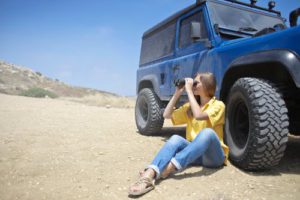 All terrain tires are all-purpose tires, they are designed for all kinds of surfaces from your on-road driving to off-road driving. Therefore, they combine the tread design of off-road tires with good handling on road and pavement.
But then it is not the best option for drivers that only go on highway or pavement driving. Here are some top all terrain tires for trucks that has been proven to be of good quality and durable with some frequently asked questions you could probably need answers to and a guide to help in making a good buying choice.
Buying Guide and FAQ for all terrain tires
All terrain tires are good for certain vehicles
Light trucks that often drive on both on road and off-road surfaces
SUVs that drive all-purpose and are sometimes used for carrying loads
Pick-up trucks that go both on road and off-road and which carries heavy loads
4-wheel drive cars also can use all terrain tires depending on its purpose
Campers can make use of all terrain tires or off-road tires and even bigger sizes of tires. Tires with aggressive treads and stiff sidewalls are the best for them.
Are all terrain tires good for snow?
All terrain tires:
Are designed for all-purpose, all season and year-round use, they provide traction on rough roads and delivers a smooth ride on highway driving. They can be used for summer tires, winter tires, all season tires. They are strong and good for off-road driving and on uneven roads. Compared to standard tires they are more resistant to punctures and cut.
Snow tires:
Are tires built for snow or winter seasons. With deep grooves for stability and to enhance good grip and traction on slippery surfaces and designed to dig into snow with its rubber compounds that helps it to remain soft and not tense up or get hard even in freezing temperatures.
Therefore, all terrain tires are built for snow as well as for warm weather condition while snow tires are built basically for snow driving conditions and will be needed to be swapped and stored during warm weather conditions but doesn't last much, which means it is likely you replace them every 2 years.
So, it totally depends on your choice and preference on which will suit your truck better just make sure your truck is equipped for winter and rough road conditions.

Are all season tires the same as all terrain tires?
All-Season Tires:
All season tires are built to perform well in all season, but for winter areas or extreme cold seasons winter tires or all terrain tires are better off. All season tires are less noisy and gives good grip especially on dry roads and on wet roads. They have better fuel efficiency than all terrain tires.
All-Terrain Tires:
All-terrain tires can be a bit noisier but are built for all terrain purpose and they provide more traction on rough roads.
All-terrain tires outperform all-season tires when driving off-road or rough surfaces or in extreme winter conditions. However, on streets, highways and pavement, all-season tires provide more comfort.
Are all terrain tires good in the rain?
All terrain tires are all-purpose tires as stated earlier they are good in the rain and they have good tread wear. However, they make tires with this type of tread from 20,000 up to 100,000.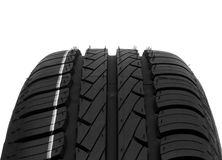 A moderate tread will wear better than a more aggressive tread with the same rubber compound, but depends more on the individual tire and its use. Rotations are still important to keep it to a minimum.
Are all terrain tires noisy?
Most of the recent all-terrain tires are quiet on the road. However, you should make sure they are often rotated because all terrains have a little more aggressive tread, which make them more prone to cupping, so the rotations keep this under control.
A "normal" all terrain tire is rated around 40,000 miles while some are rated for 50,000 miles, so they can still wear pretty well.
What is the meaning of the M+S on the side of the tire?
The "M+S" symbol means that the tire is good for muddy and snowy environments. "M+S" is a sign that your tire is truly an all-terrain tire.
Some even have a snowflake or snow-covered mountain symbol to indicate compatibility with snow. The ribs and sipes should also be strong enough to penetrate snow, but wide enough to reject it.
Features of all terrain tires
It is built with an open tread design: Built with an open tread which gives a good grip on rocks and mud, as well as adequate handling on paved roads.
Stone Ejectors: All terrain tires are designed to prevent stones from entering the wheel, or becoming lodged in the treads.
This prevents damage such as stone drilling, as well as keeping the treads clear. Clogged treads reduce the tire's surface area, hence traction.
Built with a reinforced sidewall: Features internal steel bands, to heighten its rigidity over rough terrain. Reinforced sidewalls are present on some models of all-terrain tires, which gives it load carrying capacity.
They are more aggressive tires built for heavier trucks and great for rough roads and off-road use. Campers also often use reinforced all-terrain tires, as these vehicles have a greater load to carry.
It operates all through the year: As all-terrain tires are considered all-purpose, they also provide traction on snowy, icy, dry, highway surfaces.
If regular adequate performance is enough for your car, you don't have to change from summer tires to winter tires. However, winter tires still have an advantage over all-terrain due to their tread pattern and rubber compounds.
Self-cleaning: To the delight of off-road enthusiasts, many modern all terrain tires are designed to effectively be self-cleaning. Their treads can be designed so that any mud or other debris caught in the tread works its way out as the wheel continuously turn.
This ensure high traction is maintained at all times, as well as reducing the hose down your tires saving a lot of time.
Good value: All terrain tires are generally less expensive than their exclusively off-road counterparts.
If you use your vehicle on standard roads as much as on rougher terrain, purchasing a set of all terrain tires rather than a purely off-road set can save you a significant sum especially since as mentioned earlier they generally need to be replaced less often.
Excellent traction: All terrain tires manage to achieve superb traction on a wide variety surfaces from mud to rock to snow with their large treads and maximized surface area.
This traction comes in handy all year round when the weather conditions probably are wet, snowy or rocky.
List of top all terrain tires for trucks

1. Cooper Discoverer STT Pro A/T Tire:
Cooper's Discoverer A/T3 is a mud and snow rated light truck tire, which will look great on your truck with its white or black letter on its sidewall. It is an all-terrain light truck tire that is great for off-roading, the Cooper Discoverer A/T3 can be used for any off-road driving conditions.
The Discoverer A/T3 comes in 58 sizes from 15 to 20 inches and has three load ranges, Load range C, Load range D, and Load range E. Cooper Discoverer A/T3 uses a combination of compounding, design and technology that is balanced and this balance delivers a tire that performs well in all terrain driving condition.
The tread compound is said to improve traction on wet roads and also reduce rolling resistance to improve fuel economy. Also, the aggressive tread design significantly improves off-road traction without sacrificing highway performance. Great tread life of 55,000 miles which will serve you for a considerable amount of time.
Features
The Discoverer A/T3 comes in 58 sizes from 15 to 20 inch
Three load ranges; Load range C, Load range D, and Load range E.
Great tread life of 55,000 miles.
UTQG Rating, 560B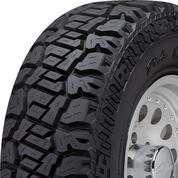 2. Dick Cepek Fun Country All-Terrain Radial Tire:
Dick Cepek Fun Country all-terrain tire as a wide alternating tread grooves which work with its tread design for a firm contact patch that respond to changing terrain.
Built with a unique interlocking tread lugs which features narrow sipes for exceptional surface grip. It gives less road noise and a comfortable ride on the street.
Features a reinforced three-ply sidewall and alternating Side biters which makes the tire more puncture resistant. Designed with a symmetric tread that is deep with wide blocks that provide grip on all terrains.
The grooves prevent stone drilling of the tread with special stone kickers in the outboard lateral grooves. They have good traction and durability.
The appearance of the tires is rather aggressive, and the performance matches the looks. Its sidewalls provide more protection and help keep traction on loose terrains and its ultra-thin sipes help give the tire good grip all year long.
Features
Aggressive appearance
Ultra-thin sipes that gives the tire a good grip
Grooves which prevent stone drilling
Reinforced three-ply sidewall
Unique interlocking tread lugs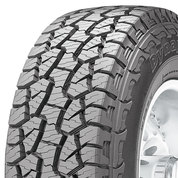 3. Hankook DynaPro ATM RF10 Tire:
The Hankook dynapro ATM tire is an aggressive all-terrain tire built for light trucks, vans, and sport utility vehicles. Has a good tread and sidewall design which gives your vehicle a better look.
Designed for high-powered pickups, the Dynapro ATm offers the best grip and acceleration both on and off-road. Features stone ejector which help prevent tire damage and rugged puncture resistance which helps prolong the tire lifespan.
Built with tiered side grooves which offer precise cornering and stability and scallop grooves which increase the number of biting edges to enhance off-road traction.
Features
Deep two-step sipes which extends tire tread life and gives increase performance on wet driving conditions.
Stone ejector which helps prevent tire damage from stone
Scallop grooves between the tread blocks which increase the number of the tires biting edges for better traction off-road.
Tiered side grooves for better cornering
Wraparound tread which gives a rugged look and increases puncture resistance
4 ply construction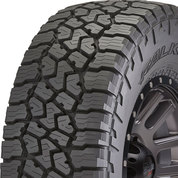 4. Falken Wildpeak A/T Tire:
The Falken Wildpeak has a great tread which is built with a deep tread pattern and a good tread compound made of deep canyon sipes, ribs, and tread blocks.
However, the deep tread doesn't allow water or snow to accumulate which makes it proficient enough for running on wet roads.
The sidewall has a three peak mountain symbol which shows snow capability and it has ridges to keep rocks and hard chunks away.Therefore, it has snow and water capabilities.
The falken wildpeak has a good tread warranty of 55,000 miles and a good speed index of T, which is preferable for trucks and heavier cars. And it can carry a maximum weight of 1215 kg or 2679lbs.
Features
Deep tread pattern
Snow and water capabilities
Maximum weight of 1215kg or 2679lbs
Deep tread for rejection of water and rocks
Tread warranty of 55,000 miles

5. Toyo tire country:
Toyo tires is built with good silica tread compounds. The tire is great for all terrain and all weather with excellent mileage. These tires are best known for excellent traction on mud terrain and off-road driving. Toyo tires has a 3-layered polyester tread compound embedded with refined silica to give it strength and shine.
Available tread pattern which is wide enough to lower accumulation of mud and water. The tread blocks are mostly hook-shaped and they extend to the sidewall which aids extra traction, as the sidewall can occasionally lose its balance or drift. Features a deep siping on either side, giving it better traction on water.
Toyo's tires are made for heavier vehicles of at least 20 inches wheel radius with a speed rating of Q (160 Km/h) and load index of 121 (1450 Kg) which is great for heavy trucks and SUVs.
Features
3-ply polyester tread compound for added durability and stability.
Has a very high weight index, making it perfect for larger trucks.
Deep sipes for better traction
Speed rating of Q (160 Km/h)
Load index of 121 (1450 Kg)
Provides utmost control and handling even on dirt or wet roads.
6. Yokohama Geolandar A/T Tire:
Yokohama geolandar all terrain tire is built to give you the best traction across all driving conditions whether you are driving on the highway, on snow or in the mud.
Comes with a 30-Day satisfaction trial guarantee and up to 60,000 tread wear warranty.It is great on any surface in any weather condition including rain and snow. The tire is tough, quiet and provides excellent traction all year round.
Features
Built with an all-terrain tread design that has good traction capabilities on sand, rocky terrain, and slick-rock sandstone surfaces.
Paired with an enduro compound which helps the compound to remain pliable over a broad range of temperatures for enhanced braking and good handling on wet surfaces and snow.
A triple 3D sipes change shape to maintain biting edges as the tread wears for confident all-season traction.
Edge Tec Grooves to create more void area to help expel dirt and mud for off-road durability.
Long tread life, it has up to 60,000 miles limited tread wear warranty.
Conclusion
All terrain tires are all-purpose tires and can be used in all season and all year round, we hope you find our list of top all terrain tires for trucks helpful in making a good all terrain tire choice for your truck and you can check the guide for better buying rules that can be helpful.
We would love to hear from you, if you have any comment or question leave it in the comment box below, we will be happy to help.