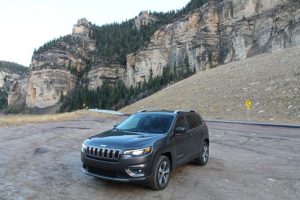 Whether you drive a light truck, SUV, or van, you need tires that grip the road and allow you to stop safely and firmly without slipping.
We bring you the top 10 best SUV tires from the variety of choices there is, with an excellent tread life, great performance, great mile warranty, and other great features that will suit your driving conditions.

Top 10 Best SUV Tires
1. Michelin Defender LTX M/S:
Whether you drive a light truck, SUV or van the Michelin Defender LTX M/S is a great tire. It gives even wear, low noise and good fuel economy, while offering comfort. The tire gives an off-road traction and on-road handling.
The Michelin Defender LTX M/S is an excellent SUV tire that combines long tread life with smooth performance. This tire is also covered with a six-year, 70,000-mile limited warranty.
Light-truck and SUV tires are designed for vehicles that drive mostly on paved surfaces such as freeways but require more traction and hauling capability than regular automobile tires have.
The Defender LTX M/S can be used on light and midsize pickups and sport utility vehicles as well as on your SUV. Its internal structure includes twin steel belts that provide the strength and durability to handle heavy loads.
The Michelin LTX M/S combines a smooth, quiet ride with good traction in dry, wet and winter driving conditions and in light snow. This makes it an excellent year-round tire for light trucks, vans and SUVs.
2. FALKEN WILDPEAK H/T:
The WILDPEAK H/T offers a combination of superb dry handling and responsive wet braking on all road surfaces. Falken has optimized traction and control through the combination of a non-directional tread pattern, high-tension casing ply and stiff wide steel belts in order to provide stability and comfort for SUVs.
With excellent value from its long-lasting tread and optimal ride comfort, the WILDPEAK H/T leaves the competition in the dust. With performances to prove and great innovations, Falken Wildpeak tires are very popular with SUVs all over the world.
Specially and carefully designed to delivering high performance traction in any weather, it has aggressive tread design which pairs with a rugged inner construction to deliver long life span and good performance.
Optimized carefully for on and off-road driving, this tire features a unique heat diffuser system in the sidewall which helps to keep critical parts of the tire cool, even in severe use, or while conveying heavy loads.
With its uniquely shaped tread blocks which are made to prevent magneting stones while providing superior contact patch rigidity to enhance on-road handling and steering response. It has protective implements built into the tire sidewalls and the ability to give great performance during winter conditions.
3. Continental CrossContact LX20:
Built to provide touring all-season performance on the highway, the continental crosscontact LX20 with its ecoplus technology is one of the company's best tire for drivers of SUVs. With an Eco – friendly compound utilizer which is specially developed to enhance traction, provides better overall tread wear and good fuel mileage.
The tires continuous center rib and independent tread blocks helps give better grip on dry surfaces, while also increasing steering response. Continental has added four circumferential grooves to a symmetrical tread design, as well as its exclusive traction grooves to improve traction on both wet and snow-covered roads.
These grooves are strategically placed around the tread to aid in reducing road noise and increase overall ride quality. Built in the tire is a two steel belts which are reinforced with spirally wrapped polyamide to give it strength and durability.
It also enhances tread life, which is backed up with a great tread warranty of 70,000 miles. With the promise of exceptional on-road manners and performance, ride comfort, and fuel-savings built right in. Continental's CrossContact LX20 tires target the SUV driver who primarily operates their vehicle on the road, but who still occasionally rides on dirt roads, and other light off-road driving conditions.
It has superior wet -traction and good braking performance and rubber compounds that help improve tread wear and fuel efficiency without compromise. Built with distinctive traction grooves and notched outboard shoulders which improve noise levels, steering feel and straight-line stability.
These popular and well-reviewed tires are a solid pick for exceptional and long-wearing on-road performance, fuel savings, and adequate grip and confidence in light off-road driving condition. Gives great traction on all types of road conditions, including snow. See review for the upgraded version here, continental LX25.
4. HANKOOK DYNAPRO ATM:
Hankook dynapro is an affordable and durable on and off-road all terrain tire manufactured by Hankook. Hankook Dynapro (AT-M) is molded into a wide, independent blocks, with a symmetric tread design with an enlarged footprint to enhance grip and acceleration while resisting uneven wear.
With more than average pass mark in all series of tests and also proven to deliver excellent tread wear results, which makes it have one of the best tread wears in the Industry. The encapsulated tread design beautifies its rugged looks, thereby increasing its traction in muddy and snowy conditions and also helps guide against peeling and scrapes.
With the presence of stone ejectors in the center and shoulder grooves which helps prevent tire damage from stone drilling or external impacts while tiered side grooves and scallop grooves between the tread blocks increases the number of biting edge to enhance off – road and winter time traction.
Moreover, numerous internal structure features of the beautiful Dynapro (AT-M) also include two high strength steel belts reinforced with a spirally wrapped nylon cap ply to give a combined strength and ride quality in an off-road path even at a very low pressure.

5. Pirelli Scorpion Verde All Season:
The Pirelli Scorpion Verde all season tire is an Eco-friendly Touring tire that's manufactured purposely for SUV car owners. With the Eco impact which highlights its environmental compatibilities to reduce rolling resistance and tire weight. Specially built and designed to give good handling on both dry and wet road, and year-round capabilities including all season traction even in light snow.
The Scorpion Verde features an asymmetric tread design with an optimized rubber to blend dry road traction and performance while still delivering a uniform wear. Its four wide circumferential grooves displace water to resist hydroplaning and enhance traction on wet surfaces while its longitudinal siping gives stability on loose surfaces and its high density lateral siping to enhance traction during wet and winter time.
With focus on premium performance and highest limit of fuel efficiency, these performance tires from Pirelli capitalizes majorly on the latest resources, structures and design elements to give SUV drivers the top-notch traction on all surfaces, strong braking grip, low noise levels, and the reduction of fuel consumption.
Extremely rated for overall comfort and a long-life span services, and supported by strong ratings for braking and all condition handling, these tires helps to maintain the comfort and performance expected from the modern SUVs and it is affordable.

6. Bridgestone Dueler H/L:
The Bridgestone Dueler H/L is designed to deliver a quiet and comfortable highway ride. These tires deliver improved fuel efficiency and year-round performance. Comes with a great tread wear warranty of 80,000 miles.
Designed for a comfortable ride and confident traction on wet and dry surfaces with technologies that help deliver durability and good tread life.
7. Cooper Starfire SF-510:
The cooper starfire gives great performance when on your SUV. Built with modern highway design and circumferential grooves which help to disperse water and slush from the tread to provide good traction, and a variable pitch tread for quiet, smooth and comfortable ride on the highway.
These tires have the size coverage for the modern-day SUV cars. Backed by Cooper's reputation for high-performance and affordable pricing, these highly accessible tires are built for a comfortable highway ride in your modern SUVs while providing solid all -surface traction.
The specially designed center-rib enhances ride smoothness and overall comfort, while circumferential grooves for mud and slush from the treads. With value pricing and premium performance, many shoppers opt in for the Cooper Starfire SF – 520 tires to experience great adventure and all-round performance that won't make one exhausts his/her financial resources.
8. YOKOHAMA GEOLANDAR A/T:
It's obvious every SUV owners and drivers want a tire that is durable and have great performance on and off-road depending on the driving conditions. The Geolandar A/T-S is just a perfect answer to your seemed unanswered questions, it is an all-terrain tire built to render the service of a quality on-road performance, also a reliable and dependable off-road capability. Designed with two steel belts and a carefully wrapped nylon reinforcements which enhance the increase and durability of the tire.
Known for combining the bold off-road attributes with capable ability, and designed to deliver good mileage and even wear while providing year-round traction even when it is snowy.
The Geolandar as a silica enhanced rubber compound that's molded into a symmetric design that is made into shoulder blocks, rounded edge intermediate blocks and staggered center blocks to blend off-road traction with an excellent on road control.
Dual-purpose sipes and grooves help increase tread life while simultaneously enhancing traction in an off-road setting through increased biting edges. Additionally, it has aggressive sidewall and sidewall protector, thereby helping to increase loose surface while protecting the tire from cuts and wearing away from the frictions that's created by rocks and stumps.
This yokohama tire has a good handling on dry surface and when the roads turn wet, the tire has a good grip on the pavement. You can be so sure being in total control all the time. With these good features, you can have a smooth and safe ride always on your SUV.
9. FIRESTONE DESTINATION LE2:
The 27 tire is built to deliver all season performance even in winter conditions and offers a quiet and comfortable ride for your SUVs. It's continuous closed shoulder blocks makes it deliver great performance on dry driving surface and gives it great tread wear, while the wide circumferential grooves help channel water away from the tread to improve its performance on wet driving conditions.
Built with a long-lasting tread compound, this tire offers a 60,000mile limited tread wear warranty, the Destination LE2 tire is ready to work as hard as you would love it to because it is built to last with great wet and dry performance. The Firestone Destination LE2 tire are among the highly rated and classical tires and it is affordable despite its great performance which makes it a good buying choice.
Specifically manufactured and designed for use on SUV cars, this all-season tire gives a good all-season traction. In addition to its wonderful characteristics, it has a silica – enhanced rubber compound that improves the fuel efficiency and tire life without sacrificing a good grip.
Excellent water and mud evacuation properties are enabled by a specially designed tread pattern, and occasional use in light snow is no problem. Features zigzag tread sipes that provides additional biting edges and in- built twin steel belts that provides reinforcements for uniform strength and durability, even on rough roads.
10. FEDERAL COURAGIA M/T:
Just in case you are in search of an off -road tire that is worth its value, for the money used in getting it, Federal Couragia M/T could just be the good choice and perfect match for your SUV. Comes with a very rugged off – road performance with the looks to match along with great traction, strength and grip.
The patterns of Federal Couragia M/T are built to clear substances, in other to ensures a very good performance. Also, it's aggressive block and dragged shoulder that offers awesome traction on dirt, rocky, muddy and gravel paths.
In addition to its features is its strong protection on the upper shoulders to handle the toughest distinctive rocky formations that is designed to defeat the impossible.
In case an off-road tire best suits your driving condition and you are looking for one, the Federal Couragia M/T is a good choice to pick. The federal couragia is a good model with an aggressive tread designs that offers more than average traction in diverse off-road conditions while still maintaining a quiet ride on the pavement.
Built with a rugged performance in mind, the tire uses a high tread ply rating and 3 ply sidewall that provides a strong off-road protection in rough terrains. The tread design offers an excellent mud traction with a combination of large, stepped and siped lugs spaced out by voids, which is large enough to assist with the self-cleaning of mud and debris. Within the voids of the Couragia M/T is a groove that helps to clear mud and rocky particles.