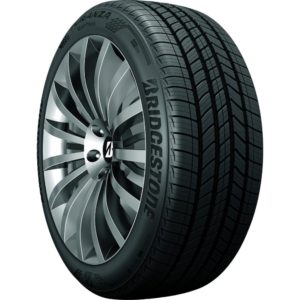 The Turanza QuietTrack is the newest addition to Bridgestone's Turanza Touring tire portfolio released earlier this year among other tires which are Firestone's WeatherGrip, Bridgestone's first all-weather touring tire that we reviewed already, the Blizzak WS90 which is the successor to WS80, and Firestone's Destination A/T2 and Destination X/T, which are both designed to replace Firestone's Destination A/T all-terrain tire which was released in 2004.
The Turanza QuietTrack is an all-season touring tire engineered with the latest technologies that help dampen noise and ultimately deliver a quiet and comfortable ride.
It is designed for cars and sedans, built with lasting tread life of 80,000 miles, and available in 37 sizes.
Let's get to know more about the new tire in this Bridgestone Turanza QuietTrack review, starting from its technology, as well as its improvements and performance.
---
Bridgestone Turanza QuietTrack
Warranty
Bridgestone equipped this tire with 80,000 miles tread life warranty and there is a 90-day buy and try guarantee.
So if you are not convinced with them in 90-days or they do not suit your driving style, then you can make a return within 90 days.
Check the manufacturer for terms and conditions that apply to this warranty.
About The New Turanza QuietTrack
The Bridgestone Turanza QuietTrack is an all-season touring tire designed to fit a wide range of today's cars.
In fact, 86% of the cars on the road today, and its 37 available sizes will fit on some of the most popular cars and sedans.
This tire has been developed since 2013 along with the other 4 tires that were jointly released and it will be replacing its predecessor the Turanza Serenity Plus tire.
This means that it has some latest technology exclusive to Bridgestone that is featured in the production of this tire to improve its performance.
One of this technology is the QuietTrack whose function is to dampen road noise and provide a quiet and comfortable ride.
It works like the noise-canceling technologies automakers are incorporating into their vehicles using offsetting noise frequencies to minimize or eliminate cabin noise.
The quiet drive is not only on one road surface.
You will enjoy this on both wet and dry surfaces and hence you get smoothness with a lot of peace and comfort while driving.
This tire is designed so that you get the maximum and have confident control when driving on wet and snow surfaces.
Stated By The Manufacturer
"The Turanza QuietTrack tire is packed with the latest game-changing innovation from Bridgestone," said Erik Seidel, president, consumer replacement tire sales, U.S. and Canada, Bridgestone Americas Tire Operations.
"Based on consumer insights, we know wet and wear performance are the top considerations for drivers purchasing a new set of tires.
The Turanza QuietTrack tire exceeds expectations in each of these important attributes, while also providing a comfortable, quiet ride."
Turanza QuietTrack is equipped to offer 20% more traction on wet surfaces in comparison to its predecessor, the Turanza Serenity Plus tire, as well as 44% more traction on snow surfaces.
Bridgestone actually collected feedback from consumers to build this tire.
Bridgestone noted the priorities of consumers when looking for a new set of tires, like the efficient wet performance and superior wear which was highly considered before building this tire.
Bridgestone says the tire exceeds its consumer expectations in the category of noise level because it was built to be quiet, to the category of performance on wet surfaces and on snow, as it was greatly improved.
And not to forget the category of tread life as it is equipped with a 13,000-kilometer tread life warranty.
This tire was released in March and it is equipped with four technology packages for optimum performance.
Technology
QuietTrack Technology: Bridgestone Turanza QuietTrack features QuietTrack technology, a new noise-dampening technology exclusive to Bridgestone that is used in preventing high-frequency noise and therefore delivering a quiet and comfortable ride.
HydroTrack Technology: with its full-depth tread grooves and open shoulder slots this technology enhances water evacuation and by doing so reduces the risk of hydroplaning when driving on wet surfaces or in the rain.
ComfortCruise Technology: The new ComfortCruise technology from Bridgestone leverages a rounded contact patch and optimizes tire casing shape for reducing road vibration, thereby giving the driver a comfortable and smooth driving experience.
EdgePerformance Technology: For good and consistent performance sustained all through the tire's long life span.
Pros
Engineered to deliver a quiet ride
All-season traction
Improvement in its wet and snowy performance
Lasting performance of 80,000 miles
Quiet comfortable ride
Cons
Not as great as snow tires in terms of deep snow traction

Alfred's Take
The Turanza QuietTrack tire is for drivers of cars and sedans that desire all-season performance with no road noise, thereby enjoying a comfortable and smooth ride.
It is ideal for the driver that appreciates long-lasting tread life and 20% improvement on a wet surface with 40% improvement on snow when comparing to its predecessor.
Bridgestone also equipped this tire with long-lasting tread and a warranty of 80,000 miles tread life.
You will agree that is a really nice try and quite competitive to think you get to have your tires for the next 80,000 miles and all year round.
---
Conclusion
This tire really has the qualities a driver wants in an all-season tire to mount on his car all year round.
You can take advantage of Bridgestone's 90-day trial guarantee to check this tire out.
From the knowledge we got about this tire during this Bridgestone Turanza QuietTrack review, we say it is a good choice to buy if you do not have to confront snowstorms or drive in extreme winter conditions.
In cases of extreme winter conditions, you can check out the latest and quality snow tires list.
If you have a review about this tire, question, or comment, drop it in the box below.
We will be glad to hear from you.
---