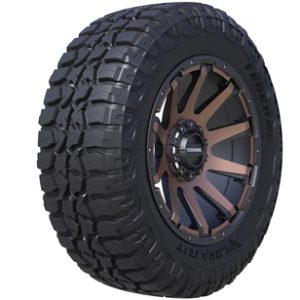 The Xplora R/T is a newly released tire from Federal tire, engineered for rugged terrains and designed for light truck vehicles.
AS stated by Federal, this tire took around four years to develop and it is built with recent technologies.
The Xplora R/T is a hybrid design between an all-terrain tire and mud-terrain tire with an aggressive look like a typical off-road tire.
The tire was tested at a launch event at Big Bear Lake, with the presence of tire distributors, media, dealers and it is said to have delivered great off-road traction, as well as quiet on-road performance.
Let's get to know more of the Federal Xplora R/T in this article.
---
Federal Xplora R/T
Performance
The Federal Xplora R/T was tested at the launch event at Big Bear Lake and participants complimented it for its good traction, quiet on-road performance, and for its aggressive and rugged looks.
This tire is built with a strong sidewall and shaped like a double 'L'.
This design and strong sidewall improve its off-road traction and help it to be resistant to cuts and chips.
This tire possesses characteristics of rugged terrain, more like something between mud-terrain and all-terrain tires.
The Xplora R/T is competitively priced as it is competitively built.
It is offered at prices less than its competitor's prices despite offering close to what other R/T tires offer.
Brand
Federal Tires is a Taiwan-based tire manufacturer brand that is widely known for its tire production worldwide.
It is more popular in the US, Japan, and Australia, well-known for its competitive price, quality delivery, and durability.
They produce a wide range of tires from performance car tires, passenger tires, supercar tires, touring tires, and SUVs to light trucks to commercial truck tires.
However, in recent times they are putting more focus on truck tires like the recent Xplora MTS which is an excellent tire and even won the Red Dot Award in 2018.
Federal has decided to put more focus on light truck tires as light trucks represent 60% of all vehicle sales with a focus on dedicated off-road tires.
Federal Tires company was founded in 1954 and has partnered with Bridgestone and Sumitomo in recent years.
Federal Tires are now available in over 70 countries, with a wide selection of UHP, performance, all-season, all-terrain, winter, touring, and light truck/SUV tires.
Technology
Features linear, four-block tread design which helps with stability on-road and gives better handling while enhancing ride comfort and noise reduction.
Treads compound that is engineered to protect the tire walls from cuts, chips, and puncture by rocks and other sharp objects that could destroy the tire walls especially when driving off-road.
Centers tread blocks and open shoulder grooves that aid resistance towards hydroplaning by evacuating excess water when driving on wet surfaces.
Also, the open shoulder groove gives enhanced traction especially on mud, dirt, and off-road driving.
Stone ejectors prevent the stone from been trapped in the grooves and this reduces easy wear of the tire.
Some of the vehicles it can be paired with:
Chevrolet Silverado/Colorado series, Ford F series, GMC Canyon/Sierra series, Jeep Cherokee/Grand Cherokee/Wrangler series, Ram pickup, Nissan Frontier/Titan, and Toyota Tacoma/Tundra.
As stated by Federal at the event:
Jamie Ma, chairman of Federal Tire said "This tire is home run"
"This R/T market is here to answer the majority of consumers who are looking for that look, that sidewall aesthetics, the good strong traction, but with lower noise levels and a little more riding comfort than MT market," Steve Hutchinson, an adviser to Federal Chairman Jamie Ma, said.
"With the growth of the light truck market, we see a lot of interest in R/T tire".
Tire Sizes
The Xplora R/T is available in five popular sizes but there will be more and by the end of the 2020 first quarter.
It will be available in 17 sizes ranging between 15-20 inch diameters.

Available sizes are 10-ply, Q-rated:
35×12.50R17LT 125Q, 37×12.50R17LT 129Q, 35×12.50R18LT 123Q, 33×12.50R20LT 114Q and 35×12.50R20LT 121Q.

Some of the soon to be added sizes are:
15''
31×10.50R15LT 109Q.
16''
LT235/85R16 120/116Q, LT245/75R16 120/116Q, LT265/75R16 123/120Q, LT285/75R16 126/123Q.
17''
LT265/70R17 121/118Q, LT285/70R17 121/118Q.
18''
LT275/65R18 123/120Q, LT275/70R18 125/122Q.
20''
LT275/65R20 126/123Q.
Pros
Excellent tread
Good traction
Low noise off-road
Durability
Aggressive looks
Self-cleaning
Affordable
Cons
 The tire seems to be too noisy on roads

Alfred's Take
You can expect more from it when off-roading and it can be fair on-road as well, but we will advise you to go for it if you are into more off-road drive than on-road.
This tire does give good braking on the wet surface as well as dry and wet handling with less noise despite being great off-road.
---
Conclusion
This tire is released in 2019 and we know it will be a good choice to pick if it suits your driving style.
We hope you find this Federal Xplora R/T article helpful.
If you have a comment, question, or review, leave it in the box below, and we will be glad to hear from you.
---