If you have read our article on wheel car cleaner, I will suggest you also check this out, because it will provide you with the information about wheel cleaner brushes that can give your car the elegance it deserves.
Just as its name implies, a car wheel brush is used in cleaning car wheels and car tires.
If your interest is to always have a clean and shiny car then you should pay attention to your wheels because you will agree with me that the wheel of a car attracts maximum attraction.
It is the part of a vehicle that takes more punishment than probably any other and so we bring you a solution to help in easy cleaning by making a good choice of the best wheel cleaner brush.
Below is a list to help you in picking the best choice.
---
Mothers Wheel Brush
This is one of the best wheel brushes you can purchase.
It is a good tool with a fair price and moderate size, able to perform multiple tasks.
This brush comes with bottles with a medium level of stiffness.
It has a comfortable ergonomic handle which also implies that they are specifically designed to be strong and stiff enough to tackle mud, all kinds of dirt, and any going substances on your wheels.
They are also soft enough to clean and get through other surfaces like bumpers, fenders, etc.
It also comes with a non-slip grip which is comfortable for prolonged use and will also keep the brush secured in your hand especially when it is soaking wet.
---
Chemical Guy Detail Brush
This brush is great for the purpose of multitasking of all kinds of cleaning application, though has a slight difference from the more traditional brush like Mother's brand above.
It employs long relatively soft bristles which means that it is not designed to scrub away thick mud and dirt, so it is not advisable to buy this alone especially for an off-road enthusiast.
However, it is designed to get through into the smaller spaces on your wheels and alloys.
It is quite effective for cleaning around the wheel lug nuts, inside the car (to clean in and out of the smaller areas that accumulate dust, like touch screen displays, air vents, and around the dashboard).
With this, you can agree it is another high-quality, multipurpose tool that is worth the surprisingly low price in the market.
---
Hero Wheel Brush
If you are open to getting a multi-tasking, powerful, cleaning aide then this bad boy could be worth every penny you invest in it. Though it is on the pricey side, however, the cleaning efficiency you get from the brush is phenomenal.
It is so far removed from the typical wheel brush you might come across. In fact, the manufacturers don't even describe it as one. Instead, they refer to it as a water power turbine, fantastic right? The handle is attached to a plain hose and so it could be used with no pressure washer required.
If your car wheels always come in filthy, and you occasionally had to deal with struggling to get the stains out but never quite getting them all out then be rest assured this hero wheel brush will do an awesome job to get your wheels as sparkling as the butt of a baby.
---
Mothers - Long Handled Wheel Brush
This wheel brush features a long handle for every cleaning, especially when cleaning the hard-to-reach regions.
It is designed with soft, yet effective materials that will easily eradicate the grimy surfaces within a few minutes.
Its other worthy features are its ergonomic non-stop handle, lightweight, and sturdy construction.
The bumper is covered with rubber to protect the rim and the wheel and is very comfortable to use due to the grip on the handle.
I suggest this for your convenience while cleaning.
---
Detail Buddy Premium Detail Brush
Detail Buddy is a company with integrity and produces quality products.
This brush is specially designed to keep all the detailing in your car looking great.
On a more realistic note, this simply implies that they might not be tough enough to get the dirt or brake debris removed by themselves which is not a failing on their part.
It is not just what they are designed to do.
This brush is specifically designed for detail cleaning as it is soft enough to withstand the most careful cleaning jobs from dashboard display to seats which could be smaller alloy arches on your wheel's spaces, in and around the wheel lug nuts.
---
Takavu Master Wheel Brush
The product is designed with a gentle but effective bristle.
Its bristles are nice, long, and stiff enough to clean dirt and mud.
However, they are soft enough to be used on chrome and alloys with no worries necessary, with lots of similarities with the above-mentioned brand brush.
This brings many advantages to the table.
Their notable differences are their color and length.
These brushes come with good looks (red and black color scheme), and with a brush head of 9.5 inches which allows you to easily access parts of the wheel construction that you thought were out of reach.
On the other hand, it is not just about the length, it is the application that counts, right?
It might be a little too big for smaller wheels or the more intricately designed alloys.
So, for a more detailed cleaning job, it is advisable you get a smaller product to help facilitate its effectiveness.
---
Ez Detail Brush (Big)
When contemplating and looking out to get a brush that could get through to the hooks and crannies of your car wheels, this is a product specifically designed for such.
It is created with an overall length of 10 inches with great flexibility to allow access to all parts of the wheel.
The bristles are long and stiff that will amazingly tackle mud and dried on dirt with little strength required to get through a range of surfaces and wheel types with safety assurance of no blemishes afterwards.
It is usefully built with a hand guard to protect your hand during prolonged scrubbing sessions.
This is a well-designed brush with a guarantee of a long life span that will meet all your brushing chores.
---
Viking - Premium Metal-Free Wheel & Rim Brush
These products are to be metal-free making them safe and secure for your tires.
The brush boasts a unique size with an increased length and oversized head for easy cleaning of those hidden zones that are difficult to reach.
It removes brake dust, road grime, dirt, and returns the shine to the rim/wheel.
It comes with a sure-grip TPR handle that makes it comfortable to grip.
---
S.M. Arnold - White Wheel Spoke Brush Large
One significant feature of this brush is the size, which makes it perfect for all-wheel types, even the largest one.
It is made from the high -grade material that will effectively remove the dirt and protect the wheels from chafes and scratches.
If your cars are one of those large beasts, filled with gigantic wheels, then this is highly suggested for your convenience.
It is also a lightweight and compact brush that could be used for a long time without causing any fatigue.
It has a bristle and a handle with a core like a twisted wire and it is advisable to take a little extra care to avoid scratches.
---
Speedmaster Wheel Brush
It features a central stem that the bristles are attached to, designed to offer a certain degree of bend while the bristles themselves are designed to lay completely flat.
This implies that it can easily get through to even the smallest holes and obviously tight angles on your wheels.
Speedmaster bristles are designed to have the required stiffness to tackle dirt and mud, while at the same time they are soft enough to avoid the risk of scratched surfaces.
---
Why Do You Need A Wheel Cleaning Brush?
As anyone who likes to take care of the car will be able to tell you, keeping it clean is not as simple as it seems.
There are so many things to consider.
There are large, small, easy-to-reach spaces, tight angles that are difficult to reach into, let alone clean thoroughly which is why there are varieties and specified featured products manufactured to solve specific problems.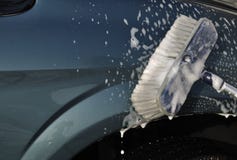 Auto wheel cleaner brush was invented to help with the solution to wipe out the more awkward parts of the car, to manage your cleaning time, and to easily clean off mud, dirt, grimy deposits, range of surface containment, thus making your cleaning process easier and keeping your wheels clean and shiny.
Conclusion
With all the punishment coming through, you surely need all the help you can get to keep your wheels looking great which is the purpose why the car wheel brush is invented.
Just like every other thought that comes to mind when you need to purchase things is also the thought of getting the best product that will serve you perfectly.
Our purpose for putting this article together is to help you with all you need to make the best choice when picking your wheel brush among the numerous in the market.
---