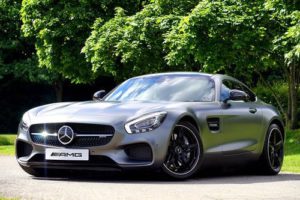 Are you looking to purchase a new tire for your car, light truck, SUVs or heavy trucks? No biggie: We have a selection of the best rated car tires in 2019 that we have reviewed for you consideration.
Among of the multiple choice out there, we were able to compile some reviews on your top-rated tires for your best driving conditions, and also a guide to help you in making the right choice.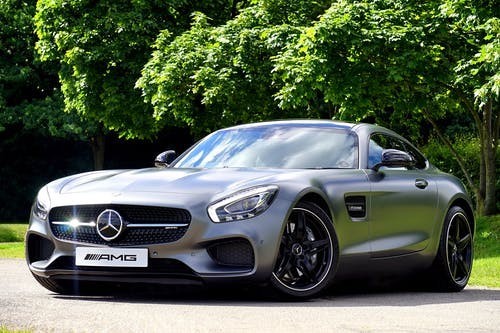 Tire Buying guide
Are you intending to choose and get a new tire for your vehicle? This buying guide will help you in your purchase of the right tires for your car. From determining when you will need a new tire to the right type of tire for your car to the right size.
When do I need to buy new tires?
Knowing you need some replacement for your tires can be an exhausting task, however we hope to make the process easier.
Peradventure you find your tire punctured and flat by nail or some other sharp object or road hazard, it can still be repaired or inflated, as long as the puncture is not too deep, if the puncture is less than ¼ inch, and also if you have not driven on the damaged tire.
If you find your tire exhibit any of this condition contact your local auto service center. They will tell you if your tire needs replacement or can still be repaired.
Quite important to check your tires at least once every month, you want to be sure your tires are safe to drive on and to determine if they are in need of service or some replacement.
Remember worn tires are against the law but most importantly they are unsafe.
Legally, the minimum thread depth is 2/32 inch. When the road is wet 4/32 or less thread can mean a high risk of significant loss in wet traction therefore putting at risk your life and the life of your passenger.
Two common ways to check for worn tire
Wear bars
Look for the wear bars, they are the narrow bands that appear in the grooves across the tread of the tire.
When the wear bars are even with the depth of the tread, that means that only 2/32-inch of tread is remaining. Peradventure you are able to see the wear bars, then you tire needs to be replaced.
Penny test
To test if your tread has been worn out, place a penny into the most shallow tread groove with Lincoln's head facing down. If the top of his head is still visible it means it is worn far too much, then the tire needs to be replaced.
How many tires should be replaced?
Once you are sure you need a replacement then you can figure how many tires you should be replacing, sometimes people replace two tires or all four tires which is advisable for optimum performance but then you can replace one tire if you have a puncture or even three tires.
To replace one tire
Peradventure you choose to replace one tire you should find the exact match for the damaged or worn tire. That is; you want to find the same model, size, brand, rating, speed and load capacity. If you purchase something different you put your car at risk of poor handling and instability.
To replace two tires
When you choose to replace two tires, you might want to replace with the same tire or better quality. Quite better advised to buy two of the same tire when replacing as such they will wear evenly and perform in line with one another.
Quite also suggested that you mount the two new tires to the rear of the car for a rear wheel drive or front of the car for a front wheel drive then move the other two to the front or rear of the car as the case may be.
It will serve better this way because newer tires have deeper tread which helps with hydroplaning resistance so they can grip the road better than your old tires.
To replace three tires
For you to replace three tires you should follow the same rule as the two tires, you should purchase two tires that are the same and put them at the rear and then find a similar tire to the old one and put in the front with the old tire.
Because you will want to put newer tires at the rare and move the old ones to the front if your driving conditions are better off with the arrangement, if not make it the other way round.
However, if there isn't much tread life left on the older tire then you should consider replacing all four tires at once.
To replace four tires
For you to replace the four tires you are opened to variety of options, it is the best situation and category to be in, you can change the size, model and quality of your tires to suit you and your driving needs.
How do I know the right tire size to choose?
You can determine the right size tire for your car in two different ways. You can use the right tire search to search by your vehicle by entering in the year, make, and model in the vehicle and tire size search and it will give you the right size you need.
Also, you can determine your tire size by looking in your vehicle's owner manual, on the inside of the vehicle's door, or analyzing the sidewall of your tire.
What tires are the best for my driving conditions?
Once you have decided on how many tires you will be purchasing, the next thing is to know what tire best fit your driving condition.
Do you drive a lot in the rain or snow? Do you drive truck on-or-off roads? Do you mostly drive in dry weather?
All of these conditions are factors when choosing the right tire for your needs. Also, check what is your worst possible driving conditions and balance it out with your typical driving conditions.
If most of your driving is around town almost any tire will work for you but if you drive in congested streets you may prefer a responsive tire that has good braking abilities.
If u drive on windy road you want to look for a better handling tire. Peradventure you have similar driving conditions one set of tire that suits your driving condition is all you need.
But if your worst conditions often appear you might consider having two different set of tires built for different reasons.
That is you should consider all season tires for summer and other driving conditions while winter tires for when it is freezing, if winter is your worst driving condition.
Types of tires
Passenger car Tires:
These are the most effective tires. It has all the attributes one could look for in a tire, you enjoy a smooth ride, it is not noisy and it takes a while to get worn. And it will be suitable if you own a car built specifically with this tires in mind.
SUV TIRES:
The tires have better load capacity than other tires. There are tires built specifically for SUV and it comes in different tire sizes. Tire sizes that begin with a P(passenger) operates at lower pressure and lesser load than the LT (light truck) which does the opposite of that, but the P have a better ride.
However, it depends on your purpose/application. Will you be driving most on high way or off-road? That will depend on which you choose. Make sure you pay attention to load index and speed rating when making your choice.
Sport/luxury car:
Tires in this category are most like classified as performance, high-performance and ultra-high-performance tires. All these tires are speed rated to maximize the performance and stability to provide a better handling.
All Terrain tires:
This is a set up in off-road traction compared to all-purpose tires. You will find most of your all terrain tires great on off road, winter, on highway, in the mud and still in the rain. They are indeed awesome tires built for all year round performance.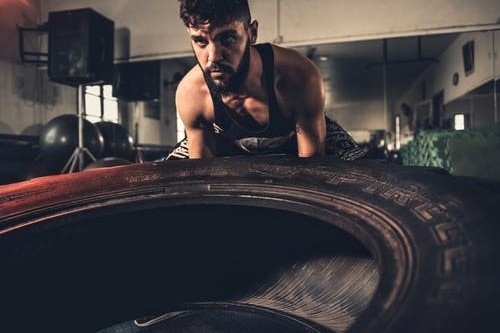 Winter Tires:
For winter tires you will want tires specifically built for winter and that can handle a wide range of light to extreme winter conditions such as snow, ice, rain, dry highways.
Truck Tires:
There are tires specifically for trucks both heavy and light trucks, you should choose a tire that can contain high pressure and capable of heavy load.
We hope this information can be valuable enough and helping in choosing the best driving conditions for your car.
ALL SEASON TIRES:
This tires are all season built tires and they indeed deliver great traction in most season but do not expect a great performance when it is freezing. If you experience extreme winter then you are better of with winter tires.
List of 15 best car tires
Now that with the help of the guide you have made a good choice on what type of tire to purchase for your car based on your driving conditions, we show you our choices in tires.
You know when you get your vehicle tires and they start to fall apart, wears unevenly or those times they make the unbearable noise and you have to turn your radio up so loudly just so it can drown the noise or you just hate their looks because it gives your car or truck a bad look.
Well we know your fears when it comes to getting a new tire and so here is a list we have compiled to help you choose your desired tire for your car or truck, you will find the best in all terrain tires, in no particular order, for your off-road drive, for your heavy truck and mud tires;

1. Kumho Road Venture AT51 All Season Radial Tire:
Awesome tires for your truck in all terrain, with incredible value and affordable compared to tires that offer the same value.
You get a nice and quiet ride because the venture AT51 give low road noise, can be used on different terrains and it has been found to worn out evenly.
They balance really well and give your truck a good approaching look. It posses a great performance with good traction. It posses excellent grip and stability in all weather and off road, with long tread wear.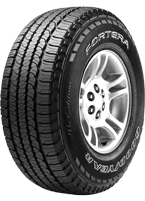 2. Goodyear Fortera HL
 

Radial Tire:

You will love this tire in the summer because they are great in the summer and even better in the winter. They wear evenly, they are quiet and they look sharp, you can use them all year round even in extreme weather conditions you get good handling.

You will have a good experience with them both off-road and on-road. You can get them for a great price and with good quality.

However, the Fortera HL can be a little noisy especially during the summer but they are great in the snow and less slippery during bad winter days. It posses good traction even in the rain and you won't lose grip when braking or accelerating.

3. Hankook DynaPro ATM RF10 Off-Road Tire:
Go ahead and purchase this for your truck or SUV. These are incredible, you can use them for about 70,000 miles if rotated, and you won't be bothered by the road noise because it's not excessive.
It is great in all kinds of tough road conditions, in the snow, ice, rain… you will love them. They grip well in snowy and icy conditions and even on wet roads and so you won't have to put your truck in 4 wheels drive just to get ahead.
The Hankook Dynapro ATM RF10 features side grooves which helps for more predictable cornering.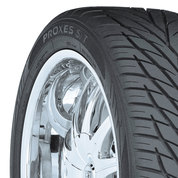 4. Toyo Proxes S/T all Season Radial Tire:
These are great for your truck, they handle great. You won't have to bother about the wearing because they wear evenly on your car.
It posses a great performance and also, they have a unique tread pattern that you will love.
It gives your car a great look and it doesn't sound harshly, therefore you get a quiet and awesome ride with them.
5. Cooper Discoverer H/T Plus All-Season Tire: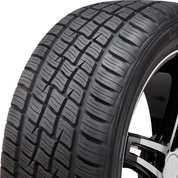 Great tires for your truck. These are great in the rain. They wear just OK and are great in the snow.
They ride great and have a good handling. These are quite affordable too for it's value as an awesome all-season tire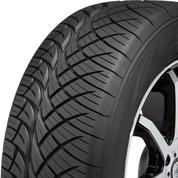 6. Nitto nt420s all Season Radial Tire:
Quite a good-looking tire which delivers a great performance and handles nicely on wet surface. These are able to keep good traction and it features non direction asymmetric pattern . These tires are not directional therefore, you are able to rotate them properly.
This Nitto NT420S give less road noise and has a good gas mileage on them. Built with a center tread pattern that helps clear water from the tire which makes it confident for wet traction.
Also, built with Inner and outer shoulder siping which creates versatile traction for various driving conditions. It posses outer shoulder which improves its tire-to-road contact for better dry handling and cornering also, a good brake handling.
CLICK HERE TO CHECK CURRENT PRICE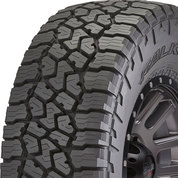 7. Falken Wildpeak AT3W All- Season Radial Tire:
An all-terrain tire that is too quiet for an ideal all-terrain tire so you don't have to deal with all the road noise, it rides quiet compared to most all terrains. It gives you a smooth ride. Quite great on the highway and also in the rain.
The Wildpeak AT3W is great on any weather thanks to its rugged capability. It posses aggressive upper sidewall along with offset shoulder blocks which helps to protect the tire from sharp rocks and it provides additional off-road traction at low tire pressures.
The treads are deep and it has a lovely sidewall. Quite good for off-road use and most especially great for high way use. Also, great in the winter and snow.
It is affordable and if you want a tire with an aggressive look and tough side wall, then this is a good choice to buy.

8. BFGoodrich All-Terrain T/A KO2 Radial Tire:
Quite a tough all terrain tire which gives great highway driving experience and great off-road experience because it is exceptional in the mud.
It posses upper sidewall traction bars, it has protruding sidewall rubber blocks that provide increased mud, snow & rock traction, especially in aired-down driving situations.
The BFGoodrich T/A KO2 features raised bars in the shoulder tread area that helps to release compacted mud for enhanced traction in muddy and soft soil conditions. This tire can be a little noisy which is expected of an all-terrain tire.
You get value for your money with these tires, they have great performance too and lovely appearance.
CLICK HERE TO CHECK CURRENT PRICE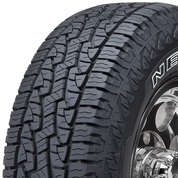 9. Nexen Roadian A/T Pro RA8 Radial Tire:
You will love this for your on road and especially for your off-road drive. These are great in snowy conditions too and they give a comfortable ride. They also have great looks.
Suitable for wet roads with an aggressive look. These are balanced and gives a smooth ride with great traction in the snow and during the rain.
Causes of tire damage due to uneven surfaces and gravel are not going to be your bother because they have a wide dual block.
They also have staggered center rib which creates strength and reinforces the biting edges.
10. Cooper Adventurer All terrain:
This is designed for all-terrain performance. It Provides dynamic handling, dependable mileage and all-terrain traction. You will enjoy a smooth ride with this and it will compliment your car beautifully with its great look.
Quite great on snow and ice. It posses no road noise and pretty good on off-road, so you can get some for your off-road truck. You will love it in the rain too and it still doesn't have road noise in the rain. The tires balance just fine, and it takes almost no weight for it to balance.
Mud Tires
11. Thunderer TRAC GRIP M/T Mud Tire:
This tire comes with great traction, and it is built with the harshest of terrain in mind. They ride great and are not too noisy. They perform very well in the mud.
The Trac Grip M/T is built with aggressive looking tread hence they look aggressive. They wear evenly and are great on wet surface and awesome in snow and mud.
They will give your truck full control and good balance. They ride smooth and exhibit no vibration like other aggressive tires. It posses great off-road ability and they have high treads.
12. Milestar Patagonia M/T Mud-Terrain Radial Tire:
Pretty smooth for a mud tire. Good value for your money, it has aggressive tread and not too noisy for a mud tire. They balance great and ride great.
They perform well in wet and mud driving conditions. These are great for off-road driving. It posses tough look and very thick sidewalls and its good looks will compliment your truck.
13. SunF Power.I ATV/UTV all-terrain Tire:
This is an all-terrain tire with a directional angled knobby tread design, it is referred to as an all-terrain suitable piece because of its great strength to withstand all road and snowy effects. It posses great traction.
They ride with no vibration on and off-road. Posses high performance noticeable on your off-road vehicles and suitable for desert, mud, dirt and rock applications and a great tire for plowing snow.
Built with heavy 6 ply rated construction that enables it to resist punctures and abrasions. It features premium rubber hard compound, which makes it suitable for the harshest racing conditions.
14. Federal Couragia M/T Mud-Terrain Radial Tire:
Specially designed with an asymmetric tread for a better handling. Built as a high performance summer tire for sport. It posses a pattern ribs which provides shorter braking distances, and also features an angled side for better steering precision
An off-road tire with a rugged off-road performance. It posses a great traction on dirt, mud, rock and gravel. It posses aggressive tread design which offers great mud traction. They don't make unbearable noise.
Comes with good looks and good grip in the mud but not much of a good grip in the rain, performs well on ice and snow. These are good tires with an affordable price.
Heavy Truck Tire
15. Premium Winda Trailer Tires ST:
This is a 8' ply rated tire. It featured "Scuff Guard" for better tire side wall protection and built majorly for trailers. They give you excellent performance even for a fully loaded trailer.
They balance out really good so you need not bother about uneven balancing and they have good tread pattern. They give smooth ride and great for travel. You will love them on your trailer. It will serve well in all of your driving conditions.
CLICK HERE TO CHECK CURRENT PRICE
Conclusion
Here are the best rated car tires reviews we brought to you to help you in your decision and making a great choice this 2019. These reviews are not just based on theory, they come from real driving experience and we hope you find them helpful.
Peradventure you have a question or you need any help, please leave them below in the comment section we will be glad to help. We will also like to hear from you, what tire have you had the best experience with yet? and which will you recommend in this 2019?