Ever heard of anyone who does car cleaning as a hobby?
Well, I am definitely one of such humans.
Been one of my favorite chores anyways!
The amazing feeling of stepping back at the end and admiring the now clean and shiny ride is always appealing.
But as fun as this is for me, there is one part I find a bit frustrating.
Yes, you guessed right – the wheels.
The purpose of this article is to guide and enlighten you on the best cleaner for aluminum wheels and other car wheels that will help you maintain and get rid of all kinds of grime your wheel might have been exposed to as I also found them helpful.
Below are solutions to the asked questions on the wheel cleaning aspect of the car which got me an easy solution around my wheel cleaning chore.
This is especially for those that love to have a clean wheel paired with their clean car under every circumstance.
List Of The Best Car Wheel Cleaner
The wheel cleaner is used to get the dust and stains off your lovely car wheels.
This post is specifically put together for those who have invested thousands into acquiring a fancy wheel for their car to have a good choice in picking the best cleaner for aluminum wheels and other car wheels.
It is advisable to possess a powerful but yet safe wheel cleaner paired with a good brush to keep your car wheel shining and sparkling neat at all times.
This section is however discussing the list of wheel cleaners that will get the job done briskly.
These products will serve your purpose and leave your wheel shining and attractive.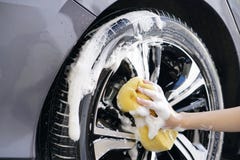 1. Adam's polishes deep clean
2. Sonax wheel cleaner
3. Aero cosmetic wet or waterless cleaner
4. Griots garage wheel cleaner
5. Meguiars hot rims wheel cleaner
6. Car Guys Super cleaner
7. Mothers foam wheel and tire cleaner
8. Trinova wheel cleaner rim cleaning spray
---
Adam's Polishes Deep Clean
This is one of the best wheel cleaners in the market.
It eliminates all dirt and breaks dust, it is actually acid-free and a PH-neutral formula that turns purple when used.
It has been tested and has become highly recommended to all sparkling car wheel lovers and admirers.
Without a doubt, even if you come across the best wash soap there is, you might find it difficult to top what this product would get off with less stress or strength required.
The unique formula of most cleaners simply clears the less sensitive dust effects but this could wipe it all in few seconds of direct contact.
---
Sonax (230200-755) Wheel Cleaner
This is also a product you can safely use on a variety of surfaces, trims, and wheel finishes which make this a standout feature it possesses.
The Sonax wheel cleaner has been briskly formulated to be acid-free and PH balanced, which is really wise to know especially when dealing with dirt and grimes challenges on your wheels.
It is not restricted to that.
This product helpfully changes color as it works, it also has a handy feature that cleans all the nooks and crannies on a car wheel.
This indeed is a good choice to buy that will serve you well and give you an excellent result.
---
Aero Cosmetic Wet Or Waterless Cleaner
Ever heard of Aero cosmetics?
The company's heritage lies in manufacturing products for Aircraft.
They are producers that consistently go above and beyond to bring car cleaning products to the market that are of both uniqueness and high quality.
This list will actually not be a complete one if Aero cosmetic cleaner is not talked about.
They are formulated to provide an effective clean to your wheels and in particular, are excellent degreasers.
Furthermore, their water-based formula is very mild and safe to use on a variety of surfaces and this also means it can be wiped away with or without additional application of water.
---
Griot's Garage 10970-Wheel Cleaner
This model mentioned is not a disappointment at all.
When putting this to use, there is a guarantee of high-quality finishing with deep cleaning. aside from the fact that it is a bit pricey.
When compared to some other products, the price is quite understandable based on the brand expertise.
It is remarkably mild and very safe to use on a variety of materials which includes aluminum and paint.
Plus, it is environmentally friendly and a non-toxic product which makes you need not worry about its runoff when rinsing.
A trial of this will definitely convince you.
---
Meguiar's G9524 Hot Rims Wheel Cleaner
Talking about wheel cleaners, Meguiar is also a great product in its lineup.
Asides from the fact that it is cost-efficient, it is a nice product that cannot be compared to soap cleaners you can cheaply assess out there.
When it is sprayed on wheels, it foams up nicely and is designed notably to cling to its applied surfaces even when they are vertically placed just like the wheel position.
Once it gets soaked in and gets the job done, it breaks down the road on any kind of dirt and grime consisted and it is easily wiped off, leaving it sparkling clean and looking as new as newly purchased.
Its mild formula is safe on factory paint, trims, and rubber, so you need not worry about its application.
It is a product you will not regret purchasing.
---
Car Guys Super Cleaner
The Car Guys Super cleaner is designed for running series of cleaning tasks asides from cleaning your wheels and car tires.
Plus, it is well endorsed because it is safe to be used on all surfaces except glass and panel screened instruments.
Its incredible difference, in comparison to others, is the fact that it can be sprayed and allowed to function on its own without having any effect on the surface and leaving the object sparkling clean.
The product even comes with a free towel.
What an amazing product with a takeaway.
---
Mother's 05924 Foam Wheel And Tire Cleaner
When it comes to terms of purchase cost, this product is one of the most affordable you could get.
But will not that interpret to you that it is less effective than the others?
Well, that is not true at all.
There is a lot of cleaning magic embedded in the bottle that will spark up the elegance your car truly desires.
Its result is more than you would expect from it.
As a non-acidic formulated material, it is specially formulated to serve you well and is safety assured on any surface.
It foams up gently and really penetrates dirt and still leaves your car and your wheels perfect as it is despite its mildness.
It is not dirt tolerant and it rinses right away, leaving your car glowing with no blemishes and no hard scrubbing required.
---
Trinova Wheel Cleaner Rim Cleaning Spray
Trinova wheel cleaner is a premium spray that will give your dirty wheels back their original shine by melting away dirt and grime that accumulates from things like brake dust and oil residue.
Great at tackling even the toughest stains, it cleans snow and salt that can ruin your wheels during the winter season.
It uses a powerful concentrated formula to penetrate deep into stains caused by dirt and wash them away to make your car look like you just drove it out of the showroom.
Trinova is suitable for all-wheel types, safe to use from aluminum to chrome to white-wall tires, while still giving the best result you want.
You will not have to worry about any long-term damage being caused to your wheels because this spray is completely acid-free.
Features
Removes unwanted grime
Restores the original shine of your wheels
Completely acid-free therefore it will not damage your wheels
Works great on all types of wheels
Great at tackling even the toughest stain off your wheels
Safe and effective cleaner
Concentrated formula to remove stains
---
Conclusion
Among the features that are physically noticeable on cars, the wheels are one of the amazing parts.
They are constructed in such a way that it showcases the beauty of a car.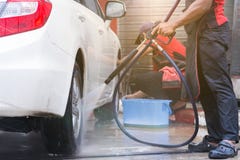 The design of a typical alloy wheel gives your vehicle a great look but, it is sometimes a store trap for dirt constituted by road surfaces.
They are one of the toughest parts of a car to get cleaned, quite tricky if you ask me because they spend their lives in a harsh environment in which they are bombarded with all kinds of dust from the road grime at which they pass over, not to also neglect the searing iron dust, which they also encounter from the brakes to minimize the effect of all sort of grimy conditions.
However, a good wheel cleaner can help you get a good solution to this wheel dirt and make it sparkling all over again.
---