An inflator is a must-have in your car.
An inflator could make a huge difference when you are on a journey or running late for an appointment and you find out that your tires are losing their pressure while a quick fix could come in handy.
We bring you a list of our best tire inflators for cars and guides on some possible questions you could need answers to concerning the inflation of your tires.
An inflator is a one-hand operated air pump used in pumping air into car tires.
There are conventional as well as portable mobile types used either for personal and industrial settings, such as in filling stations, gas stations, and personal cars.
1. Tirewell 12V Tire Inflator-Heavy Duty Double Cylinders
2. Jaco Smart Pro Digital Tire Inflator pump
3. Kensun AC/DC Portable Air Compressor 
4. Astro 3018 Digital Tire Pressure Gauge and Inflator
5. Viair 45043 Automatic Function Portable Compressor
6. Bostitch 6-Gallon 150 PSI Oil-free compressor
7. Dewalt DWFP55126 6-Gallon Pancake Compressor
8. Excell U256PPE 6 Gallon Pancake Air Compressor
---
Tirewell 12V Tire Inflator-Heavy Duty Double Cylinders
The Tirewell 12V Tire Inflator-Heavy Duty Double Cylinders is built with a rubber stand which allows for a firm grip to the floor and stability thereby making the air compressor more powerful.
Its fuselage four-rod design reduces vibration and noise and enhances performance.
The two cylinders compress air simultaneously to inflate faster and with a degree of efficiency.
Tirewell 12V tire inflator is equipped with a 5m extension hose and high-quality battery compartment which makes for easy battery accessibility from the vehicle.
Specifications:
-Power: DC12V, 15A
-Max Pressure: 150 PSI
-Weigh:8.36lbs
---
Jaco Smart Pro Digital Tire Inflator Pump
Jaco Smart Pro Digital tire inflator is efficient with a built-in digital air gauge fixed with a bright LCD backlight display measuring 0-100psi with precise accuracy of 1psi that illuminates at night for clearer visibility.
Configured to automatically shut off at a preset PSI target level, JACO Smart Pro Digital Tire Inflator is equipped with a heavy-duty, woven 24" air hose with a unique twist-connect nozzle ensuring a hands-free and secured seal to the tire valve during inflation.
Carries additional 2 adapters that can be used for sports balls, airbeds, and other inflatables.
With its 10' long reach power cord, access to all four tires and the power source is made easy.
Specifications:
-Gauge Range: 0-100 PSI
-Inflation Range: 0-45PSI(auto tires), 0-100 PSI(bike tires)
-Accuracy: +/- 1 PSI
-Power Source: 12V DC
-Current: 10A
---
Kensun AC/DC Rapid Performance Portable Air Compressor Tire Inflator With Digital Display For Home (110V) And Car (12V)
Kensun Rapid performance compressor is built to inflate from your heavy-duty car tires to your beach ball.
It is highly equipped to achieve perfect pressure for any of your outdoor or indoor needs.
This compressor can be adaptable to your home wall socket AC, and to your car cigarette lighter socket DC.
Its digital pressure gauge comes with an LCD display and unit conversion, a digital preset function for easy delivering the required pressure.
It has a two-attachment nozzle for multiple uses and its white LED work light for easy illumination especially in the dark.
Specifications:
-Inflation time: AC – 5 mins; DC – 5.5 mins.
-Black woven hose (outer length): 23.6in (60cm).
-Cable length: AC – 5ft 10.8in (1.8m); DC – 10ft 9.9in (3.3m).
-Maximum current: <10A.
-Airflow rate: 7.9gpm (30L/min).
-Operating temperature: 14 to 140 degrees F
---
Astro 3018 Digital Tire Pressure Gauge And Inflator
Astro digital inflator is built with a new 21" stainless braided hose to deliver quality service and durability.
It is equipped with maximum accuracy and 0.1 psi resolution for use with a tire pressure monitoring system.
Built with a large face backlit LCD digital for clear visibility, this tool is covered with an extra sleeve for extra comfort and durability.
It comprises two-position levers, where the first position deflates and the second position inflates.
An added advantage of air gauge is present in it as it offers you an inflator.
The compressor is designed with dual AAA battery power, which gives a better battery life and a simplified battery installation for easy assembling.
---
Viair 45043 Automatic Function Portable Compressor
The Viair Automatic portable air compressors will inflate tire sizes up to 275/80/22.5 to a max of 150PSI with ease.
Viair automatic function is built with a 35 feet air hose for easy inflation.
It includes an automatic shutoff function that powers down the unit when the compressor is turned on but not in use at that moment.
It features an easy connect inflation hose with a tire inflation gun and a rubber over-mold pressure gauge.
Plus, there is a heavy-duty dual battery clamp with a 40amp inline fuse.
Although intended for RV use, this compressor comes with accessories for many other different inflation needs and so can be used for virtually any tire.
It makes your filling process effortless and easy as the compressor is only active when you pull the trigger on the inflation gun.
Specifications:
-12 VOLT
-150PSI Max Working Pressure
-2.3CFM Free Flow @ 0 PSI
-Power Cord: 8″ Air Hose: 60′ 12-Volt
-Amp Draw: 30 Amps
-Duty Cycle: 33 percent @ 100 PSI Max
---
Bostitch BTFP02012-WPK 6-Gallon 150 PSI Oil-Free Compressor
The Bostitch Gallon compressor is portable and lightweight.
It features an oil-free pump that does not require tough maintenance.
It has a high-efficiency motor for easy start-up in cold weather or extension cord application.
The tool is equipped with a narrow tank diameter which is lightweight, making the unit easy to carry and store.
It is paired with two universal couplers to easily support two user's usage.
The compressor boasts maximum tank storage of 150 PSI for long tool run time with quick recovery.
Specifications:
-2.6 SCFM @ 90PSI
-150PSI max working pressure
– Tank Size = 6-gallon
-50′ Air Hose
---
Dewalt DWFP55126 6-Gallon 165 PSI Pancake Compressor
Dewalt pancake compressor features a long-life oil-free pump for easy maintenance and a high-efficiency motor for an easy startup in cold weather.
30lb weight which makes it easy to carry and store and it comes with a convenient cord wrap for easy storage.
The tool features a high flow regulator and couplers that maximizes its air tool performance and a ball drain valve for easy and thorough draining.
This unit offers a 75.5 dBA noise level for a quiet work setting with a console cover that is removable to allow easy repair.
It has two universal couplers to easily support two users and its rubber leg cover for stability.
Specifications:
-165 max PSI
-6.0gallon tank (22.7 L)
-2.6 SCFM @ 90 PSI pump
-75.5 dBA noise level
---
Excell U256PPE 6 Gallon Pancake Air Compressor
Excell oil-free 6 gallon pancake air compressor is the perfect unit for all of your inflation needs with fully enclosed motor and pump components that protect them from job site abuse while the integrated heavy-duty handle provides job site durability.
It is paired with a 6-gallon pancake air tank and low voltage start-up, meaning that it is great for your car tires.
It features an oil-free pump for easy maintenance.
Specifications:
-150 max PSI
-400 ft. extension cord
-Cold weather starts as low as -24° F (-31° C
-Low voltage startup of 64V
---
Frequently Asked Questions
How do I know when to reflate my tire?
Periodic checking most especially in the early hours before embarking on any journey is the most appropriate time to check using a good air gauge.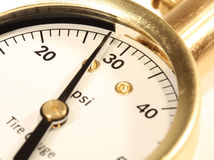 This also has to do with pre-knowledge of recommended psi as inscribed on the tires by the manufacturers.
Once the air content of the tire is lower than the minimum recommended psi, then there is the need to reflate.
How do I inflate a completely flat tire?
Check first for the cause of deflation; it may be malfunctioning of the valve or a sharp object piercing through the tire.
You may be able to inflate the tire right away if it leaks air slowly, but if damage to the tire caused it to become completely flat, you will want to repair the tire before inflating it, or it may become flat again very quickly.
Should the tire be pierced by a sharp object leading to deflation and complete flatness, a quick remedy will be to change to spare and repair the damaged one before inflation.
But if its due to valve malfunctioning, (provided the damage is not too pronounced), connect an air pump to the tire's valve stem and pump air into the tire to reflate to the maximum psi which will save time and reduce leakage most especially when the distance to cover is longer and the vehicle is on speed.
What if the tire is damaged?
To repair the damage to the tire, you can plug a small hole with a tire repair kit, but the best permanent fix is to remove the tire from the rim and patch it from the inside by removing the wheel lug nuts and raising the car with the jack.
If then you are not equipped with the complete kit, service stations or auto repair centers can do this for you.
How much psi do I need to fill my tire?
Most tire manufacturers do inscribe the minimum and maximum psi required by the side of the tires.
This mostly ranges from 30 to 35psi depending on the weight and capacity of the vehicle.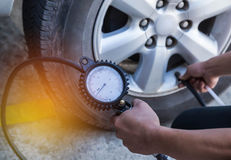 How long does it take to fill a tire with air?
This comparatively is dependent on the type of air compressor or inflator being used (as auto and battery-operated inflators work faster than manuals) and also the amount of air loss from the tire.
However, it can range from a minimum of 30 seconds to a maximum of 5 minutes.
What is an appropriate air pressure for my tire?
This differs according to manufacturers' specifications and recommendations.
Having the correct tire pressure is extremely important for getting good gas mileage and the most life out of your tires.
Your car has a recommended tire pressure that will give the best gas mileage, handling, and tire life for that car — and it is written right on the vehicle's door panel.
That is the one you should follow when filling them up with air to the recommended pressure, measured in pounds per square inch or psi.
Most passenger cars will recommend 32 psi to 35 psi in the tires when they are cold.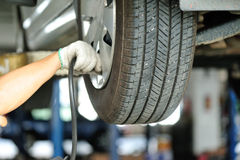 Tire temperature increases when in use on the road due to friction and interface with the tarred road, thereby generating heat and increasing both the temperature and the air pressure.
To get your accurate reading, make sure the car has been sitting overnight or at least has been parked for a few hours.
At what psi will a tire explode?
Do not inflate your tires to the maximum pressure listed on the tire itself.
That number is the maximum pressure the tire can hold, not the recommended pressure for the vehicle.
In most cases, air pressure in the tire increases as its being heated up by road temperature while on the move so fixing maximum psi will lead to overinflation which will give you a bouncy ride, and an ill-handling car which may invariably lead to tire explosion.
Our recommendation will be to leave your actual tire psi between the recommended minimum and maximum psi for safety reasons and a smooth ride.
Can an air compressor be an alternative to an air inflator?
An air compressor is a device that pumps air, and usually has a tank that runs from AC directly from a wall outlet.
It is heavier, larger than inflators, and usually works with pistons that compress the air, and therefore needs more power to create more pressure, while an inflator is a one-hand operated air pump used in pumping air into tires.
Therefore, for the purpose of reflating your flat tires while on the move, an air inflator will be more appropriate while one can acquire an air compressor for home or industrial use as the case may be.
Conclusion
As you already know inflators are a must-have in your car.
These are some quality proven inflators that are portable and easy to use.
We believe that we have helped you in making a good buying choice, and provided you with some answers that could help in your curiosity concerning inflating your tires.
We hope you find our list of best inflators and the guide helpful in making a good buying choice.
If you have any comments or questions, please leave them in the comment box below.
We will be glad to hear from you and also help.
---