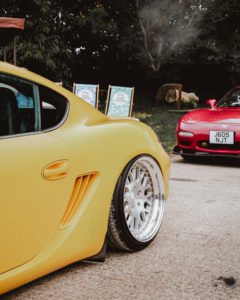 Bridgestone Potenza RE980as is an ultra-high-performance tire designed to give all-season traction.
This tire is built to deliver excellent performance when paired with luxury vehicles like sports cars and sedans.
We bring you the Bridgestone Potenza RE980AS reviews from their technology to functions and performance.
---
Bridgestone Potenza RE980AS
Warranty
It comes with a 50,000-mile tread life warranty.
Technology
The Potenza is designed with an asymmetric tread pattern that is noise optimized and so deliver a good performance with less noise.
Its tread pattern slots and grooves are intertwined and this aid easy evacuation of water from the contact patch.
Built internally with three polyester sidewall plies and with two polyester plies in its tread to improve its handling.
It has a lateral slot which improves its performance when it comes to its contact with its driving surface, as well as its brake abilities.
Possess a 3D depth sipes interlock that keeps the tread stable.
Improved see-through voids; has 20% more see-through voids with open shoulder slots and together they help in reducing hydroplaning while driving.
Features high sipes density which aids better traction and better performance on slippery conditions.
Designed with stiff sidewall which resist easy distortion and improves its handling capabilities.
Twin steel belts are reinforced by a spirally wound, nylon wrap for increase speed capability.
Features
Asymmetric tread design that produces less noise
Great traction on wet and dry driving conditions
Good traction on slippery surface
Good control during cornering
Precise handling while driving
Good steering response
Performance
The Bridgestone Potenza RE980AS tire is built with a redesigned tread that provides good grip on wet and dry surfaces, including on light snow.
This is an ultra-high-performance tire with a sporty feel, with good performance on different surfaces.
On Wet Surface
The tread is built to withstand and overcome hydroplaning when driving on wet or slush surface by evacuating water away from its tracks.
The 20% more see-through voids and open shoulder slots help in reducing the effect of hydroplaning greatly.
Plus, its high-speed density helps to maintain a good grip on a slippery surface.
On Dry Surface
With a lot of technology and its lateral slot, you can expect a good road contact with this tire, while delivering a good grip on dry surface and a comfortable ride.
On Snow Surface
This tire gives good handling on light snow, being that its 3D sipes improve its snow traction.
Its added technology gives flexibility to the tires in cold temperatures and by so doing gives it better snow grip and performance.
Tire Size
205/55R16 91W SL BSW, 205/45R17 84W SL BSW, 205/50R17 93W XL BSW, 215/45R17 91W XL BSW, 215/50R17 95W XL BSW, 215/55R17 94W SL BSW, 225/45R17 94W XL BSW, 225/50R17 98W XL BSW, 225/55R17 97W SL BSW, 235/45R17 97W XL BSW, 235/55R17 99W SL BSW, 245/40R17 91W SL BSW, 245/45R17 99W XL BSW, 215/40R18 89W XL BSW, 215/45R18 93W XL BSW, 225/40R18 92W XL BSW, 225/45R18 91W SL BSW, 225/50R18 95W SL BSW, 235/40R18 95W XL BSW, 235/45R18 98W XL BSW, 235/50R18 97W SL BSW, 245/35R18 92W XL BSW, 245/40R18 97W XL BSW, 245/45R18 100W XL BSW, 255/35R18 94W XL BSW, 255/40R18 99W XL BSW, 265/35R18 97W XL BSW, 265/40R18 101W XL BSW, 275/35R18 95W SL BSW, 225/40R19 93W XL BSW, 225/45R19 96W XL BSW, 235/35R19 91W XL BSW, 245/35R19 93W XL BSW, 245/40R19 98W XL BSW, 245/45R19 98W SL BSW, 245/50R19 105W XL BSW, 255/35R19 96W XL BSW, 255/40R19 100W XL BSW, 265/40R19 102W XL BSW, 275/35R19 96W SL BSW, 275/40R19 101W SL BSW, 285/30R19 98W XL BSW, 245/35R20 95W XL BSW, 245/40R20 99W XL BSW, 245/45R20 103W XL BSW, 255/35R20 97W XL BSW, 255/45R20 101W SL BSW, 265/35R20 99W XL BSW, 275/35R20 102W XL BSW, 275/40R20 106W XL BSW, 285/35R20 100W SL BSW, 295/30R20 101W XL BSW, 305/30R20 103W XL BSW.
Pros
Delivers comfortable ride
Ultra-high-performance sporty feel
Great handling on a wet and dry surface
Cons
Not for the winter season

Alfred's Take
The Bridgestone Potenza RE980AS is designed for drivers of sports cars and sedans that are lovers of luxury, high-performance delivery, and all-season handling.
The Potenza RE980AS is an all-season tire, built to deliver good traction on both wet and dry driving surfaces with the responsiveness of an ultra-high-performance tire.
---
Recommendation
With the information on this Bridgestone Potenza RE980AS reviews, from personal experience and other reviews, we see the Bridgestone company always does its best to deliver quality to the consumers and this Potenza is no different.
From its features to its technology and improved abilities, we say it is a good choice to buy.
All-season traction with ultra-high performance, sporty feel, and good grip is sure a good choice to go with.
If you have any questions, comments, or reviews, kindly leave them in the box below.
We will be glad to hear from you.
---