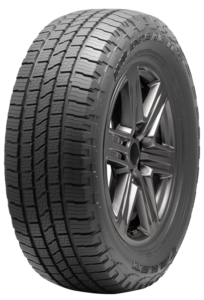 Ziex ZE960 A/S is Falken's new high-performance all-season tire designed for coupes, sedans, and passenger cars.
It is engineered to deliver all-season performance and is available in 53 sizes with a 65,000-mile tread life warranty for H and V rated sizes and 45,000 miles for W rated sizes.
The tire is built with the latest technology and grooves that are resistant to hydroplaning when driving on wet surfaces.
This tire is M+S rated and will be replacing its predecessor – the Ziex ZE950 that was built for passenger cars and CUV.
Let us get to know more about this new Falken tire in this Falken Ziex ZE960 review.
---
Falken Ziex ZE960
Technology
Flask Siping Technology for safety in the rain helps evacuate water which reduces the risk of hydroplaning and improves its wet braking distance.
Canyon Groove Technology for improved snow traction as it enhances braking performance and delivers a comfortable ride on snow surfaces.
Optimized tread pattern rigidity with robust construction improves its high-performance capabilities.
Silica tread compound allows the rubber to remain pliable at low temperatures, gives a better grip on wet and snow surfaces, while its chemical bond helps the rubber remain strong on warm surfaces.
Popular Vehicle Fitment
Acura Tlx, BMW 3/4 – Series, Infiniti Q50, Lexus Is, Mazda 6, Mercedes-Benz C-Class, Chevrolet Impala, Dodge Challenger, Tesla Model 3, Toyota Camry, Dodge Charger, Honda Accord Sport.
Warranty
The Ziex ZE960 comes with a limited tread life warranty of 65,000 miles for H and V rated sizes and 45,000 miles for W rated sizes.
Also, there is a 30-day trial guarantee for consumers, so if you are not pleased with your purchase, you can return within 30 days.
The tire comes with Falken's road hazard protection in case of road hazards offering a free replacement for any damage that occurs during the first two years or within the first 3/32 inch of tread life.
About Falken Ziex ZE960
Falken Ziex ZE960 all-season tire will be replacing its predecessor, the ZIEX ZE950.
However, unlike its predecessor, it is only available in 53 sizes and focusing on just coupes and sedans while the ZE950 is available in over 100 sizes for sport coupes and CUV.
The new ZE960 is an all-season high-performance tire with all-season traction delivery and even a good performance on mild snow.
It has the industry M+S symbol and it is engineered to deliver long-lasting safety and sports car performance.
Although it is M+S rated, it is not suitable for extreme winter driving.
If you drive through extreme winter conditions then you should go for dedicated winter tires.
You can expect excellent braking on wet surfaces, ride comfort, dry handling, vehicle stability, low road-noise, and good winter performance when driving on mild snow.
Tire Sizes
15''
195/50R15 SL 82V, 195/65R15 SL 91H, 205/65R15 XL 99V
16''
195/50R16 SL 84V, 195/55R16 SL 87V, 205/45R16 XL 87V, 205/50R16 SL 87V, 205/55R16 SL 91V, 205/60R16 SL 92V, 205/65R16 SL 95V, 215/55R16 XL 97V, 215/60R16 SL 95V, 225/55R16 SL 95V, 225/60R16 SL 98V, 245/50R16 SL 97W
17''
205/40R17 XL 84W, 205/45R17 XL 88W, 205/50R17 XL 93V, 215/45R17 XL 91V, 215/50R17 SL 91V, 215/55R17 SL 94V, 215/65R17 SL 99V, 225/45R17 XL 94W, 225/50R17 SL 94V, 225/55R17 XL 101V, 235/45R17 XL 97V, 235/50R17 SL 96V, 235/55R17 SL 99W, 245/40R17 XL 95W, 245/45R17 XL 99W, 245/50R17 SL 99W
18''
215/40R18 XL 89W, 215/45R18 XL 93W, 225/40R18 XL 92W, 225/45R18 XL 95W, 225/50R18 SL 95W, 235/40R18 XL 95W, 235/45R18 SL 94W, 235/50R18 XL 101W, 235/55R18 XL 104V, 245/4 XL 97W, 245/45R18 XL 100V, 245/55R18 SL 103W, 255/40R18 XL 99W, 255/45R18 XL 103W
19''
225/45R19 XL 96W, 235/40R19 XL 96V, 245/40R19 SL 94W, 255/45R19 SL 100V
20''
245/35R20 XL 95W, 245/40R20 XL 99W, 245/45R20 XL 103W, 255/35R20 XL 97W
Pros
Excellent braking on wet surfaces
Ride comfort
Dry handling
Vehicle stability
Low road noise
Good winter performance
Cons
It is not the most responsive tire
A bit loud on the highway

Alfred's Take
You can expect increased stability throughout the life of the tire, exceptional performance, and responsive handling in most driving conditions.
The Ziex ZE960 all-season high-performance tire also delivers confidence to its drivers while keeping its driver in control of the vehicle.
---
Conclusion
The Ziex ZE950 was not a bad tire, so you can expect a great performance as well from its successor.
You can take advantage of Falken's 30-day trial guarantee to check out these tires.
It will be a good choice to pick if you do not drive through unploughed winter roads or you could just get snow chains.
We hope you find our Falken Ziex ZE960 review helpful.
If you have a comment, question, or review, leave it in the box below.
We will be glad to help.
---