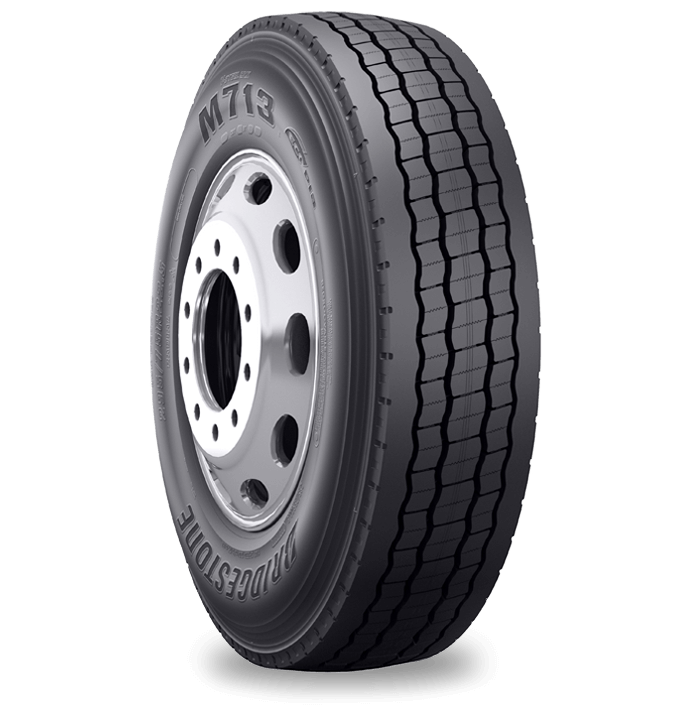 Ecopia M713 is the latest in the series of the company's environment-conscious all-season tires that delivers a smooth and comfortable ride. M713 tire is good for trucks, trailers and long-journey commercial buses.
Bridgestone Americas Incorporated recently released the smartway-verified and California Air Resources Board (CARB) compliant Bridgestone M713 Ecopia tire for tandem-axel applications in long-haul and regional service use.
Bridgestone Tire Company is committed to making mobility more efficient for fleets in line with the most efficient fuel economy technology and sustainable offerings that help vehicle attain full performance potential of their valuable tire-life span.
M713 tire meets the 3 Peak Mountain Snow Flakes (3PMSF) criteria for snow traction performance. It is available in size 295/75R22, 11R22.5, 295.75R24.5 and 11R24.5.
Bridgestone M713 Ecopia did not come with manufacturer's tread-life warranty for now but a 90-day Buy and Trial Guarantee willing to replace bad tires or refund your money (as the case may be) should you feel uncomfortable with the performance with ease.
CHECK CURRENT PRICE ON SIMPLETIRE
Performance
Bridgestone M713 tire is uniquely built with the latest technology which offers fleet-enhanced performance with 8% improvement in rolling resistance and 15% longer tread life.
In addition, the tire casing is specifically designed to pair with a fuel-efficient Bandag Fuel-tech retread to extend tire life and further lower the total cost.
Its fuel saver sidewall limits loss of energy by using the proprietary sidewall compound to conserve fuel both when new and retreaded.
The tire is built with high rigidity tread-pattern that controls movement of the tread blocks and ribs for less tread wear and lower rolling resistance.
It also comes with an innovative tread compound and advanced traction technology which makes it a strong and reliable performer on wet and dry surfaces all year long.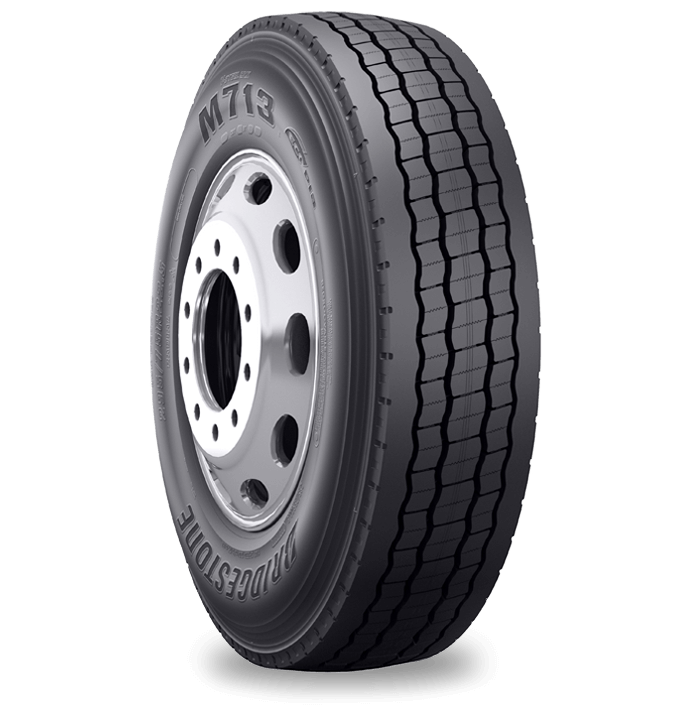 Technology
M713 tire's optimized belt packaging enhances durability and retreadability while delivering improved rolling resistance.
Its intellishape sidewall contains less bead filler volume which reduces tire weight and minimizes rolling resistance for enhanced fuel efficiency.
M713 comes with continuous shoulder designs which distribute weight and torque uniformly to fight irregular wear thus enhancing longer tread life and even wear.
The 3-D Siping provides more biting edges which help increase traction across many road and weather conditions.
The tire comes with NanoPro-Tech polymer technology that limits energy loss for improved rolling resistance and optimum fuel efficiency.
Its new designed optimized tread pattern maximizes tread wear volume for long original life.
M713 comes with an optimized belt package for casing durability which reduces tire weight.
It also come with a high-rigidity tread pattern which controls movement of the tire's tread blocks for less wear and lower rolling resistance.
The tire comes with Three-Peak Mountain Snowflake (3PMSF) certification for winter traction performance.
CHECK CURRENT PRICE ON SIMPLETIRE
Pros
Fuel efficient
Longer tread-life
Outstanding reliability
Wears evenly
Cons
It's a new tire hence no negative report yet
Warranty
Bridgestone M713 did not come with manufacturer's tread-life warranty for now but built with a 90-day Buy and Trial Guarantee.
About Bridgestone
Bridgestone Americas (BSAM) Incorporated is a subsidiary of Bridgestone Corporation, the world's largest Tire and Rubber Company reputed for manufacturing automotive and commercial vehicle original equipment.
BSAM and its subsidiaries develop, manufacture and market a wide range of Bridgestone, Firestone and associate tire brands to address the needs of a broad range of customers including consumers, automotive and commercial vehicle original equipment manufacturers as well as those in the agricultural, forestry and mining industries.
BSAM also is engaged in retreading operations throughout the Western Hemisphere and produces air springs, roofing materials, industrial fibers and textiles.
The company operates the world's largest chain of automotive tire and service centers. Guided by its global corporate social responsibility commitment, the company is dedicated to improving the way people live, work, move and play in all the communities it calls home.
It has manufactured several quality tires that has met international standards such as the recently introduced M713 which is EPA smartway verified and California Air Resources Board (CARB) compliant for the use of trailers, heavy-and light-weight trucks and commercial buses.
CHECK CURRENT PRICE ON SIMPLETIRE
Tire Sizes
22"
295/75R22.5 G,11R22.5 G

24"
285/75R24.5 G,11R24.5 G
Conclusion
The Bridgestone M713 Ecopia tire features several design advancements for improved fuel efficiency, durability and longevity. It is uniquely built with better tread-life and significantly reduce rolling resistance for reliable motoring.
M713 meets the 3-PMSF criteria for snow traction performance and its EPA smartway verified. The tire is good for your trucks, trailers and long-journeyed commercial vehicles with lesser worries of having it changed more often than necessary.
We hope you will find our Bridgestone M713 ecopia review useful when making a choice for tire purchase. If you have a comment, question or review of this tire kindly drop it in the box below, we will be glad to hear from you.