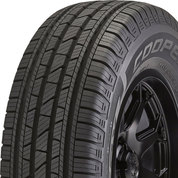 The Cooper Discover SRX is an all-season touring tire built to deliver all season traction in most weather driving conditions.
It is designed for SUV, crossovers, light trucks and vans while providing optimum ride comfort with great tread life and year-round traction.
Also, comes with warranty for different load sizes, 75,000 miles tread life warranty for S and T rated sizes, 70,000 miles for H rated sizes and 65,000 miles tread life warranty for V rated sizes.
In this Cooper Discoverer SRX review, we will be looking into the features, technology and performance of this tire to see if it is a good choice to pick.
---
Cooper Discoverer SRX
Technology
Presence of high silica for better wet and dry traction.
Designed with a symmetric tread that allows cross rotation and thereby enhancing long tread life.
Its Stabiledge technology manages movement on the tread block by stabilizing it during movement and thereby give better handling and precise steering.
Also, the tread has competition-grade resin for improved wet traction.
3D micro-gauge sipes give enough biting edges for good traction on a slippery road, good grip while cornering on a dry surface and light snow, and better braking abilities.
Presence of center and intermediate ribs that have independent tread blocks that enhance their grip when driving.
The Wear Square technology makes it easy to monitor the tread wear for better tread awareness.
Presence of two-ply polyester casing in its internal construction for durability and comfort.
Two steel belts reinforced by a single nylon cap ply for high-speed capability and stabilizing the tread.
Features
Available in 36 different size
Warranties for different load size
Wear square technology
Stabiledge technology
Warranty
The Cooper Discoverer SRX comes with a different warranty for its different load size asides from its 45-day road test guarantee.
The warranties are – 75,000 miles for S and T-rated tire, 70,000 miles for H rated, and 65,000 miles for V rated.
It also comes with a first 2/32-inch tire uniformity guarantee.
Materials and workmanship are covered for 5 years and include free tire replacement during the first 2/32 inches of wear.
Cooper then prorates out the amount for the remaining time period or down to the final 2/32 inch of tread depth.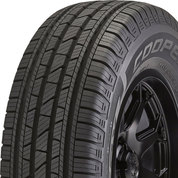 Performance
This tire gives a good all-season performance on dry, wet, and driving surface.
On Dry Surface
You get an adequate grip with good traction when it comes to this tire.
It gives a good grip with stability, cornering, and its braking is just great.
You get good handling and precise steering when driving, although not as great as summer tires this tire is great in an all-season way.
Performance is good and sufficient for any driver on a dry driving surface with this tire.
On Wet Surface
You get excellent performance with this tire on a wet surface.
Even in the rain, they just deliver quality and you are not exposed to the risk of hydroplaning.
In short, it is great for any driver and will not put you at any risk on a wet surface.
Even when there is high acceleration, this tire seems to just remain in control.
Also, you do not have to worry about its stopping power as you will get just the best performance there.
On Snow Surface
They perform well on light snow, being that their traction and handling on light snow is good.
Although, as an all-season tire, you are better with a winter tire if you have to drive in an extreme winter condition or on heavy snow.
You could go for an all-terrain tire instead if that suits your vehicle and driving condition.
Tire Size
For every tire size comes a treadwear rating of 740.
Speaking of sizes this tire is available in a wide range of sizes from 16 inches to 22 inches to suit different vehicles.
Size 16''
215/70R16 100H SL BSW, 225/70R16 103T SL BSW, 225/75R16 104T SL BSW, 235/70R16 106T SL OWL, 245/70R16 107T SL OWL, 245/75R16 111T SL OWL, 255/65R16 109T SL BSW, 265/70R16 112T SL OWL, 265/75R16 116T SL OWL.
Size 17''
225/65R17 102H SL BSW, 235/65R17 104T SL BSW, 235/70R17 109T XL BSW, 235/75R17 109S SL BSW, 245/65R17 107T SL BSW, 245/70R17 110T SL BSW, 255/65R17 110T SL OWL, 255/70R17 112T SL OWL, 255/75R17 115S SL BSW, 265/65R17 112T SL OWL, 265/70R17 115T SL OWL.
Size 18''
235/55R18 100V SL BSW, 235/60R18 107V XL BSW, 235/65R18 106T SL BSW, 245/60R18 105H SL BSW, 255/55R18 109V XL BSW, 255/65R18 111T SL BSW, 255/70R18 113T SL BSW, 265/60R18 110T SL BSW, 265/65R18 114T SL BSW, 265/70R18 116T SL OWL, 275/65R18 116T SL BSW
Size 19''
225/55R19 99H SL BSW, 245/55R19 103H SL BSW, 255/50R19 107V XL BSW, 255/60R19 109H SL BSW
Size 20''
235/55R20 102H SL BSW, 245/50R20 102V SL BSW, 245/60R20 107H SL BSW, 255/50R20 109H XL BSW, 255/55R20 110H XL BSW, 265/50R20 107T SL BSW, 275/45R20 110V XL BSW, 275/55R20 117H XL BSW, 275/60R20 115T SL BSW.
Size 22''
285/45R22 114H XL BSW.
Pros
Good wet and dry traction
Responsive handling
Precise steering
Comfortable tire
Durability
All-season traction on the wet and dry surface including light snow
45-day trial test drive
65,000 miles treadwear warranty
Cons
Not great for extreme winter driving

Alfred's Take
The Cooper Discover SRX is designed for drivers of SUVs, crossovers, vans, and light trucks that enjoy all season feel when driving, good highway traction, and want great comfort behind the wheels.
Discover SRX is an all-season tire that gives good traction all year round, with a good grip on dry and wet driving conditions.
It offers an awesome performance on light snow but you should not expect much if you drive on heavy snow or extreme winter conditions.
In these cases, you are better off with an excellent winter tire.
---
Conclusion
You get a smooth ride with the Discoverer SRX.
Although not the quietest tires, the noise is not too loud especially on the highway.
Good traction, handling, and grip with this tire are what make it worth it.
Despite all its good quality, this tire is available in a wide range of sizes and is very affordable.
In our recommendation on this Cooper Discoverer SRX review, we say they are worth giving a try for convincing.
Especially with the 45-days trial, you could take advantage of it.
If all-season traction is what you seek with comfort and durability then it is a good choice.
If you have any comments, leave them in the box below.
We will be glad to hear from you.
---