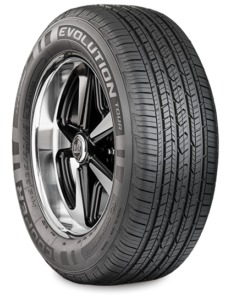 Cooper Tire introduced the Evolution Tire line in the last 2 years.
There are three tires that belong to this line: Evolution Winter tire for excellent grip and great performance on winter surface, Evolution H/T for all-season highway drive, and Evolution Tour for excellent all-season performance.
These tires are engineered to deliver great performance and durability to consumers on their individual driving surfaces.
The Evolution Tour is an all-season tire designed for all types of coupes, sedans, and minivans to deliver a smooth, comfortable drive with good fuel mileage, lasting tread life, and excellent all-season performance.
In this Cooper Evolution Tour review, we will get to know more about this M+S-rated tire.
---
Cooper Evolution Tour
Warranty
With the Evolution Tour, you get Cooper's 45-day Road Test Guarantee.
This tire is equipped with Cooper's tread life warranty of 60,000 miles for the H and V speed rated sizes and with 65,000 miles for the T speed rated sizes.
Also, there is a uniformity warranty for the first 2/32 inch of wear with workmanship and material availability unlimited.
There is a free replacement for the first 2/32 inch of wear, then prorated until the last 2/32-inch remaining depth.
Technology
Cooper Evolution Tour features 3D Micro-Gauge siping for enhanced grip and better traction. It also extends the depth of the tire tread for even wear and shapes maintenance during braking, acceleration, and cornering.
Stabledge technology gives the stabledge performance by aiding dry traction stability with enhanced handling while driving.
Features five-rib tread patterns that aids even wear and long tread life with block stability for precise handling.
Wide lateral shoulder grooves help protect your car from the risk of hydroplaning
Features
Fuel efficiency capacity
Quiet ride
Engineered to give long tread life
Lasting tread with even treadwear
M+S Rated
Warranty of 60,000 miles for V and H rated sizes
Free 45-Day Test Drive
65,000 Mile Treadlife warranty for T-Rated sizes
Performance
Evolution Tour is an all-season tire that is designed to give you confidence and put you in charge of your car in most driving conditions.
Its counterpart, the Evolution H/T, is a SEMA best tire winner with all positive reviews from consumers on this 3 Evolution line.
The Evolution Tour provides an attractive limited warranty on all sizes, it is available in 48 popular sizes and they are competitively priced.
Handling
You can be sure of a smooth and comfortable performance from this tire and you will not have to worry about excess road noise as the noise from the tire is minimal.
Steering response is great, and you also get precise acceleration and braking, confident cornering with overall responsive handling.
Dry Performance
You can go for the H-rated tires if you drive aggressively and require a grippier compound.
What you will get is a great deal of performance on a dry and wet surface with this tire.
You do not have to worry about road noise on a dry surface and you get predictable handling too with great steering response.
Wet Performance
One of the qualities we find more fascinating is the siping and tread grooves.
You will find them to be wide, almost wider than non-truck tires and by this design, you will not have to worry about their performance on water or slush.
As it has proven to be efficient on the wet surface, as it keeps good contact with the road surface, you will not have to worry about hydroplaning.
Snow Performance
As we all know, all-season tires are not the best on snow, especially on heavy snow, but with this tire, you can still expect good performance on mild snow.
Slippage when starting from a dead stop on the snow-covered surface can occur but it is minimal.
Overall, you get less slippage with this tire on snow compared to most all-season tires.
In sudden turn or stop, you will not feel noticeable slippage or sliding on snow which is unusual for all-season tires.
Ultimately, you will find this tire impressive on light snow for an all-season tire but if you drive unplowed roads frequently or drive on extreme winter surfaces, then you can check out exceptional winter/snow tires.
Tire Sizes
14''
175/65R14 82T, 185/60R14 82H, 185/65R14 86T, 185/70R14 88T, 195/60R14 86H, 195/70R14 91T
15''
175/65R15 84H, 185/60R15 84T, 185/65R15 88H, 185/65R15 88T 195/60R15 88T, 195/65R15 91H, 195/65R15 91T, 205/65R15 94H, 205/70R15 96T, 215/65R15 96T, 215/70R15 98T
16''
185/55R16 83H, 205/55R16 91H, 205/55R16 91T, 205/60R16 92H, 205/65R16 95H, 215/55R16 97H, 215/60R16 95T, 215/60R16 95H, 215/65R16 98T, 215/70R16 100T, 225/60R16 98H, 225/60R16 98T, 225/65R16 100T, 235/65R16 103T
17''
215/55R17 94T, 215/55R17 94V, 215/60R17 96T, 215/65R17 99T, 225/50R17 94T, 225/50R17 94V, 225/55R17 97H, 225/60R17 99T, 225/65R17 102T, 235/55R17 99T, 235/60R17 102T, 235/65R17 104T, 245/65R17 107T
18''
225/50R18 95T, 225/55R18 98H, 225/60R18 100H, 235/55R18 100V

Alfred's Take
The Evolution Tour is for drivers of coupes, sedans, and minivans that desire a long-lasting tread, great handling, fuel efficiency, comfortable ride, and great all-season traction all year round.
The tire is available in 48 sizes with a 60,000 to 65,000-mile tread life warranty.
---
Conclusion
The Evolution Tour will be a good choice for your passenger car, as it is engineered to give smooth, comfortable, and great all-season traction on most driving surfaces.
Speaking of prize, it is very affordable compared to most all-season tires out there with these great capabilities.
Do you want excellent traction, confident handling, lasting tread life, responsive braking, precise cornering, fuel efficiency, even wear, and overall great performance?
Then, the Evolution Tour is a good choice to pick, and, as we said, even at a very affordable price, you can take advantage of the 45-day customer trial to check out this tire.
If it does not suit your driving condition, then you can return or replace it which is very unlikely.
Speaking from our personal experience with this tire, it just takes the car it is fitted on to another level of comfortability.
We hope you found our Cooper Evolution Tour review helpful.
If you have a comment, question, or review of this tire, leave it in the comment box below.
We will be glad to hear from you.
---