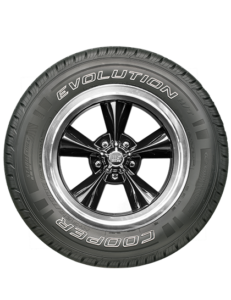 The Evolution H/T is Cooper's all-season highway tire.
It was introduced the same week alongside Evolution Tour all-season tire and Evolution winter which are all in the Cooper Evolution line.
The Evolution H/T is an all-season highway tire designed for SUVs, light-duty pickup trucks, and crossover vehicles.
This tire comes with Cooper's limited warranty of 60,000 miles and it is available in 28 popular sizes.
The Evolution H/T offers all-season highway traction, outstanding grip, driving comfort, and stability.
Let's get to know more about the affordable Evolution H/T in this Cooper Evolution H/T tires review.
---
Cooper Evolution H/T
Technology
Cooper 3D Micro-Gauge siping for enhanced traction on a wet surface, stability, and superior handling.
Features silica tread compound for shorter braking distance, improved grip, better fuel efficiency, enhanced handling, and tracking stability.
Feature tread compound that helps in minimizing the tire noise, ensure even wear, and better tread life.
The wide groove helps to evacuate water and thereby reduce the risk of hydroplaning.
Its all-season tread compound is molded into a symmetric tread design
Features high silica compound for easy rotation, better grip on a damp surface, and to enhance even wear.
Evolution H/T Internal construction consists of a two-ply polyester casing that aids balance when driving and durability.
Two wide steel belts are reinforced by two nylon caps plies that stabilize the tread and increase resistance to punctures.
Warranty
The Evolution H/T comes with a tread life warranty of 50,000 miles and with a uniformity warranty for the first 2/32 inches of wear.
It also has a workmanship and materials warranty with free replacement for the first 2/32 inch of wear then prorated until the last 2/32 inch depth remaining.
The Evolution H/T comes with Cooper's special warranty of 45-Day Road Test for its consumers, therefore you can return within 45 days if you are not satisfied.
Features
For a light-duty truck, SUV and Crossover
Cooper's 45-Day Road Test
60,000 Mile Treadlife Warranty
Affordable price
Performance
Evolution H/T is engineered with up-to-date technology and is available in 28 popular tire sizes.
With the Evolution H/T, you get a comfortable ride, good handling in the rain, and excellent traction on a wet surface.
You will not have to worry about driving in bad road conditions as you get superb cornering and great traction even in thunderstorms.
In essence, you get a great performance on dry and wet surfaces and even on light snow, but if you often drive on heavy snow or in extreme winter conditions, then you should go for quality winter/snow tires.
However, these tires are known to get notoriously noisy when they start to wear off, especially after the first 10,000 miles.
This means that you could start to get increasing road noise.
Other than that, this tire delivers good performance on most driving surfaces.
As stated by Cooper's director of product management:
"The market for SUVs, CUVs, and pickups continues to expand rapidly," said Scott Jamieson, Cooper's Director of Product Management for North America. "Being responsive to what is happening in the market is a commitment we take seriously at Cooper to help our dealers grow their businesses and help us succeed along with them. This commitment calls for Cooper to adapt our product offerings and evolve our tire lines and size ranges on an ongoing basis. The new Cooper Evolution H/T is a great example of offering a tire that responds to the needs of a growing market, while also providing a product with advanced technology and great performance at a price point that hits a sweet spot in that market. We're excited about this tire and what it will bring to our dealers in terms of high quality, an affordable new option for their SUV, CUV, and pickup truck customers," Jamieson added.
Tire Sizes
15"
225/75R15 102T, 235/75R15 109T, 265/75R15 112T
16"
215/70R16 100H, 225/70R16 103T, 225/75R16 104T, 235/70R16 106T, 235/75R16 108T, 245/70R16 107T, 245/75R16 111T, 255/70R16 111T, 265/70R16 112T, 265/75R16 116T
17"
235/65R17 104T, 245/65R17 107T, 245/70R17 110T, 265/65R17 112T, 265/70R17 115T,
18"
235/65R18 106H, 245/60R18 105H, 255/55R18 109H, 255/65R18 111T, 255/70R18 113T, 265/70R18 116T, 275/65R18 116T
19"
245/55R19 103H
20"
245/50R20 102H, 265/50R20 107T, 275/55R20 117H, 275/60R20 115T
Pros
Great handling on a wet surface
Excellent performance on a dry surface
Great all-season performance
Tread life warranty
Cons
Not for extreme winter condition
This tire can start to get noisy as it wears off

Alfred's Take
The Evolution H/T is an all-season highway tire engineered for drivers of crossover vehicles, SUVs, and light-duty trucks which offers good all-season performance.
This tire provides stability, outstanding grip, superior handling, quality performance, and good traction.
---
Conclusion
If you do not mind the fact that there is a possibility of it getting really noisy after you put some miles on them, then this tire will be a good choice as it is great in its performance delivery.
We hope you find our Cooper Evolution H/T tires reviews helpful.
If you have a review of this tire, question or comment then leave it in the box below.
We will be glad to hear from you.
---