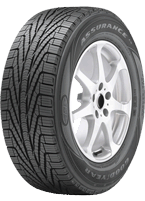 The goodyear assurance tripletred is an all-season tire made for cars, minivans, coupes, SUV and sedans. This is the second model built by the company for this specific tread design, and just like the name implies it is built with three tread zones.
The first tripletred was also a well-built tire that delivered quality but the assurance tripletred was built to take things further and make the design more interesting. In this article we will be bringing you the goodyear assurance tripletred reviews, from its unique features to its technology and performance.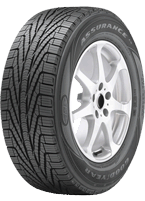 Speaking of Goodyear as a brand
Goodyear was founded in 1898 and has been into developing and manufacturing car tires since then. This company as built and produced many impressive tires and always incorporates new technology.
Although, the brand is not the least affordable compared to other tires in the industry but still they give competitive pricing. Goodyear also produces tires that deliver quality and great performance.
Their warranty is impressive because it is always beyond average and they have 30 days return warranty for their tires.
This 30-day return warranty from goodyear enable goodyear tire consumers to drive their tires for 30 days and decide if it is best to keep them or if it doesn't fit their driving conditions then can be returned for exchange of another tires.
Compared to most tire brands you could buy your tires directly from Goodyear and have them shipped for free to the local service station of your choice.
CHECK CURRENT PRICE ON SIMPLE TIRE
Built for what type of car
The good year assurance tripletred is built for cars, minivans, sedans, small SUV and coupes.
Season
The goodyear assurance tripletred is an all-season tire. Assurance tripletred is designed to offer the driver excellent control with good handling in most weather conditions even on light snow. While its three-tread zone delivers good traction
FEATURES
The assurance tripletred is built with three tread zone that gives good traction while driving on most surface including light snow.
Goodyear Assurance tripletred tire is designed with a water zone in a sweeping tread pattern that effectively evacuate water from the tires part when driving on wet surface and therefore improves its wet traction.
Its dry zone with the large tread blocks along its outer edges helps in providing confident handling on dry roads
Ice zone is incorporated in the tire siping and it comes with numerous biting edges which enhances its grip and therefore gives better traction on icy and slick road
This tire features a polyester cord casing which gives better ride comfort.
Warranty
It also has 80,000-mile treadwear warranty for T and H rated sizes or 70,000 miles for V rated sizes.
Also, materials and workmanship are covered for 6-years and a 2-year roadside service warranty.
Consumers are given free first year replacement or first 2/32 inch of wear. Goodyear prorates the amount for the remaining time period or down to the last 2/32 inch of tread depth.
CHECK CURRENT PRICE ON SIMPLE TIRE
PERFORMANCE
The goodyear assurance tripletred is great in most weather driving condition except on heavy snow as it is an all-season tire, for winter then you could get a winter tire as it is specifically built for winter or an all-terrain tire.
This tire gives good grip and great traction on both wet and dry driving surface. The Assurance tripletred All-Season is designed with three unique tread zones to provide year-round drivability and all-season traction even on light snow.
Technology
The Assurance tripletred All-Season directional tread pattern features three different tread patterns which is designed to deliver great traction on dry, wet and snow driving condition.
The dry zone features larger tread blocks along the shoulders that provides it great steering response, confident handling, good cornering grip on dry pavement.
The water zone uses sculptured Aquachutes in the channel grooves and this helps in avoiding hydroplaning by evacuating water and slush to increase traction in wet driving conditions.
And the ice zone features a unique tread compound made of innovative polymers in its interlocking tread pattern and continuous rib with numerous biting edges which helps give extra grip in snow and on slick ice.
This technology gives the tire good traction on light winter driving surfaces and also when the tire begins to wear.
The Assurance tripletred All-Season tread pattern features evolving traction grooves that is about 1/10″ wide sipes when it starts being in use to maximize footprint contact when the tire is new and then it broadens into wider lateral grooves as the tire starts to wear.
The goodyear assurance tripletred evolving traction grooves generate better rain, slush and snow traction when in use.
The tire's internal structure includes twin steel belts reinforced with spirally wound polyamide which gives better ride quality with durability.
This tire features a polyester cord casing that enhances ride comfort.
Tire Size
195/60R15 88H SL BSW, 195/65R15 91H SL BSW, 205/65R15 94H SL BSW, 205/55R16 94H XL BSW, P 205/60R16 91V SL BSW, 215/55R16 97H XL BSW, P 215/60R16 94T SL BSW, P 215/60R16 94V SL BSW, 215/65R16 98T SL BSW, 225/60R16 98H SL BSW, 235/65R16 103T SL BSW, 205/50R17 93V XL BSW, P 215/50R17 93V XL BSW, 215/55R17 94V SL BSW, 215/60R17 96H SL BSW, P 215/65R17 98H SL BSW, 225/50R17 94V SL BSW, 225/55R17 97H SL BSW, P 225/60R17 98H SL BSW, 235/45R17 97V XL BSW, 235/55R17 99H SL BSW, 215/55R18 95H SL BSW
Pros
It gives good handling
Offers great traction
You get to a good extent a comfortable ride
You get a 6-year or 80,000-mile tread life warranty
Cons
Some consumers complained of road noise
Not built in bigger sizes
CHECK CURRENT PRICE ON SIMPLE TIRE
Recommendation
These tires handle and grip the pavement very well, either on dry, wet or snow and ice covered road. An all-season tire that comes with a great warranty and delivers quality and comfort when driving.
I will say this tire is a good choice to buy and you can find it in different car, sedan, coupe and even small SUV sizes. The only thing is you can't find it in truck sizes.
And I hope you find our goodyear assurance tripletred reviews helpful. If you have any review or question kindly leave it in the comment box below, we will be glad to reply.