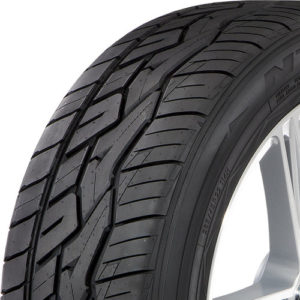 The NT420V is an all-season Nitto new tire and an LT metric-sized tire built specifically for luxury truck and SUV vehicles.
The Nitto NT420V is also available in an F-load range rating with an all-season pattern which is stated by Nitto to offer truck owners a proper load-rated application.
This tire is the successor to the NT420S which was designed for enthusiasts.
As stated by the senior director of product and business development at Nitto USA: "We're confident that the NT420V's unique blend of bold aesthetics and excellent highway handling performance will make it a winner in this vital market segment."
This is no denying as this tire is designed as the perfect complement to your vehicle aesthetics while giving your truck undeniable wet and dry traction with highway smooth drive.
This tire company was founded in 1979 and since then, they have provided tires for car enthusiasts with lots of new innovations and emerging technology.
They create some of the best tires in the industry for the consumers by their continuous growth and combination of cutting-edge technology with a modern aesthetic.
They have birthed and delivered lovely and quality tires from their quality engineering, rigorous tire testing before releasing to the market, and the state of art development.
---
Nitto NT420V All Season Truck & SUV Tire
The New Nitto NT420V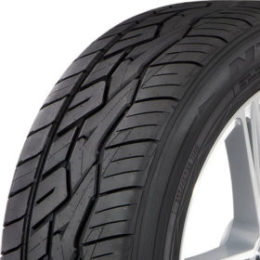 Nitto is well-known for its different production of tires but the NT420V is its first LT metric sized tire with an F load range rating in an all-season pattern.
With this tire, you are in control of your vehicle and yet they look good on it.
A bold, lovely diamond pattern on its sidewall looks quite attractive, as well as its asymmetric tread pattern that stays complimenting your wheels with its good looks.
The uniqueness of the combination of its tread as a part is made for dry performance, delivering exceptional dry performance with good handling when driving on the dry surface so also, is the other part that is created for wet performance which equally gives exceptional performance on a wet surface with precise handling and good grip.
Aside from its unique tread pattern and good looks, you find that this tire is designed to cross rotate.
They are not directional therefore when you have this tire you use the tire for a long time because there is the possibility of cross rotating which eventually increases the tread life.
Cars The NT420V Can Be Fitted On
It can be fitted on different types of SUVs, including the BMW X5 and X7, Ford Expedition, Edge and Explorer, Lincoln Navigator, Cadillac Escalade, Chevy Tahoe, Suburban, Land Rover, Range Rover, Dodge Durango, Jeep Grand Cherokee, Mercedes GLC, and GLE AMG. The NT420V can also be installed on some light trucks like the Toyota Tundra and Nissan Titan, Chevy Silverado 1500 and Avalanche 1500, Dodge Dakota and RAM 1500, Ford F-150.
Features
Features a non-directional asymmetric pattern for good all-season performance
Presence of large continuous blocks on the outer shoulder for better dry traction on the dry driving surface
Its inner shoulder helps avoid hydroplaning by channeling water away for better-wet performance on a wet driving surface
Its outer tread blocks also improve its cornering abilities and grip on dry road
Its non-directional tread also makes it easy for cross rotation which enhances even wear and better tread life
Two wide circumferential grooves channel water away from the tread blocks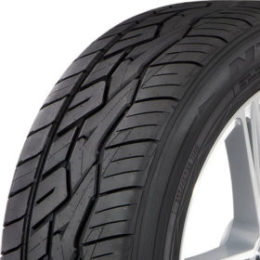 Technology
Features computer model design that gives better performance while driving and aid reduction in road noise.
The tested technological advances in its polymer tread compound produce quality Nitto tires with great performance on dry and wet surfaces and excellent all-season traction.
The computer-designed tread pattern of this tire offers optimum performance, unique aesthetic profile with good looks.
Its asymmetric tread pattern has two distinct performance zones in one. One for dry performance and the other for wet performance.
Tire Sizes
This new Nitto NT420V is available in 32 different sizes and designed for a wide range of 1/2-ton, 3/4-ton, and one-ton trucks and SUVs with its rim diameter availability ranging from 20 inches to 24 inches.
20"
265/45R20 108V XL
265/50R20 111V XL
275/40R20 106W XL
275/45R20 110V XL
275/55R20 117H XL
275/60R20 116H XL
285/40R20 108V XL
285/50R20 116V XL
295/45R20 114V XL
305/50R20 120H XL
LT305/55R20 F 125/122S
LT325/50R20 F 124S
22"
285/40R22 110W XL
285/45R22 114H XL
305/40R22 114H XL
305/45R22 118H XL
Pros
Inner lateral grooves for more biting edges to maintain stability and good grip on a wet surface
The asymmetric sipes and grooves along with its variable pitch tread block design help reduce high pitch noise when driving.
Cons
Users noticed a bit of road noise as tires wear down

Alfred's Take
Nitto's new tire is designed to deliver optimal performance and exceptional aesthetics.
The NT420V is available in many popular OE and plus-sizes, including LT-metric sizes for ¾ to 1-ton trucks.
---
Conclusion
The NT420V is a luxury tire made for trucks and SUVs and it will not let you down with its excellent features and modern technology.
It gives an excellent wet and dry performance, good grip, precise steering with good looks.
This feature gives a quiet drive, comfortable ride, and longer tread life.
This tire gives high performance and all-year-round traction.
You could give this new Nitto tire a try on your luxury truck and SUV.
It will be a good choice to buy as it is an improvement from its predecessor.
If you have a comment, consumer review, or question about this tire, leave it in the comment box down below.
We will be glad to hear from you.
---