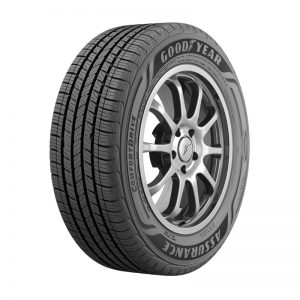 Goodyear Tire and Rubber Company have just introduced Assurance ComfortDrive all-season tire which the company says will be offering its most comfortable ride to date.
This tire will be available in 44 sizes ranging from 16 to 20" rim diameter beginning from September 2020.
It is an ideal fit for passenger cars, minivans, CUVs, and SUVs and will be suitable for other popular vehicles, such as Audi Q5, Buick Encore, Chevrolet Traverse, Ford Explorer, GMC Acadia, Honda Accord, CR-V and Pilot, KIA Sorento, Lexus IS and RX, Nissan Maxima, Subaru Forester, and Toyota Rav4 and Sienna.
The tire offers prospective buyers a confident and comfortable ride all year round as it comes with a 24-month or 24,000 miles standard limited warranty but no tread-life warranty yet.
You will get to know more about the new Goodyear release in this Goodyear Assurance ComfortDrive review.
---
Goodyear Assurance ComfortDrive
Performance
The new Assurance Comfort Drive serves up all the necessary ingredients required by drivers for a smooth comfortable ride as it offers a smooth and quiet ride with superior wet performance.
With its unique combination of innovative tread design and sidewall features, the all-season Assurance ComfortDrive tire stands out as the company's most comfortable ride with utmost reliability.
As touted by the manufacturer, the tire is good for a smooth ride with refined handling plus confident traction in changing weather conditions with its additional 20% more cushion which enables it to outperform the leading competitors in ride comfort.
The tire is built with a specialized tread compound that delivers confidence in wet and cold conditions without compromising fuel economy or tread life.
Technology
Assurance ComfortDrive comes with the ComfortFlex technology designed for smoother transitions. thus impacting absorption to deliver ultra-refined handling.
Its optimized symmetrically balanced Aqua-channel grooves help to maximize water evacuation and reduce hydroplaning for superior wet road performance.
Built with an innovative noise-reducing tread pattern that helps to eliminate road sounds.
The evolving traction grooves and Tredlock technology combined with soybean oil compound help to maintain good traction while providing lasting control and responsiveness.
Its built-in wear gauges allow consumers to conveniently and easily check their tread depth at will.
A special comfort layer in the tire's tread helps to provide about 20% more cushion than standard passenger tires from the competitors.
The comfort-Edge sidewalls help provides a versatile balance of comfort and handling.
An asymmetric tread helps provide refined handling and confident wet traction.
The wide circumferential grooves help evacuate water away from the tread for enhanced traction on wet roads.
This tire also features rice husk ash silica. This environmentally-friendly material helps to reduce waste going to landfills and forms an integral part of a specialized tread compound.
An innovative noise-reducing tread pattern helps eliminate sounds from the road.
Warranty
ComfortDrive comes with a standard limited warranty of 24 months or 24,000 miles (whichever comes first).
Company's Profile
Goodyear is one of the world's largest tire companies.
It employs about 63,000 people and manufactures its products in 47 facilities in 21 countries around the world.
Its two Innovation Centers in Akron, Ohio, and Colmar-Berg, Luxembourg strive to develop state-of-the-art products and services that set the technology and performance standard for the industry.
The company has continued to set new standards in the development of innovative tire technologies in the global tire market.
Goodyear produces a wide range of tires for consumers all over the world while offering most of the benefits today's drivers are looking for in an ideal tire ranging from innovative technology, performance handling to all-weather reliability and affordable quality.
The company has produced many top brands for aviation, commercial trucks, off-the-road, racing, and RV tires in various sizes for all seasons and weather.
Pros
Refined handling
Low road noise
Fuel efficient
Good traction
Cons
Does not come with a tread-life warranty for now

Alfred's Take
With Assurance ComfortDrive A/S tire, drivers can experience a smooth, peaceful ride for themselves in addition to outstanding handling and premium wet performance with the confidence they desired while driving.
---
Conclusion
The Goodyear Assurance Comfort Drive all-season tire delivers a premium ride, safety, and low road noise, while at the same time providing outstanding handling performance to give drivers rest of mind when they drive.
The necessary quality inputs and improved technology employed in the production can underscore your confidence in the new Assurance ComfortDrive to serve you as long as it lasts with durability, value for money, and reliability for a smooth comfortable ride with superior wet performance.
We hope our Goodyear Assurance ComfortDrive review will serve the purpose of your inquiry as desired.
If you have a comment, question, or review of this tire, kindly leave it in the box below.
---