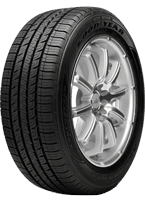 The Goodyear Assurance Comfortred Touring is an all-season tire built specifically for coupes, passenger cars, SUVs, minivans, and mid-range sedans.
The Goodyear Assurance Comfortred is great in most driving conditions, even on light snow while delivering a comfortable yet quiet ride.
Everyone loves a durable tire that is well-built, safe, and delivers quality.
That is why we bring the Goodyear Assurance Comforted Touring reviews to you, to help you in making the best buying choice when choosing your next tire with adequate information about this tire.
---
Goodyear Assurance Comfortred Touring
Technology
Goodyear Comfort Edge Technology improves the sidewall durability under driving pressure and gives it a better steering response.
Features reinforced internal structure which helps the tire to maintain its shape and prevents it from deforming which aids better performance.
The Comfort Edge Technology's sidewall enhancement and the strengthened steel belt of the internal structure upgrade the tire's durability.
The Assurance ComforTred Touring tread design features a dual variable pitch sequence on its shoulder tread pattern which reduces road noise while driving.
Its asymmetric tread features wide circumferential grooves to avoid hydroplaning by dispersing water and slush from beneath the tire.
The semi-asymmetric tread pattern with the detailed siping design and the all-season tire compound work together to ensure excellent dry, wet, and winter weather road gripping ability.
Goodyear states that the ComforTred Touring provides up to 20% more cushion than other passenger tires. This is due to the Goodyear's Special Comfort Layer, which is basically an added layer of soft rubber, in the tread that fits between the tread and the steel belts and an outer ComfortEdge in the sidewall layer further enhances comfort by absorbing road shocks without getting to the driver.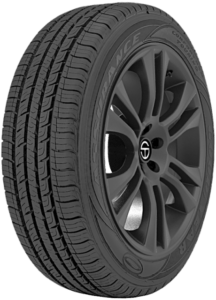 Performance
On Dry Surface
The Assurance Comforted Touring tire gives a flawless performance on the highway.
Its sidewalls are built to deliver comfort and also give additional stiffness while cornering, while its asymmetric tread design gives it better traction.
It is good in short stopping distance and emergency cornering on dry driving conditions as well.
On Wet Surface
Its circumferential chutes are designed to clear water away from its path while protecting it against hydroplaning.
On Snow
Goodyear Assurance Comforted Touring tire gives great performance on snow, gravel, ice, and harsh roads.
Features
The wide circumferential grooves help in evacuating water away from the tread which aids its better traction on wet roads.
Its inbuilt special comfort layer in its tread gives on average 20% more cushion in them than standard passenger tires.
Asymmetric tread design aids its better handling and good wet traction.
Sidewalls give balance and comfort with good handling.
Features a system of densely packed tread blocks that gives a smooth and comfortable ride.
PermaBlack sidewall that helps maintain its appearance.
80,000-mile tread life warranty for T and H-rated tires.
70,000-mile tread life warranty for V-rated tire.
Warranty
These tires come with a 30-day test drive, whereby you can exchange the tires for another Goodyear model if you are not satisfied.
It also has an 80,000-mile tread life warranty for T and H rated sizes or 70,000 miles for V rated sizes and a 6 years tread life warranty.
Tire Size
15"
P 185/65R15 86T SL BSW, 195/60R15 88H SL BSW, 195/65R15 91H SL BSW, P 205/60R15 90H SL BSW, 205/65R15 94H SL BSW, 215/70R15 98T SL BSW
16"
205/55R16 91H SL BSW, P 205/60R16 91V SL BSW, 205/65R16 95H SL BSW, 215/55R16 93H SL BSW, P 215/60R16 94V SL BSW, 215/65R16 98T SL BSW, 225/55R16 95H SL BSW, 225/60R16 98H SL BSW, 225/70R16 103T SL BSW, 235/60R16 100H SL BSW, 235/65R16 103T SL BSW
17"
205/50R17 89V SL BSW, P 215/50R17 93V XL BSW, 215/55R17 94V SL BSW, 215/60R17 96H SL BSW, P 215/65R17 98T SL BSW, 225/45R17 91V SL BSW, 225/50R17 94V SL BSW, 225/55R17 97V SL BSW, P 225/60R17 98H SL BSW, 225/65R17 102H SL BSW, 235/45R17 94H SL BSW, 235/55R17 99H SL BSW, 235/60R17 102H SL BSW, 235/65R17 104H SL BSW
18"
215/55R18 95H SL BSW, 225/50R18 94H SL BSW, P 225/55R18 97H SL BSW, 225/60R18 100H SL BSW, 235/45R18 94V SL BSW, 235/55R18 100V SL BSW, P 235/60R18 102V SL BSW, 235/65R18 106H SL BSW, 245/45R18 96V SL BSW, 245/60R18 105H SL BSW, 265/60R18, 110H SL BSW
19"
235/55R19 101V SL BSW
20"
245/50R20 102V SL BSW, 255/55R20 107H SL BSW.
Pros
Excellent traction on a dry and wet surface
Good traction on light snow
Tread life warranty up to 70,000 miles
Good tread life
Gives ride comfort
Cons
Increase in road noise once tire begins to wear has been complained by some customers

Alfred's Take
This tire gives good handling with great traction in different driving conditions.
It offers the user flawless performance on a dry surface, the technology in place that aids its better performance on wet roads, and great delivery on light snow.
---
Recommendation
With all the quality the Goodyear Assurance Comforted Touring tire possesses, we say it is a good choice to buy with technologies that enhance its function.
Some of its excellent features are sidewalls that do not deform during driving because the internal structure was upgraded to the responsiveness of the steering which will ultimately keep you in charge while driving.
Also, the biting edge was built to firmly grip the road in dry and wet conditions and even on light snow, with its tread block that improves cornering ability and maneuvering capability.
Its Comfort edge technology does many things and also decreases the road vibration while absorbing all the shock you could experience with a tire because of the extra layer added to the tire sidewall under its tread.
The siping details biting edges and the asymmetric tread pattern firmly grip the road surface in all-weather while the tire compound remains flexible in all-weather even in cold and actively resists weather damage from harming the tire's tread area.
The better traction and weather durability guarantee a secure performance all year round.
With all these good qualities I recommend it as a good tire for your lovely car.
We hope you find our Goodyear Assurance Comfortred Touring reviews helpful when choosing your next tire.
You can also check out Goodyear Assurance Tripletred.
If you have a comment or question, leave them below.
We will be glad to help.
---