Snow chains are also called tire chains.
They are installed on vehicle tires and this aids maximum traction when driving through snow and ice.
Snow chains are usually attached to the wheels of the vehicle while there are some special chains that swing under the tires automatically.
In this article, we will share with you our best snow chains review.
Here is a list of tire chains we have chosen:
Security Chain Company SZ143 super Z-6 cable chains
Konig XG 12 pro snow chains
SZ335 Shur grip Z passenger car chain cable
ZT726 super ZLT light truck and SUV traction chains
Terraking terragrips tractors and industrial vehicle tire chains
Konig XB- 16 247 commercial vehicle snow chains
Thule CS10 passenger car snow chains
Cobra cable passenger snow chains
But first, let's get to some frequently asked questions about tire chains.
---
Security Chain Company SZ143 Super Z-6 Cable Chains
Security Chain Company is well-known for its quality and variety in snow chain production, their chains are designed with the best technologies and good materials.
They always put their customer first as they produce chains that offers safety, quality, durability, and this SZ143 model is no different.
The super Z6 SZ143 is designed for cars, pickups, and SUVs, and it can fit on sidewall clearance that is as little as 6.33 millimeters.
The SZ143 is not actually like the usual set of snow chains, it is a snow cable and with its clearance limit, it is safer for most vehicles.
With its diagonal cross pattern and split outside cable with two fastening position makes the cables easy to fix, you don't even have to move your car during the installation.
It is designed to be compatible with Anti-Lock braking in comparison to most snow chains, and this feature actually aids better safety of the user.
The Super Z6 traction coil is made of alloy steel and is known to give better traction and durability.
You find this cable chain compatible with a wide range of vehicles; this is an advantage as most chains are specific and choosy.
Also, you will find it compatible with all electronic monitored brake systems and traction control.
Features
Chain tighteners are required and included for this cable chain
Very durable cable chains
Installation and removal is easy
Compatible with a wide range of vehicles
Possess good cornering traction
Compatibility with all electronic monitored brake systems
Compatibility with traction control
Comes with a 1-year limited warranty
---
Konig XG 12 Pro Snow Chains
Konig is a German manufacturing company well-known for the production of snow chains over the years.
The XG 12 pro is made specifically for SUVs, constructed with fine materials and nylon bumpers.
The nylon bumper is a little red nylon ball placed in between the wheels and chains for protection of the wheel against the chains by preventing contact between the two.
Alongside its rugged-looking chain pattern is double traction plates that aids multiple impacts of traction.
Although Konig XG 12 is not the cheapest chain you could get, this is one of the best chains available in the market.
It comes with a built-in self-tensioning feature system which is incorporated for easier and quick installation of the chains and the tension on the chain is always in check.
This chain is great on snowy surfaces and even though it is a little pricey, it will be worth it.
Features
Easy installation
In-built self-tensioning system
Designed for SUVs
12mm clearance
Nylon bumpers that prevent contacts between wheels and chains
---
SZ335 Shur Grip Z Passenger Car Chain Cable
The SZ335 is another S class chain from the Security Chain Company, designed for passenger cars.
Its diagonal cross member pattern and its rubber tighteners make this chain easy to install.
You can expect around traction from this chain cable on the lightest of snow to when it gets really thick.
Although not the most affordable, it is durable and one of the best chains you can find for your passenger tires to deliver a great performance and traction on snow.
However, note that this chain should be fitted before use.
Features
Rubber tighteners included for easy installation and removal.
Meets the requirements of S.A.E. Class "S" operating clearances.
For passenger cars
Chain tensioners are required and included
Good all-round traction
Durability even in comparison to the usual tire chain
1-year manufacturer warranty.
---
ZT741 Super ZLT Light Truck and SUV Traction Chains
The ZT741 is another cable chain from the Security Chain Company, designed for light trucks and SUVs. This chain has proven itself over and over again over the years.
You find it to be quite popular with users of pickup trucks, SUVs, and sport utility vehicles.
Its diagonal cross member pattern does not fail to provide you with all-around traction and you find these chains to be usable again.
It survives even the stormiest snow driving and once fixed, you don't have to stop and retighten as it features its own inbuilt rubber tensioner.
You find it steel constructed to enhance its durability and it meets the class S clearance requirement with low clearance.
Features
Gives all-around traction performance and durability unlike conventional cable or link tire chains.
Meets S.A.E. Class S clearance requirements or vehicles with limited clearance.
All steel construction for long life,
Chain tensioners are required and included.
Rubber tighteners are included.
It covers the entire range of light truck tires with only five stock numbers.
---
Terraking Terragrips Tire Chains For Tractors And Industrial Vehicles
The terraking terragrip tire chains are quite unique to the usual chains because they are built of tough rubber slats and you only find chains at the edge.
The chains at the edge are not those that give your tires good traction, but they are just there to keep the rubber together.
This tire chain is not built for your usual vehicle, this is for bigger tires.
Designed for ATV, tractors, and industrial vehicles, meaning that if you drive one of these heavy vehicles, the terraking terragrip will be a good choice to consider.
You get superior traction with these chains on snow, ice, mud, even gravel, or any difficult driving situation you could find yourself in.
You could fix this chain before snowfall, because, unlike the usual chain, you do not have to worry about it tearing up the road, causing damages to your tires or any breakdown like an average chain will do.
You get a firm grip with these tire chains and with the rubber belt so that you don't have to worry about scratching, chipping or it wearing off your tire quickly.
Having in mind the fact that this rubber is actually quite soft, it suits any driving condition without damage and offers better traction instead.
Features
Easy to install and no tools are required for installation.
Great on concrete, pavement, brick, mud, snow, dirt, asphalt, etc.
Rubber slats for superior grip and durability.
No steel touches the surface, therefore, no damage from steel chains.
Multi-Ply Rubber Slats Instead Of Steel Chains.
Delivers great performance without digging into the road.
Improved traction for tractors and other big tires.
Increased traction without any damage.
---
Konig XB- 16 247 Snow Chains
The Konig XB-16 427 is a classic, standard snow tire with a simple design and high quality, suitable for everyday drivers.
Konig is well-known in the industry over the years and actually one of the best.
Konig is well trusted in the production of chains because they deliver nothing short of quality.
Unlike other chains stated earlier, it really has no special features.
In fact, it requires manual tightening compared to some chains.
But that doesn't deny its quality and simplicity, plus it is affordable.
This chain is designed for commercial vehicles, campers, and off-road vehicles.
The chain is made of 16mm thick links and it gives maximum traction. This chain comes in a set of two snow chains.
Features
Standard and traditional design
The chains are durable
Built with simplicity, yet capable
16mm clearance
Manual tightening required
Affordable
---
Thule CS10 Passenger Car Snow Chains
The CS10 is a high-quality chain constructed with steel and possesses a smaller gauge compared to some chains.
It is very easy to install thanks to its color-coded assembly points.
You get great traction with this chain because of its dual-sided D-shaped links that also give improved traction.
Features
Self-tensioning system and automatic release
10 mm inside and on-the-tread clearance
Anti-scratch nylon bumpers protect alloy wheels.
---
Cobra Cable Passenger Snow Chains
The cobra cable snow chain delivers great performance in snow.
It is made of tough carbon steel rollers which provide good traction and enhance its durability.
You could attach rubber adjusters to this chain to fit your car, but if you don't want them, you do not have to attach them.
The chains will still deliver good performance.
These chains are suitable for vehicles with minimal clearance availability and vehicles with original equipment tires with high tread.
Cobra Passenger Cable Chains are made with tough low profile carbon steel rollers for enhanced traction and longer wear.
Their low-profile steel rollers allow increased tire-to-road contact and this aids stability and more comfort because it checks and reduces noise and vibration when driving.
They are more adaptable when installing them because of their SAE Class 'S' Clearance.
Features
They are rust protected
Made of tough carbon steel rollers
Designed for vehicles with minimal clearance
Can be paired with original equipment tires that have a higher tread
Designed only for snow or ice-covered highway
SAE class 'S' clearance
---
Do Tire Chains Help in The Snow?
In some steep mountainous areas, tire chains are required during the winter on every type of vehicle that attempts to pass through.
Some vehicles may have winter tires or even studded tires, but those are not enough to safely pass through these hazardous conditions.
Tires get better traction and good handling in extreme winter conditions with the chains.
Do You Put Snow Chains On All 4 Tires?
For ultimate traction and balance for your vehicle, you need chains on all four tires, especially in extreme off-road conditions.
You can face some problems by only chaining two tires.
If chains are on the front tires only, the back of the vehicle can react unpredictably during driving and if they are only put on the rear tires, the steering ability of the vehicle could be jeopardized.
Also, four-wheel-drive vehicles require chains on all tires to prevent drive-train damage.
However, for a definitive answer, check your owner's manual under 'snow chains' or 'tire chains'.
The manufacturer will recommend placement for your vehicle.
Can You Drive With Snow Chains On Road?
Using chains on the road when there is no snow can cause damage to both your tires and the road itself.
Tire chains for cars should only be used if there is a layer of snow or ice on the road.
Therefore, if you are driving down a road that has clearly been plowed and salted you should pull over and remove the chains.
How Fast Can You Drive With Chains On Your Car?
Driving with chains reduces fuel efficiency and can reduce the speed of the automobile to approximately 50 km/h (30 mph) but it assures increase traction and braking on snowy or icy surfaces.
You shouldn't drive too fast with chains.
Recommended maximum speeds in the owners' manual of the chains are generally 30 to 50km/h (20 to 30 mph) maximum.
However, it is recommended in the chain owner's manual to tighten a second time after driving a short distance and to check for tightness at intervals.
If a chain comes loose, it should be refastened or removed before it wraps around the drive axle of the vehicle.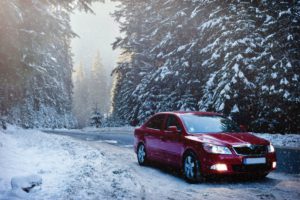 Performance Of Tire Chains
They give good traction in heavy snow – snow tires and tire chains are meant for conditions that are somewhat mixed with extreme winter conditions. They provide the traction that you cannot get with a normal tire on snow or ice or when it is freezing.
Turns – One of the most difficult parts of winter weather driving is the art of turning. It can be easy to drive harmlessly in straight lines but can be difficult to keep traction while driving into, coming out of, or getting around a turn. Snow tires and snow chains give you the grip that you need to safely get through turns. While you may not be able to take turns as fast as you would like, you will be able to make them safe.
Breaking Ice – Tire chains and snow tires are actually perfect for the ice that may be on the ground. The chains have the power and strength to break through the ice. This makes ice less slippery and more manageable to drive on.
Snow Chain Automatic Release Feature
Some snow chains are built with the automatic release feature.
This feature aids in the effortless removal of the snow chain from the tire.
If you need to move across one part of the country to the next then you'll probably need to install and apply snow chains.
And depending on the kind of climate you're exploring, you might need to do it at intervals.
But with the automatic release function removing snow chains is only a matter of minutes.
Conclusion
Snow chains sometimes could be very important and could save one from a lot of stress when driving through snow.
They could also be used again and again, they are durable and you can use them for years if you maintain them properly.
Remember to give them a good wash after every use and dry them as well.
Then you should store them away safely if you will not use them until the next time you are in need of them.
Remember not to drive too fast while they are on as stated earlier, and be cautious with braking and accelerating.
And if there is not much snow on the road, then you will not need them.
If you drive a 4×4, you need chains on all four wheels, while for some cars, you could use two.
However, it is advisable to put chains on all four no matter which car is in question.
For winter, the first thing you need is snow tires before snow chains, so check here for the best snow tires this year.
We hope you find our best snow chains review helpful, if you have a question or comment, leave them in the box below.
We will be glad to help.
---