All-season tires are great in most weather conditions but they become stiffened in cold weather and they may not be adequate for extreme winter driving conditions.
Sometimes, winter can become extreme especially in Canada to the state of being a nightmare for driving.
However, by choosing one of the best winter tires for Canada you will be able to pull through that nightmare.
You can also check how to get unstuck in snow.
As we will be getting to know some of the best winter tires this year, let us first go a couple of frequently asked questions.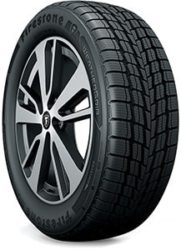 1. Bridgestone Blizzak WS90
2. Firestone weatherGrip
3. Cooper Discoverer Truenorth         
4. Falken Wildpeak A/T Trail
5. Continental VikingContact 7
6. Bridgestone Blizzak DM-V2
7. Michelin X-ice Xi3
8. Yokohama iceGuard iG52C
---
Bridgestone Blizzak WS90
This Blizzak WS90 is a studless ice and snow winter tire built with the latest technology which helps in delivering its best through different winter conditions.
It is available in the sizes of 14 inch to 20-inch diameter with treads that can last more than a single winter season.
Designed for coupes, sedans, minivans, and crossovers, the Blizzak WS90 winter tire is an improved version and a successor to the previous WS80.
The former WS80 is a very good winter tire that does give a great performance on winter surfaces.
However, the new WS90 has a few additions and improvements in comparison to its predecessor.
Its tread compound through the multicell technology attracts water and then clears it from its surface for better grip.
This gives the tire improvement in its stopping distance on ice compared to other leading competitors.
The Blizzak WS90 is branded with the three-peak mountain snowflake (3PMSF) symbol because it meets the industry's severe snow service requirement.
And it features lasting tread than the WS80 as consumers can get two winter seasons out of this tire before its tread wear out completely.
As stated by Bridgestone, most of the new innovations and the improvement in the WS90 are based on customers' and dealers' feedback.
---
Firestone WeatherGrip
The WeatherGrip is the company's first all-weather touring tire designed for cars, minivans, and SUVs.
It is engineered to get you through all-weather with great performance delivery.
You get to rock it all year round without the worry of swapping tires and you can have so much confidence in its performance as it is equipped with added traction and control on wet and snowy conditions.
It has much more to offer than an all-season tire.
It comes with 65,000-mile limited warranty which means it is built to deliver lasting performance with 90-day customer trial warranties.
Available in 33 sizes to fit more than 60 sedans, minivans, and SUVs on the road today as stated by Bridgestone.
Proven to give a good snow performance as it is certified and branded with the industry three-Peak Mountain Snowflake rating (3PMSF).
This tire is great all year round and in almost all driving conditions.
However, for drivers who live where there can be frequent extreme snow and icy conditions, extreme snowstorm, and serious frequent winter conditions. like southern Ontario, a dedicated winter tire will still be the best choice to pick.
Features TractionTech Package: It's 3D interlocking sipes create more edges for better performance on snow and wet surface and its full-depth tread design help to deliver long tread life and better wear.
---
Cooper Discoverer Truenorth
The Discoverer Truenorth is a studless ice and snow winter tire from Cooper.
It is designed for coupes, sedans, crossovers and SUVs.
The Truenorth is engineered with the latest technologies to provide exceptional winter performance, excellent snow, slush and ice traction.
Also, it gives good grip, confident handling and responsive steering.
It is branded with the three-peak mountain snowflake symbol (3PMSF) which confirms it meets the industry winter performance abilities.
The Truenorth is available in sizes 15 to 20 inches.
It delivers great winter performance as it deals with slush, black ice and drive through the toughest winter conditions while giving exceptional traction.
The Cooper Discoverer TrueNorth gives a great winter performance and still you will get the comfort of a touring tire when driving.
It has high density siping, snow groove technology, noiseless abilities on dry surface, severe winter rating and it is resistant towards hydroplaning.
The tire is engineered with the knowledge gotten from feedback of experienced drivers on what a quality winter tire should be.
---
Falken Wildpeak A/T Trail
The Falken Wildpeak A/T trail is an all-terrain tire designed for a crossover vehicle.
This tire provides all-terrain abilities, off-road traction, and all-weather performance as well as on-road abilities.
Falken equipped this tire with a warranty of 65,000 miles tread life and even a 30-day free trial.
The tire is available in 30 sizes and it provides snow capabilities and durability.
It is also branded with 3PMSF which symbolizes a tire with winter excellence.
A/T trail is the newest addition to the family.
It is engineered to match the dynamic characteristics of modern crossovers, aggressive off-road traction and good all-weather performance with on-road abilities.
The A/T trail is the first all-terrain tire from Falken designed specifically for crossover vehicles.
Falken stated that most tire manufacturers put their focus on trucks and SUVs when producing all-terrain tires, but there is more demand for all-terrain tires for rugged and capable crossovers.
The A/T trail features USTMA severe snow rating, and it supports a modern crossover utility vehicle with off-road confidence, durability, and snow capability.
This tire can be purchased in the US and Japan, and it will appeal to owner of new crossovers as well as old crossover models.
---
Continental VikingContact 7
You will find the Viking Contact 7 capable when it comes to ice braking.
You also get great snow traction plus good handling.
This studless tire is also great on a dry surface and it delivers good braking even on a dry surface.
You will find it with less noise when driving on highway while retaining a fine braking ability on wet surface, almost as good as the wet braking performance of its predecessor.
VikingContact 7 also meets the industry winter requirement and has the 3-peak mountain snowflake symbol.
Therefore, you can expect the best performance in the toughest winter condition.
The Vikingcontact 7 is designed for sedans, coupes, crossovers, and minivans.
This tire is an improved version compared to its predecessor when it comes to the risk of hydroplaning, as it has taken necessary measures to keep the driver safe.
Also, it has a shorter braking distance in wet conditions and great handling on winter driving surfaces.
As designed and stated by Continental, if punctured the tire automatically seals its holes with a diameter of up to five millimeters.
The tire is best used in pair of four.
---
Bridgestone Blizzak DM-V2
Bridgestone Blizzak DM-V2 is a winter tire built to deliver its best performance on ice and extreme winter driving conditions.
It provides stability and gives better braking abilities on snow and icy driving surface.
The tire gives you the ultimate control on ice when it comes to providing good grip with good handling and higher level of snow traction even when driving on heavy snow.
The unique hydropholic coating present in the tire helps absorb water into the tire cells when driving on a wet surface or rain-filled surfaces and thereby getting you out of it without hassle.
Also, you do not have a problem when driving on a dry driving surface.
If confidence, stability, and control are what you seek when driving through the harshest winter condition then the Blizzak DM-V2 will not disappoint you.
It is a studless ice and winter tire built by Bridgestone specifically for winter season to give great performance on winter driving surface.
The tire is designed for SUVs and light trucks with interesting features and abilities to sustain your vehicle in this tough weather.
Price starting from $146 upward.
The DM V2 is the successor to the DM V1, an improved version with a better performance delivery.
---
Michelin X-ice Xi3
In the world of Michelin tires, there has never seized to be amazement and awesome delivery by the quality of their product.
We are talking about the tire that stands distinguished among the most popular tires specifically made for snows.
This tire is one of the best to have on your car.
X-ice Xi3 is beautified with the tridimensional Z-sipes which helps to increase its rigidity as well as the increase in its handling and stability.
They had the aim of bringing together multiple performances by delivering safety, durability, and fuel efficiency and managed to achieve it.
The X-ice Xi3 Michelin tire has an increased number of tread block designs which provide it a more biting edge to safely maneuver when driving through snowy surfaces.
The X-ice Xi3 is the third-generation tire from Michelin with wonderful performances and lovely features that compliments its worth.
The snow car tires may however not give you many differences as expected on concentrated mild winter areas but they sure match the tasks for severe winter weather and provides an unequal level of grip on slick surfaces.
Having the X-ice Xi3 working on your car guarantees you driving comfort.
---
Yokohama IceGuard iG52C
The Yokohama IceGuard iG52C is a winter tire that provides stability and gives a good grip in snow.
It also features biting edges on either side that help to maintain traction in the snow even when the tire wears.
The IceGuard iG52C features outer sipes that Yokohama calls triple 3D sipes.
They can lock together to enhance tread block rigidity which aids better cornering stability on both dry and wet roads.
It delivers good braking even in deep snow.
The IceGuard provides good bite in the snow, whether it's during acceleration, braking, or cornering.
In slightly deeper snow, some acceleration slip does occur, but braking remains quite good.
Its cornering grip is where the tire really excels, as it only loses grip if really pushed beyond the limit.
Otherwise, it provides good lateral stability even as the snow piles up.
The IceGuard is designed to pack snow into its tread, thus providing optimal traction, and the deeper the snow gets, the tires still retain their grip.
The IceGuard iG52c gives good performance in winter conditions, as well as, a comfortable ride and you will not have to worry about road noise and vibrations.
With some winter tires, excessive road noise when driving could cause lots of discomfort but you do not have to worry about that with the IceGuard iG52c.
---
Can Winter Tires Be Used Year-Round?
No, it is not advisable to use snow/winter tires all year round.
Winter tires are built specifically for the season, the temperature, the storm, and all the hassle that comes with winter driving conditions.
All winter tires, either studded or studless, are designed to deliver the best performance and exceptional traction on ice or slush or whenever it is extremely cold.
The rubber of the tire is soft and this makes it flexible in cold conditions, thus making it conform to the cold driving conditions even more.
Once it is warm, the tread begins to wear out quickly, so all-season tires or summer tires are better off in this condition.
Furthermore, if it continues to wear quickly then you will be spending more than saving.
Actually, you will be buying new ones at intervals and you will be putting yourself or your passenger at risk because you cannot get the best performance out of it in other seasons.
That is why manufacturers have different tires for different seasons.
For example, in the warm season, there are summer or all-season tires to get you through.
You can make your decision by considering your driving style, driving condition, and the performance you seek.
Summer and all-season tires can withstand and perform well in warm weather while providing long tread wear.
Snow/winter tires are too soft to give you the braking and turning you need in the cold season, its flexibility is of no use in warm weather.
Its deep groove or tread depth is designed for the purpose of clutching snow to gain better snow-to-snow traction, but once it is warm there would not be a need to grasp anything and that deep tread would not be what you need.
In essence, if you keep them on after winter is gone then you will need to replace them sooner.
It is best you just remove and store them properly for the next season.
Get your mounting machine to help you in mounting and removing them, as it is the less expensive and best thing to do.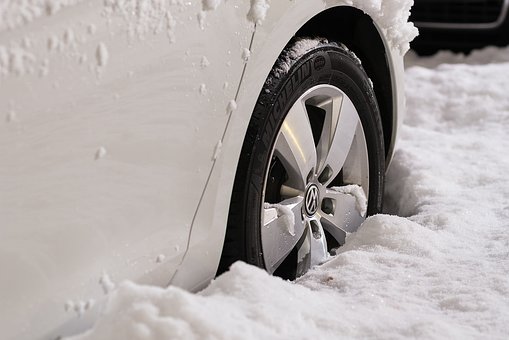 Can Winter Tires Be Stored Outside?
No, under no circumstance should your tire be stored outside.
It is very important you store your tires properly after use so you can recover and mount them again when needed.
If your tires are not stored properly it could make them entirely useless or reduce their lifespan.
When you are about to store your tires make sure they are clean from debris, grime, or any form of dirt.
Leaving dirt on your tires while storing them can cause damage to them.
Here are tips for storing your winter tires once you remove them:
Store your winter tires in a storage room that has a normal room temperature and shield the tire from any form of exposure to heat sources.
Make sure the room is cool, dry, and dark with no exposure to direct sunlight, as this will protect its physical properties.
Do not store them under external pressure or tension in order to prevent them from cracking.
Make sure you keep your tires away from chemicals that could damage them like solvent, lubricants chemicals, fuels, and similar liquids.
You should also keep your tires from motorized devices as motors can produce ozone, which can have an adverse effect on them.
The easiest way will be getting a set of storage bags for them, as this will ultimately prevent ozone in the air that can cause its rubber to dry or crack out.
If you want to store them with rims then you can hang them from hooks.
You can also pile them, but remember to rearrange them at intervals if you decide to do so.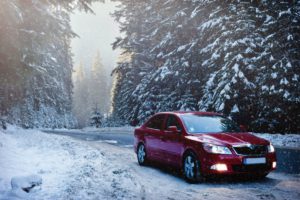 Canada Winter Tire Law
The entire province in Canada recommends the use of winter tires but it is only mandatory in few places.
However, there are guidelines, laws, and restrictions concerning the use of studs and snow chains on winter tires.
British Columbia
On BC roads, winter tires or all-season tires with the "M+S" (mud and snow) symbol are required between October 1st and March 31.
Signs are posted on highways where winter tires are required.
The tires must have at least 3.5mm of tread depth, and they are obligatory when driving towards high mountain passes or places where weather conditions change unpredictably.
Studded tires and studs are allowed from October 1 to April 30 and should not be more than a certain measurement.
Failure to comply will lead to a fine.
Quebec
The use of winter tires in Quebec is mandatory and there has been a law concerning it since 2008 for all vehicles.
It is mandatory to have four winter tires from December 1 to March 15 and the tire must be branded with the peak mountain with a snowflake symbol.
This will show that the tire officially meets snow traction performance requirements.
This law applies to taxis, rental cars, motorized scooters, motorcycles, and all motorists.
There will be a fine between $200 to $300 for anyone who does not follow the law when they get caught.
There can be an exemption for those who obtain a winter tire exemption certificate or to vehicles visiting Quebec because the vehicle will be registered and plated from its home jurisdiction.
Studded tires are allowed between October 15 and May 1st as long as they are both on the front and rear axis.
Emergency vehicles, farm tractors, and tow trucks are authorized to use tire chains during the same period.
Manitoba and Ontario
In this region studded tires are permitted between October 1 and April 30 throughout the province of Manitoba but not mandated for vehicles with an ownership address in Northern Ontario, as defined by the Territorial Districts of Algoma, Cochrane, Kenora, Manitoulin, Nipissing, Parry Sound, Rainy River, Sudbury, Thunder Bay, and Temiskaming.
Nova Scotia
Studded tires are permitted in Nova Scotia between October 15 and May 31.
However, the studs must not protrude more than 1/8th of an inch from the tread or traction surface of the tire.
New Brunswick
There are mandatory winter tire regulations for school buses.
Studded tires are allowed between October 15 and May 1.
Alberta, Prince Edward Island, Saskatchewan, Newfoundland, Labrador, Northwest Territories, Yukon, and Nunavut.
There are no laws mandating winter tires in the provinces above.
Studded tires are permitted between October 1ST and May 31ST at Prince Edward Island, but the studs must not protrude more than 3.2mm beyond the tread surface of the tire.
Studded tires are permitted between November 1 and May 31 and winter tires are highly recommended during this period at Newfoundland.
Labrador allows the use of studded tires from November 1 to April 30.
Conclusion
Winter tires are worth it, especially for most regions in Canada.
It will improve the performance of the car while giving a safe drive.
We hope you found your choice in the list of best winter tires for Canada.
If you have a question or comment, leave it down below.
We will be glad to hear from you.
You can also check here for an in-depth review of the tires listed above.
---