Snow tires can also be referred to as winter tires.
They are designed basically for use in snow, ice, and winter conditions.
Snow tires have a tread design with large gaps and are built to give extra traction on snow and ice.
Some snow tires have metal or ceramic studs that protrude from the tire which helps in the increase in traction on hard-packed snow or ice.
Also, they are engineered to be used at very cold temperatures even below 7 °C (45 °F).
Before we get to the best snow tires review, let's get to some frequently asked questions about winter driving conditions and snow tires.
But, even before that, here is the list of our best snow tires:
Bridgestone Blizzak WS90                       
Continental VikingContact 7
Bridgestone Blizzak DM-V2
Yokohama iceGuard iG52C
Michelin LTX Winter Tire
Continental Winter Contact SI
Michelin X-ice Xi3
Dunlop Winter Maxx
Goodyear Ultra Grip
Pirelli Winter Cinturato
---
Bridgestone Blizzak WS90
Yes, the Blizzak WS90 is the newly produced Blizzak tire for consumers to get the best performance on winter surfaces.
The Blizzak WS90 is an improved version and successor to the previous WS80.
The former WS80 is a very good winter tire that does give a great performance on winter surfaces.
However, the new WS90 has few additions and improvements in comparison to its predecessor.
Its tread compound through the multicell technology attracts water and then clears it from its surface for better grip and by doing so, it improves the tire's stopping distance on ice compared to other leading competitors.
Also, it features nano pro-tech for better flexibility in cold weather conditions as it is well-known that rubber starts to get stiff at low temperatures.
Its tread design improves drainage which is very useful on wet surfaces to avoid hydroplaning.
It has a more lasting tread than the WS80 and consumers can get two winter seasons out of this tire before its tread wear out completely.
As stated by Bridgestone, most of the new innovations and the improvement in the WS90 are based on customers' and dealers' feedback.
The WS80 is a winner when it comes to winter performance and the WS90 is no doubt on that path as well, so this is one of the best tires to pick.
---
Continental VikingContact 7
You will find the Vikingcontact 7 capable when it comes to ice braking.
You also get great snow traction plus good handling.
This studless tire is also great on a dry surface as it delivers good braking.
You will find it with less noise when driving on the highway.
Furthermore, its wet braking is almost as good as the wet braking performance of its predecessor.
As all tires designed by Continental, if punctured the tire automatically seals its holes with a diameter of up to five millimeters.
You can find it available from 15 to 20-inch rim diameter for coupes, sedans, and minivans.
This tire is an improved version compared to its predecessor when it comes to been secured from hydroplaning.
It also has a shorter braking distance in wet conditions and great handling on winter driving surfaces.
Rolling resistance in comparison to its predecessor has been reduced by three percent.
The multi 3D siping gives improved traction while the tread pattern is designed to evacuate water to avoid the risk of hydroplaning.
This Vikingcontact 7 will be a good choice to pick if you need to drive on snow surfaces.
It even meets the industry winter requirement and has the 3-peak mountain snowflake symbol.
This means that you can expect the best performance in the toughest winter condition.
---
Bridgestone Blizzak DM-V2
Bridgestone Blizzak DM-V2 is a winter tire built to deliver its best performance on ice and extreme winter driving conditions.
It provides stability and gives better braking abilities on snow and icy driving surface.
The tire is designed so as to give you the ultimate control on ice when it comes to providing good grip with good handling and a higher level of snow traction even when driving on heavy snow.
The Blizzak DM-V2 unique coating present in the tire helps absorb water into the tire cells when driving on a wet surface or rain-filled surface and thereby getting you out of it without hassle.
Also, you do not have a problem when driving on a dry driving surface, in essence, if confidence, stability, and control are what you seek.
When driving through the harshest winter condition the Blizzak DM-V2 will not disappoint you.
---
Yokohama IceGuard
The Yokohama IceGuard are winter tires that provide stability and give a good grip on snow.
They also feature biting edges on either side that helps to maintain traction in the snow even when the tire wears.
The IceGuard features outer sipes that Yokohama calls triple 3D sipes.
They can lock together to enhance tread block rigidity which aids better cornering stability on both dry and wet roads.
Plus, they deliver good braking even in deep snow.
The IceGuard provides good bite in the snow, whether it is during acceleration, braking, or cornering.
In slightly deeper snow, some acceleration slip does occur, but braking remains quite good.
Its cornering grip is where the tires really excel.
They only lose grip if really pushed beyond their limits; otherwise, they provide good lateral stability even as the snow piles up.
The IceGuard is designed to pack snow into its tread thus providing optimal traction and the deeper the snow gets the tires still retain the grip.
The IceGuard is divided into two categories: IceGuard ig51v and IceGuard iG52c.
The iG51v is a studless ice and snow winter tire that is designed for SUVs, crossovers, and light trucks so as to deliver the best performance in winter conditions, while the iG52c is also a studless ice and snow winter tire but unlike ig51v it is designed for compact, coupes, sedans, and vans.
The IceGuard iG52c gives good performance in winter conditions, as well as a comfortable ride and you will not have to worry about road noise and vibrations.
With some winter tires, excessive road noise when driving could cause lots of discomfort.
However, you do not have to worry about that with the IceGuard iG52c.
Both of these IceGuard models are a good choice to pick in the winter season.
---
Michelin LTX Winter Tire
The Michelin LTX winter tire is built for vans, SUVs, heavy-duty trucks, and commercial pickups.
They can withstand winter conditions just great and are designed with high technology cold weather winter tread compound called "W/Max" which helps boosts acceleration and gives a good braking performance on the ice.
They come with E load ranges which give them firmness while driving on dry and wet surfaces.
Plus, they feature low rolling resistance and are built with a symmetric tread design which aids in giving a good grip in all types of winter driving conditions.
This model boasts great tread blocks that give good traction even on snow and ice.
Their 3D sipes around the tread give a good biting edge.
Also, its four circumferential grooves combined with lateral grooves used to expel water and slush away from the tire improve the traction and better braking abilities.
The tires are paired with three steel belts for strength and durability especially during heavy-duty use.
Furthermore, it comes with a 40,000mile tread warranty which is a great warranty on winter tires.
It has a 10-ply rating that gives good puncture resistance which is great for those who drive on gravel roads and on rough terrain.
---
Continental WinterContact SI
If you are scared of winter driving, do not worry as the Continental Winter Contact SI is the right tire for you.
This tire will see you through the lightest to the worst snow, ice, and winter surface.
Its PolarPlus technology helps with shorter braking distance on winter surface and it has a unique multi angled tread pattern that bites into the snow for better grip.
With the directional tread pattern you get a good grip, and its +silane tread additive keeps the tire be flexible even at the coldest possible temperature.
The Maximum Traction Silica Compound ensures excellent wet grip and therefore improves braking performance significantly.
Additionally, the WinterContact SI stays flexible at any winter weather and transfers the good braking forces safely onto wet, icy and snow-covered roads.
This special drainage eliminates the danger of deteriorated braking performance caused by melting water by aiding faster braking.
---
Michelin X-ice Xi3
Going by the incredible tires made by this company over the year, one would definitely look into giving them the benefits of doubts on their expertise.
The X-ice X-i3 is a typical upgrade from their previous piece of work – the Michelins X-ice Xi2 snow tire.
All seem to agree that the overall handling was something special and snow tire geeks have been eagerly waiting to see what the still accelerating quantum leap going on in siping technology would bring to Michelin's next generation.
Well, this new technology has been tested.
The review so far has been that the Xi3 is clearly a much better snow tire than Xi2, way better.
It features a carload of new technology including a new self-locking siping pattern, more tread blocks at variable angles, and an interesting "Caterpillar drive" feature in the central circumferential groove.
The engineering team worked on making the blocks more compact, adding more tread blocks.
They claim that more blocks mean channels and grooves which will make the tire more efficient at water and snow evacuation.
The tread blocks also feature serrations on the leading and lateral edges which are intended to bite the surface even as the tread blocks are flexing upwards and away when flexing laterally.
Michelin X-ice Xi3 shows an authoritative grip and response in all winter conditions.
Its linear acceleration is smooth, confident, and easily controlled.
Their lateral grip is really impressive.
They provide ultimate winter confidence over many miles, enabling you to enjoy even in the harshest driving condition.
They are designed to be environmentally friendly and reduce fuel consumption in addition to long-lasting tread life.
---
Dunlop Winter Maxx Tire
This is a studless ice and snow tire that is built for use on a wide range of coupes, sedans, minivans, and crossover vehicles.
While most winter tires feature a directional tread design, the Winter Maxx has a unique asymmetric pattern which is generally quieter than their symmetric counterparts.
It gives enhanced handling in snow, wet and dry conditions.
They feature sharp edges with sipe technology which provides higher blade density that helps prevent block distortion and increase tread to ice contact.
They also come with wide grooves and lugs that help improve snow traction and wet handling.
It uses silica enhanced nano fit rubber that is more flexible and rigid for increased grip in all types of winter conditions, coupled with jointless bard technology that is used in tread makeup to create comfortable ride quality while adding strength and durability.
This product has great positive reviews, but imperfections as well, being that no product is perfect.
On the positive side, you can expect good traction and stability from light to a deeper amount of snow, as well as comfortable ride quality and decent tread life.
On the bad side, it sometimes gives bad steering responses.
It is slower than most winter tires and does not inspire much in the way of confidence, particularly on icy surfaces.4
Also, their acceleration and braking on ice and hard-pack snow are not as good as with other tires at the top of this list.
Overall, they are not acknowledged as "bad bad" by any means.
We would rank it to the lower half of the studless winter tire category.
Other models like Michelin X-ice Xi3 and Blizzak WS80 both provide a much better result in performance.
---
Goodyear Ultra-Grip Winter Tires
This is a directional tire designed to give you the grip, handling, and traction which are essential when driving in severe winter conditions.
It is built to take you through snow, rain, ice, and other rough weather conditions around town and highway without issues.
It is well designed with a wide range of sizes to suit minivans, sedans, coupes, and smaller crossovers.
The tire is stable with a directional tread pattern and numerous biting edges which enhances the hydroplaning resistance and winter traction.
Wider tread grooves reduce the likelihood of problems occurring when it is wet or snowing by pushing away excess water or slush that could have an effect on your driving performance.
Aside from their company's year of highly guaranteed product, they have positive reviews from different vehicle users and on different kinds of winter conditions.
It has been said that the Goodyear winter tires give you the excellent traction and grip you need on slush surfaces, as well as on icy and wet road surfaces.
Just like in every product, not everything is perfect on this model.
You may notice little extra noise from this tire on dry pavement.
Plus, the softer sidewalls are noticeable, particularly during harder cornering situations.
We can firmly say that this winter tire is quite reliable safe and durable.
They are also cost-efficient and could be boldly ranked among the upper half of the winter tire class.
---
Pirelli Cinturato Winter Tire
This is designed to be adaptable to all winter driving conditions.
Also, it is able to put together quite a number of new technological innovations to make them exclusive from their former products and their counterparts.
Their tread compound is designed to perfectly fit on a wide range of wheels and rims.
They are designed for sedans, coupes, and SUVs so as to provide them with maximum traction, stability, and comfort on every wet and snowy surface.
Although the tread compound is one of its distinct features, the tread grooves also provide a significant reduction in the risk of hydroplaning and an increment in the evacuation of water and slush.
The Pirelli engineers were able to create an excellent tire that is distinctive in every size you can come by.
The available sizes created are 14", 15", 16", and 17", with the purpose to satisfy every possible customer.
The sipe density is optimized to give the tire perfect grip even on dry surfaces with an extremely low rolling resistance to minimize fuel consumption.
They have proven to deliver quality performance and it really is a good pick for winter driving conditions.
---
Do I Need Snow Tires On All Four Wheels?
Either it is a four-wheel-drive or rear-wheel or front-wheel drive vehicle, it is advisable to have all four winter tires on your vehicle.
This is due to the fact that winter tires are best at providing ice and snow traction than ever before and not having snow tires on all four wheels will mean the tires will not reach the peak of their performance.
One end of the vehicle will not react and perform the same as the other in the dry, wet, slush, and snow conditions you have to drive through.
Sometimes your vehicle will understeer in some conditions and oversteer in the other in case you do not drive with all winter tires.
Your vehicle handling is important and the best way you can keep it consistent is by using all four winter tires when it is needed.
Furthermore, the extra investment will be worth it as you will achieve better handling, brake, accelerating as well as better control of your vehicle all through winter seasons.
When Should I Put Winter Tires On?
The temperature plays a huge role in helping you discern when to have your winter tires installed.
Once the temperature in your area is regularly 7 degrees Celsius or less, then it will be the best time to get your winter tires installed.
The rubber on summer tires and all-season tires hardens when the temperature is less than 7 degrees Celsius and thus becoming less effective.
Winter tires are actually built for this season and they provide drivers with the best handling when driving and extra traction with the braking they need for confident driving in the cold season.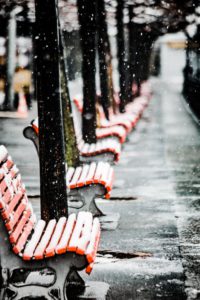 Are My Snow Tires Better With Chains?
Snow tires are built with holes where snow studs can be fitted.
These studs allow the tires to gain better traction when driving over snow or ice.
Snow chains or tire chains fit all the way around snow tires, giving their wheels an extra grip on slippery roads.
They are sold in pairs and they come in different sizes based on the tire diameter and its tread width.
However, your snow tires are safe on snow but if you use studs, your grip and your stopping power on ice will be improved.
On the drive wheels of your vehicle, there might be little difference in the tire performance when it comes to traction.
But in the case of a four-wheel-drive vehicle, the chains should be installed on all four wheels for the safest ride with excellent traction.
Being that chains on bare pavement can cause some serious damage to both your tires and the road you drive on, the chains on your tire should only be used when there is a layer of snow or ice on the road.
Are Winter Tires Really Necessary?
Winter tires are not just necessary but compulsory in countries where there are legal requirements for them.
And even for countries that there are no legal requirements for it, it is still necessary if you live in areas prone to severe winter weather conditions.
They are important for better handling and better traction while driving and for your safety which should not be compromised while driving.
Are All-Season Tires Good For Snow?
All season tires are designed to withstand a variety of road conditions and multiple seasons.
They are built with great tread designs and compounds that give durability and good mileage during summer but they do not deliver much quality during winter especially in extremely cold seasons.
However, they perform just fine on light snow, while they are not advisable on heavy snow.
Winter tires are specially built for cold and freezing times and they perform well and remain flexible in freezing temperatures through the winter season.
Conclusion
We know there are lots of tires out there and that is why these are carefully chosen from the most recent bests and the ones that have continually proven to deliver quality.
We hope you will find our best snow tires review helpful and also find your choice in this top 10 list.
You can also check for our list of best snow chains here if you need snow chains to install on your tire.
If you have questions, reviews, or comments, leave them in the comment box below, we will be glad to hear from you.
---