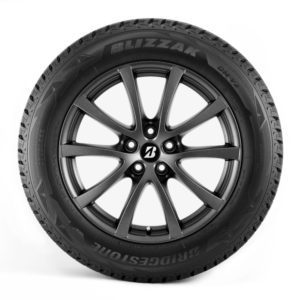 Blizzak DM-V2 is a studless ice and winter tire built by Bridgestone specifically for the winter season to give a great performance on winter driving surfaces.
It is designed for SUVs and light trucks with interesting features and abilities to sustain your vehicle in this tough weather.
Its price starts from $146 upward.
The DM V2 is the successor to the DM V1, an improved version with a better performance delivery.
Let's get to know more of this Bridgestone tire in this Bridgestone Blizzak DM-V2 review.
---
Bridgestone Blizzak DM-V2
Season
The Bizzak DM-V2 is a studless ice and winter tire made for winter driving surfaces to give traction on ice and good braking ability, as well as good performance on wet surfaces by giving good handling and avoiding hydroplaning.
Warranty
The Blizzak DM-V2 comes with the first 1/32 inch of wear guarantee on tire uniformity.
Materials and workmanship warranty is for 5-years and includes free replacement during the first 3-years.
A prorated amount is given for the remaining time period and down to the remaining 2/32 inches of wear.
Technology
Bridgestone adaptive nano pro-tech multicell compound soaks up water. For example, soaks the water on ice for better traction on ice-covered surfaces.
The compound of the tread is in a directional tread pattern which increases its aggressive block edges than its predecessor.
3D zigzag sipes increase the number of biting edges on snow.
Wide lateral and circumferential groove gives improved traction by clearing water, snow, and slush away from the driving path.
Its multicell compound helps the tire remain flexible when it is freezing.
Bite particles help with a better grip on ice with improved braking ability.
Features
The three-peak mountain snowflake (3PMSF) symbol.
Tread depth indicator in the tread design to know how far the tread is worn.
The Blizzak DM-V2 tread features the nano-pro tech multicell compound and a standard winter tire compound.
T and H speed rated.
50 available sizes, 15 to 21-inch wheel diameters.
Performance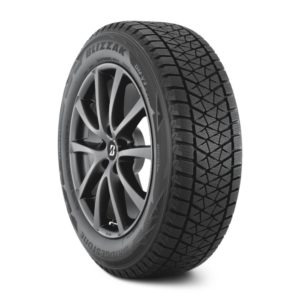 Bridgestone Blizzak DM-V2 is a winter tire built to deliver its best performance on ice and extreme winter driving conditions.
It provides stability and gives better braking abilities on snow and icy driving surface.
The tire will give you the ultimate control on ice when it comes to providing good grip with good handling and a higher level of snow traction even when driving on heavy snow.
The unique hydropholic coating present in the tire helps absorb water into the tire cells when driving on a wet surface or rain-filled surface and thereby getting you out of it without hassle.
Also, you do not have a problem when driving on a dry driving surface.
Tire Size
15''
235/75R15 109R XL BSW
16''
215/65R16 98S SL BSW, 215/70R16 100S SL BSW, 225/70R16 103S SL BSW, 225/75R16 104R SL BSW, 235/70R16 106S SL BSW, 245/70R16 107S SL BSW, 245/75R16 111R SL BSW, 255/70R16 111S SL BSW, 265/70R16 112R SL BSW, P 265/75R16 114R SL BSW
17''
P 215/65R17 98S SL BSW, 215/70R17 101S SL BSW, 225/55R17 97T SL BSW, 225/60R17 99S SL BSW, 225/65R17 102S SL BSW, 235/55R17 99T SL BSW, 235/65R17 108S XL BSW, P 235/70R17 108S XL BSW, 245/65R17 107S SL BSW, 245/70R17 110S SL BSW, 255/70R17 112S SL BSW, 265/65R17 112R SL BSW, 265/70R17 115R SL BSW
18''
225/55R18 98T SL BSW, 225/60R18 100S SL BSW, 235/50R18 101T XL BSW, 235/55R18 100T SL BSW, 235/60R18 107S XL BSW, 235/65R18 106S SL BSW, 245/50R18 100T SL BSW, 245/60R18 105S SL BSW, 255/55R18 109T XL BSW, 255/60R18 112S XL BSW, P 255/65R18 109S SL BSW, P 255/70R18 112S SL BSW, 265/60R18 110R SL BSW, P 265/65R18 112R SL BSW, 265/70R18 116R SL BSW, 275/60R18 113R SL BSW, P 275/65R18 114R SL BSW, 285/60R18 116R SL BSW
19''
225/55R19 99T SL BSW, 235/55R19 105T XL BSW, 235/65R19 109T XL BSW, 235/65R19 109S XL BSW, P 245/55R19 103T SL BSW, 255/50R19 107T XL BSW, 255/55R19 111T XL BSW, P 255/60R19 108S SL BSW, 265/50R19 110T XL BSW, 275/55R19 111T SL BSW
20''
235/45R20 100S XL BSW, 235/55R20 102T SL BSW, P 245/50R20 102T SL BSW, 245/60R20 107S SL BSW, 255/50R20 109T XL BSW, 255/55R20 107T SL BSW, 265/45R20 108T XL BSW, 265/50R20 107T SL BSW, 275/40R20 106T XL BSW 275/45R20 110T XL BSW, 275/50R20 113S XL BSW, 275/55R20 117T XL BSW, 275/60R20 115R SL BSW, 285/50R20 116T XL BSW
21''
P 285/45R22 110T SL BSW
Pros
Great traction in snow and ice
Good handling on a watery surface
Good handling on a dry surface
Quiet and comfortable ride
Cons
Some may find the tread wear as an issue

Alfred's Take
The Bridgestone Blizzak DM-V2 is designed for drivers of pickup truck, SUV and crossover vehicles that desires enhanced grip on snow and ice.
It offers good traction on a wet surface, good handling, and comfortable ride.
In essence, if confidence, stability, and control are what you seek when driving through the harshest winter condition, then the Blizzak DM-V2 will not disappoint you.
---
Conclusion
With the Blizzak DM-V2, you get the best when driving through the ice.
Plus, when it is freezing, you get improved dry and wet handling.
So, this tire will be a good choice for your next winter driving as it is an excellent winter tire.
This tire is best advised to be installed in sets of four only.
Due to its brilliant capabilities, it is advised by Bridgestone to get and fix them on your wheels only in a set of four, so as to get the best performance delivery out of them.
We hope you find our Bridgestone Blizzak DM-V2 reviews helpful.
If you have any questions or reviews, leave them in the comment box below.
We will be glad to hear from you.
---