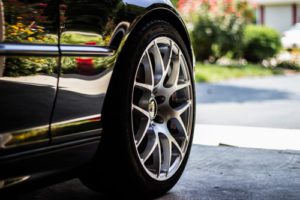 Whenever winter is here, we all want to drive on tires that will get us through the hassle of this season, without adding to our worries but rather giving us some confidence boost as we maneuver our way through the season.
In the light of this, we hope to get the best tire there is, and that is why we bring you the Bridgestone Blizzak WS80 reviews to give you in-depth knowledge about the tire and provide you another tire to add to your list of winter tire consideration.
The Bridgestone WS80 is an improved version of the WS70 that was produced years ago.
The WS stands for winter studless.
So, it is a studless winter tire, designed to deliver the best performance in the harshest winter condition.
---
Bridgestone Blizzak WS80
About Bridgestone Blizzak
Bridgestone group is one of the leading tire companies in the industry.
They provide a wide range of tires to the market for tire users around the world.
They produce tires for all kinds of driving – from passenger cars, SUVs, trucks, buses, heavy trucks, etc.
The Blizzaks however are developed to survive and give the best condition during the worst winter condition.
With this winter tire, you get reliable handling, good steering in winter driving conditions, good traction when it is freezing, confident stopping power, and a limited warranty.
The Blizzak fits a wide range of vehicles and delivers great snow performance.
They are known to provide 12,000 to 15,000 miles of winter driving before wearing out.
In essence, you can get three to four winter seasons out of this tire before they wear out completely.
Technology
3D Zigzag Sipes: designed with the 3D zigzag siping pattern which provides it multiple biting edges, thus aiding it deliver better grip while driving.
Internal 3-dimensional topology: The Internal 3-dimensional topology of the siping prevents the tread blocks from expanding too much especially when it is freezing and this makes it wear reasonably.
Features an angled tread blocks and a micro-texture technology.
Increased Block Edges with the 3D cut: its smaller shoulder blocks increase its biting edges and the 3D cut gives it lateral stability.
Next-Gen Tube Multicell Compound along with hydrophilic coating, which allows the voids to suck up more water.
NanoPro – Tech Multicell compound that features a water-loving hydrophilic coating and microscopic bite particles.
Optimized Footprint: This is designed for even pressure distribution among the tread for better performance.
Microtexture technology is also in place.
Season
The WS80 is a studless ice and snow winter tire that gives a great performance on winter driving conditions from its best to its worst surface.
Performance
For the WS80 there is even distribution of pressure across the tread which aids better grip and better water evacuation.
With the aid of its lateral snow grip, it gives a good grip on ice.
You will not find it slippery or inadequate and you can trust its handling and braking abilities.
Plus, you will not have to worry about steering as you are in control and it delivers precise steering even on the toughest ice.
Blizzak WS80 Tires Are Basically Winter Tires
You cannot use the Blizzak all year round.
They are built for winter and snow and should only be used in this season.
During summer or other seasons, you should go for summer tires or all-season tires or better still switch to them if you have them in-store already.
Blizzak tires will be better used at its season, to deliver the best performance and to maximize their lifespan.
Blizzak WS80 On Dry And Wet Roads
The Blizzak is built with an extra deep tread that enhances snow traction, thereby making the tread last.
However, Blizzak tires will not give the best performance on dry and wet roads but nonetheless, you can expect some reasonable traction and predictable handling while driving on dry and wet roads.
Features
Precise stop on snow and ice when needed.
Multicell compound that features a water-loving hydrophilic coating.
Microscopic bite particles that aid in the multi-cell compound to remain flexible in below-freezing conditions.
Reliable handling in winter conditions.
Bite particles for impressive traction on ice.
Winter Tire Limited Warranty
Tire Size
It is available in a wide range of sizes:
15"
175/65R15 84H, 185/55R15 82H, 185/60R15 84T, 185/65R15 88T, 195/65R15 91H, 205/65R15 94T
16"
215/70R15 98T16, 185/55R16 87T, 195/50R16 84H, 195/55R16 87H, 195/60R16 89H, 205/55R16 91H, 205/60R16 92H, 205/65R16 95T, 215/55R16 97H, 215/60R16 95H, 215/65R16 98H, 225/60R16 98H, 225/65R16 100T, 235/60R16 100T
17"
235/65R16 103T17, 205/40R17 84H, 205/50R17 93H, 215/45R17 91T, 215/50R17 95H, 215/55R17 94H, 215/60R17 96T, 215/65R17 99T, 225/45R17 91H, 225/50R17 94H, 225/55R17 97H, 225/60R17 99H, 225/65R17 102H, 235/45R17 97H, 235/55R17 99H, 235/60R17 102T, 235/65R17 104H
18"
245/45R17 99H18, 225/40R18 92H, 225/45R18 95H, 225/50R18 95T, 225/55R18 98H, 235/40R18 95H, 235/50R18 101H, 245/40R18 97H, 245/50R18 104H, 255/35R18 90H.
Pros
Gives great traction on snow and ice
Give good handling on a wet surface
Studless winter tire design
Reduced noise compared to its counterpart
Cons
Like most winter tires their tread life does not last like other tires

Alfred's Take
The Bridgestone Blizzak WS80 meets the industry snow requirement and you will find them branded with a three-peak mountain snowflake (3PMSF) symbol.
When the tread of this tire is halfway worn, the tread depth indicator that is designed along with the tire in its tread alerts the driver.
They are basically for drivers of coupes, sedans, small SUVs, and minivans that want the winter grip and handling in light and extreme winter driving conditions.
---
Conclusion
With its improved features and added technology, this tire has improved a lot when compared to its predecessor.
So, our finding while making the Bridgestone Blizzak WS80 reviews is that it does not give a disappointing performance even on the harshest winter driving surface.
It is a good choice to go with when getting your next winter tires.
If you have any comments, reviews, or questions, drop them in the comment box below.
We will be glad to hear from you.
---