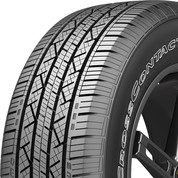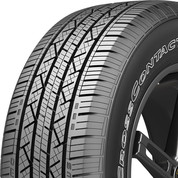 One of continental new release is from the crosscontact series which is the LX25. The crosscontact LX25 is a touring all season tire built to deliver all season traction on wet, dry and snow-covered surface with its price ranging from $139 to $248. Designed for crossovers or small SUV while providing good handling with good traction on wet, dry and on light snow.
In this continental crosscontact LX25 review we will be checking what improvement continental as done concerning this tire which makes it different from its predecessor.
For what type of driver
Crosscontact LX25 is designed for drivers of crossover and small SUV that wants a comfortable drive with all season traction on most driving surface including light snow.
Season
This continental tire is an all-season tire built to provide a smooth ride and all-season traction with good handling on wet driving surface, dry driving surface and on light snow.
Technology
Comfort ride technology which places an absorption layer beneath the tread for good steering response and smooth ride.
Circumferential grooves for easy passage of water to prevent hydroplaning when driving
Continentals next generation Ecoplus technology compound is molded into symmetric tread pattern
Its continuous circumferential ribs to help with noise reduction when driving
Lateral and diagonal sipes gives more biting edges for increased traction on slippery surface
Its traction groove is built to trap snow in its biting teeth for better snow to snow traction.
Ecoplus technology tread compound aids better tread life
Polyester cord body present in its internal construction to support two heavy-duty steelbelts
Spirally wound polyamide reinforcements for stability and better handling especially when driving on high speed.
Warranty
The continental crosscontact LX25 is equipped with 6 years or 70,000 miles for the H and T speed rated.
Also, 6 years or 65,000 miles for the v speed rated.
It comes with uniformity warranty for the first year or first 2/32 inch of wear then prorated until the last 2/32 depth.
Road hazard warranty for the first year or first 2/32 inch, although there are terms and condition applied so you should check with continental first.
This tire also comes with a 60 days trial from continental and 3 years road side assistance.
About the new LX25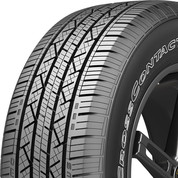 The new continental LX25 is the successor to the former LX20 which is an exceptional all-season touring tire. The LX20 is built for light truck, SUV and crossover with an asymmetric tread design. And they both have the Ecoplus technology in common, for the LX25 there is improved wet braking compared to the LX20.
The LX25 is also given some attention when it comes to its style as it is styled to complement any vehicle it is paired with. It is also designed to be quiet and it features the quickview indicator that keeps the driver informed about the tire performance.
In essence the crosscontact LX25 is an improved version of the LX20 which as been on the market since 2011 and has proven to deliver quality and excellence.
The LX25 improvement is more notable with its longer tread life and improved wet braking, as stated by continental. It comes with a UTQG rating of 740AA with speed ratings of H, T and V.
The LX25 is available in a wide range of sizes ranging from 16'' to 20'' inch rim diameters. This tire provides a good level of comfort, good grip and fuel efficiency.
Tire size
16''
215/70R16 100T 215/70R16 100H 235/70R16 106T
17''
225/55R17 97H, 225/65R17 102T, 225/65R17 102H 235/55R17 99H, 235/60R17 102H 235/65R17 108H, 245/65R17 107T
18''
215/55R18 95H, 225/55R18 98H, 225/60R18100H, 235/50R18 97H, 235/55R18 100T, 235/55R18 100H, 235/60R18 103H, 235/60R18 107V, 235/65R18 106T, 235/65R18 106H, 245/60R18 105T, 245/60R18 105H, 255/55R18 109H, 255/65R18 111T, 265/60R18 110H
19''
225/55R19 99V 235/50R19 99H, 235/55R19 101H, 235/55R19 105V, 245/55R19 103H, 255/50R19 107H, 255/60R19 109H, 275/55R19 111H20
20''
235/55R20 102H, 235/55R20 102V, 245/50R20 102H, 265/45R20 108H, 265/50R20 107T, 275/45R20 110V
22''
275/50R20 109H22, 285/45R22 114H

Conclusion of our Crosscontact LX25 review
We hope you find our crosscontact LX25 review helpful, this tire is an improved version of its predecessor which is the LX20.
LX20 as proven to deliver a good deal of performance and it has remained a relevant tire since 2011 because of the excellence and success it is.
So, the improved version wouldn't deliver less, you can try out the 60-day customer satisfaction to get a conviction about its abilities and performance.
If you have a review concerning this tire or comment or question, leave it in the comment box below, we will be glad to hear from you.