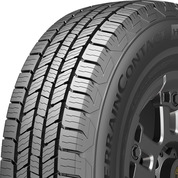 The new Continental TerrainContact H/T is a highway all-season tire built to deliver all-season traction on most driving surfaces.
It can be paired with a pick-up truck and full-size SUV.
Terrain Contact H/T delivers confident handling, great highway performance, an all-season grip, with good traction on dry, wet, and snow surfaces.
It is designed to deliver a quiet ride along with durability.
Let's get to know more about the new TerrainContact H/T in this Continental TerrainContact H/T review.
You will find out everything from its technology, performance to Continental's warranty for this tire and what makes the H/T different.
---
Continental TerrainContact H/T
Technology
Large stable shoulder blocks for excellent traction when driving and durability.
TerrainContact H/T tread compound is molded into a symmetric tread pattern.
Wide circumferential grooves with +Silane compound for improved wet traction and braking.
Computer-optimized pattern for noise reduction when driving and thereby providing a quiet and comfortable ride.
Its lateral notches help in evacuating water on the wet driving surface, in the rain, to reduce the risk of hydroplaning.
Features Continental's +Silane additives for durability by resisting against cut and puncture with better traction.
Interlocking sipes for better handling, improved traction, and better braking abilities.
Dual spirally wound cap plies for enhanced handling and to enhance its high-speed potentials.
The traction grooves have added gripping teeth in their grooves for trapping snow so as to give better snow to snow traction.
The presence of a two-ply casing in the tire's internal construction enhances its comfort when driving.
Two heavy-duty steel belts aid stability and give better handling.
Warranty
Continental TerrainContact HT comes with 6 years or 70,000 miles for its euro-metric sizes and 6 years or 60,000 miles for its LT tire sizes.
Also, there is a uniformity warranty available for the first year or first 2/32-inch wear.
Free replacement for the first year or first 2/32-inch wear, then prorated until the last 2/32.
Workmanship and material warranties are available for 6 years.
Manufacturers' road hazard warranty is available for the first year or first 2/32-inch wear.
Continental gives this tire consumer 60 days trial and 3 years change if it goes flat.
About The New Continental TerrainContact HT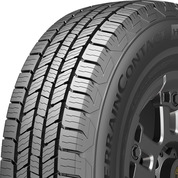 As stated earlier, the Continental TerrainContact is an all-season highway tire designed specifically for pickup trucks and full-size SUVs.
Continental added two new tires to its all-season category and both are light truck tires.
These two tires are Ccrosscontact LX25 which is the successor to the quality Crosscontact LX20 that was produced in 2011 and was a success.
Alongside is the Continental TerrainContact H/T which complements the TerrainContact A/T which was launched in 2016.
These two additions extend the company's coverage of the highway/terrain segment to 84%.
The Continental TerrainContact H/T is available in a range of 34 sizes from 16 inches to 22-inch diameter.
This tire gives good performance even when the vehicle is loaded and there is the latest technology used in building it so you get the driver's confidence on wet and dry surfaces, as well as on light snow with this tire.
Its 34 sizes are available in 24 metric sizes and 10 LT metric sizes.
This tire features TractionPlus+ technology which provides it with excellent traction on a wet surface, gives a quiet and comfortable ride but mostly it provides stability, good braking abilities especially on wet surfaces, and confident handling.
Also, the TractionPlus+ technology gives the tire durability and long tread life.
Tire Sizes
16"
245/75R16 111T, 265/70R16 112T
17"
225/60R17 99H, LT235/80R17 120/117R, 245/65R17 107T, LT245/70R17 119/116S, 245/70R17 110T, LT245/75R17 121/118S, 255/65R17 110T, 255/70R17 112T, 265/65R17 112T, 265/70R17 115T, LT265/70R17 121/118S, 265/70R17 115T
18"
245/60R18 105T, 255/70R18 113T, 265/60R18 110T, 265/65R18 114T, 265/70R18 116T, LT265/70R18 124/121S, 275/65R18 116T, LT275/65R18 123/120S, LT275/70R18 125/122S
19"
245/55R19 103T
20"
255/50R20 109H, 255/55R20 107H, LT265/60R20 121/118R, 275/55R20 113T, 275/55R20 117H, 275/60R20 115H, 275/60R20 115T, LT275/65R20 126/123S
22"
285/45R22 114H
Pros
Great traction on a wet surface
Good handling
Good all-season performance

Alfred's Take
This tire is available for the drivers of full-sized SUVs and pickup trucks who desire great highway performance, good grip on a wet and dry surface with confident handling when driving.
TerrainContact HT is an all-season built tire to deliver good performance on a wet surface, on a dry surface, on highways, and on light snow.
---
Conclusion
Continental's new all-season highway tire is a good choice for drivers that want comfort when driving on dry, wet and snow driving surface.
It is designed for drivers that appreciate great traction on the wet surface as this tire is highly rated when it comes to wet traction.
We hope you find the information in our Continental TerrainContact H/T review helpful.
You could take advantage of Continental's 60-day trial to check if this tire suits you.
If you have a review, comment or question leave them in the box below.
We will be glad to hear from you or be of help.
---