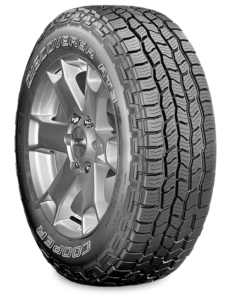 Cooper Discoverer AT3 4S is an all-terrain tire designed for pickup trucks, crossovers, and SUVs.
This tire gives off-road traction as well as highway stability and comfort with confident traction on light snow.
The Discoverer AT3 4S is one out of 3 different products in the Discoverer line.
The other two are Discoverer AT3 XLT and Discoverer LT.
The XLT is an all-terrain tire designed for pickup trucks and full-size SUVs while the Discoverer AT3 LT is an all-terrain tire designed for heavy pickup trucks and engineered for extreme off-road conditions like mud gravel and dirt.
In this cooper discoverer AT3 4S review, we will get to know more about this SEMA award-winning tire.
---
Cooper Discoverer AT3 4S
Technology
Features adaptive technology that uses a silica-based tread compound for an all-terrain grip.
Micro gauge zig-zag sipes for added biting edges which gives improved traction on slippery surfaces and for stability on a dry surface.
Open, five-rib design for improved off-road performance on the wet and dry driving surface.
Snow groove technology traps snow in its tread using tooth block edges and this gives snow to snow contact, thereby getting better snow traction.
Presence of robust two-ply polyester casing in its internal construction.
Circumferential aqua vac channels and wide lateral notches help evacuate water from the contact patch thereby reducing the risk of hydroplaning.
Two high-strength steel belts with single nylon reinforcement for better handling, durability, and stability when driving especially at high speed.
Warranty
The tire comes with 65,000 miles treadwear warranty and uniformity warranty for the first 2/32 inches of wear.
Also, there is a workmanship and materials warranty.
The consumer gets free replacement for the first 2/3 inch of wear, then it is prorated to the 2/32 inches remaining.
The AT3 4S comes with a 45-day road test warranty from Cooper, so if you are not pleased with your purchase you can return it within 45 days.
Features
Excellent traction and grip on a wet surface
Shorter stopping abilities in snow
Drive comfort
Off-road durability
Cooper's 45-Day Test Drive
65,000 Mile Treadwear warranty for Euro Metric sizes
Cooper adaptive traction technology
Performance
Cooper Discoverer AT3 4S tire won the best new product award at specialty equipment market association (SEMA) show in 2018 and was followed by Continental VikingContact 7 as a runner-up.
The Cooper Discoverer AT3 line encourages consumers to take on the road and what lies beyond as it offers excellence in delivery when paired with your SUVs and pick-up trucks.
The Evolution AT3 4S will give your truck an aggressive off-road look and also improve the look of your truck without sacrificing good street performance.
You will find it to be very quiet on a highway which is unusual for an all-terrain tire.
Hence, you gain the comfortability of having a quiet ride.
Tire Sizes
15''
225/70R15 100T, 235/75R15 109T, 235/75R15 105T, 255/70R15 108T, 265/70R15 112T, 265/75R15 112T
16''
215/70R16 100T, 225/70R16 103T, 225/75R16 104T, 235/70R16 106T, 235/75R16 108T, 245/70R16 111T, 245/70R16 107T, 245/75R16 111T, 255/70R16 111T, 265/70R16 112T, 265/75R16 116T
17''
215/65R17 99T, 235/60R17 102T, 235/65R17 108T, 235/70R17 109T, 235/75R17 109T, 245/65R17 111T, 245/70R17 110T, 255/65R17 110T, 255/70R17 112T, 255/75R17 115T, 265/65R17 112T, 265/70R17 115T, 285/70R17 117T
18''
255/70R18 113T, 265/60R18 110T, 265/65R18 114T, 265/70R18 116T, 275/65R18 116T
20''
265/50R20 111T, 275/55R20 117T, 275/60R20 115T
Pros
Aggressive looks
Smooth on-road drive
Comfortable and quiet ride
Off-road capabilities and durability
Cons
Some consumers complained 5/32 inch left after only 10K miles

Alfred's Take
The Discoverer AT3 delivers a smooth and quiet ride with great handling even when driving at highway speed.
Also, it handles well on dry and wet roads and you will not have to fear during a snow storm as it is very capable.
This tire comes with 65,000 miles warranty and is available in 37 sizes from 15-20 inch rim diameters.
---
Conclusion
You could take advantage of Cooper's 45 day trial warranty, but we are certain you will not be disappointed with its performance.
Plus, its aggressive and good looks can also complement your truck.
We hope you found our Cooper Discoverer AT3 4S reviews helpful.
If you have a review of this tire, question, or comment, leave it in the box below.
We will be glad to hear from you.
---