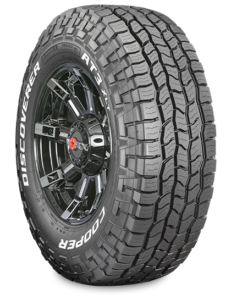 The Discoverer AT3 XLT is one of Cooper's all-terrain tires in the Cooper Discoverer AT3 line that consists of three products – Discoverer AT3 XLT, Discoverer AT3 LT for heavy trucks with capabilities to haul a heavy load, and Discoverer AT3 4S that is engineered for performance SUV and pickup truck.
The Discoverer AT3 XLT is designed for drivers of pick-up trucks and full-size SUVs that desire tough tires that can take on an off-road drive and still deliver a comfortable on-road ride with year-round performance.
This tire has a stylish look and off-road durability that can tackle dirt, gravel, mud, and rocks.
Let's get to know more of this tire in this Cooper Discoverer AT3 XLT review.
---
Cooper Discoverer AT3 XLT
Technology
Durable-tread technology makes the tread shred resistant with the presence of the shred resistant silica compound.
The presence of whisper grooves in the outboard tread blocks help reduction of road noise.
In the shoulder, there are alternating scoop and cleat lugs for better grip when driving off-road, on mud, rock, etc.
There are deep circumferential channels and wide lateral notches to reduce the risk of hydroplaning.
Even wear arc technology for balanced pressure through the tread when driving, better handling, and even tread wear.
Stone ejector ledges to prevent punctures from stone drilling when driving on rough roads.
Features multiple zigzag sipes in each tread block and adds to its biting edges for better traction on a slippery surface.
Snow groove technology traps snow in its tread using tooth block edges and this gives snow to snow contact thereby getting better snow traction.
Presence of robust two-ply polyester casing in its internal construction.
Two high steel belts with single nylon reinforcement for better handling, durability, and stability when driving.
Warranty
The tire comes with 60,000 miles tread life warranty and uniformity Warranty for the first 2/32 inch of wear.
Also, there is a workmanship and materials warranty.
The consumer gets a free replacement for the first 2/32 inch of wear, then it is prorated to the 2/32 inch remaining.
Cooper equips this tire with 45 days road test warranty, so you can purchase them and return them within 45 days if you are not pleased with your purchase.
Features
45-Day Test Drive
60,000 mile treadlife warranty
Durable tread technology for off-road performance
Stops on average at least 10 feet shorter on wet roads
Performance
The Discoverer AT3 line is built with all-terrain capabilities but designed for different vehicles.
All three products are quality tires.
Thereby, they earned recognition from SEMA and its consumers for their excellence.
Also, you can check out two winter tires from Cooper that are gaining recognition as well – the Discoverer True North and Evolution winter that are both built to tackle serious winter conditions.
The Discoverer XLT is built with great looks so, if you desire a stylish and aggressive-looking tire to complement your truck, then XLT is a good choice to pick.
This tire is quiet just like the Discoverer 4S, too quiet for an all-terrain tire, especially on the highway.
Hence, you get a comfortable and noiseless drive.
Even though it has excellent off-road abilities, it still delivers smooth on-road drive with excellent traction on a wet surface.
Of course, the off-road durability and performance are undeniable in the mud, on rocks, dirt, or similar off-road surface.
Also, it hurls and handles load very well, so you do not have to worry if you need it for some heavy lifting.
Tire Sizes
15''
31X10.5R15LT 109R, 32X11.5R15LT 113R, 33X12.5R15LT 108R
16''
LT285/75R16 126/123R, LT295/75R16 128/125R, LT305/70R16 124/121R, LT315/75R16 127R
17''
LT285/70R17 121/118S, LT285/75R17 121/118S, LT295/70R17 121/118R, LT305/70R17 121/118R, LT315/70R17 121/118S, 37X12.5R17LT 124R
18''
LT265/70R18 124/121S, LT275/70R18 125/122S, LT285/65R18 125/122S, LT285/75R18 129/126S, LT295/70R18 129/126S, LT305/65R18 124/121S, 35X12.5R18LT 123R,
20''
LT265/60R20 121/118R, LT275/55R20 120/117S, LT275/65R20 126/123S, LT285/55R20 122/119R, LT285/60R20 125/122S, LT285/65R20 127/124S, LT295/60R20 126/123S, LT305/55R20 121/118S, LT325/60R20 126/123R, 35X12.5R20LT 121R
Pros
Excellent off-road performance
On-road drive comfort
Great looks
Year-round performance
Cons
They could get louder when they start to wear if they are not rotated often and appropriately

Alfred's Take
Cooper Discoverer AT3 XLT is an all-terrain tire with all the features, ability, and excellent all-terrain performance level, just like the Discoverer LT.
However, this tire will offer a better and more stylish look compared to the LT, with shoulders that give enhanced mud traction, handles rock crawling well, and resist puncture.
Performance on snow is good too, especially on light snow.
You do not have to worry about slipping or handling.
You can use a snow chain and it will be great for heavy snow or you could get snow truck tires for extreme winter conditions if you choose.
---
Conclusion
If you are in for an off-road and on-road adventure, then you will be impressed with the combination of highway smoothness and off-road capabilities that these tires show off.
If you desire the abilities with a tire to complement your truck with good looks, then this is a good choice to pick.
You can take advantage of their 45-day warranty as well.
We hope you found our Cooper Discoverer AT3 XLT review helpful.
If you have reviews to share, questions, or comments, leave them in the box below.
We will be glad to hear from you.
---