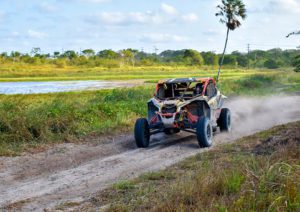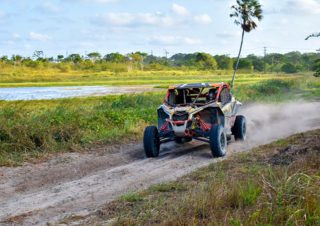 Fury recently introduced its Country Hunter UTV into the tire market designed for recreational off-road vehicles and specifically suitable for light trucks and UTVs. This tire increases the off-road controllability and offers full driving comfort to the driver, combination of which ensures exceptional performing ability.
Fury Country Hunter UTV is a rugged terrain tire that offers extreme terrain traction as well as ensuring a comfortable driving experience.
It guarantees great driving safety levels throughout its service life on various driving surface. Fury Country comes in 3 sizes in 14 and 15"diameter for now with a promise to roll-out more as time goes by.
Country UTV comes with comparatively affordable price lower than other competitors. However, it does not come with any manufacturer's tread-life warranty for now.

Performance
Fury Country Hunter is a rugged terrain tire that combines off-road traction and on-road comfort. This feature helps to minimize the road and cabin noise during performance. The tire guarantees all-year round superb comfort level.
The tire has an excellent controllability and stronger durability to withstand pressures which are prerequisite requirements of tires that continuously perform on off-road terrains.
It has good off-road handling while offering on-road comfort and better grip in wet conditions.
Fury offers great multi-terrain traction due to its specific tread design which ensures constant forward motion on soft, loose and uneven terrain surface conditions. The tire improves the driving safety levels on off-road terrains by guaranteeing an optimized traction.
The tread elements enhance the tire's soft, loose and uneven terrain grip guaranteeing its continuous forward-motion at all times to improve its exceptional performing ability and power on different terrain surfaces.
Utilizing the compact tread design and all-season compound, Fury Country Hunter offers all-weather traction with its great grip on dry, wet and winter conditions to promote a secured driving experience all year round.
Technology
The tire has a semi-block design that offers outstanding traction in mud and rock solid stability on the most difficult terrains.
Its tread design also keeps a clean footprint while the staggered tread elements and high void ratio work together to eliminate mud, snow and rocks stuck between the tread elements.
The staggered tread elements and void also keep clean the footprint and maintains the tire's surface contact thus preventing mud and snow from blocking its surface contact.
Its stone ejectors actively avoid and prevent stone penetration and retention. It ejects rocks from the footprint before they can drill into the tread area and harm the casing, boosting the off-road driving safety levels.
The Country Hunter UTV features a tread compound specially formulated to be chunk and tear-resistant.
The eight-ply design sidewalls offers puncture-resistant while the durable belts enhances perfect driving control.
It's all season tire compound and the optimal tread block placement work together to boost the dry, wet and winter weather grip on the road surface.
The tread elements enhance good biting edges gripping on the road surface, while the compound keeps the rubber flexibility in various temperatures. This combination ensures the tire's secured grip on the road and terrain in different weather conditions throughout the year.
The ideal multi-directional staggered tread block placement boosts the number of biting edges gripping the road surfaced. The Country Hunter uses its optimized tread block placement to decrease the road noise level
The optimal tread pattern manages to channel airwaves through the footprint, preventing their contact with the tread elements to enhance low road-noise and increased driving comfort.
Its tread design's ideal groove placement manages to boost the hydroplaning resistance. These grooves channel water and slush from below the footprint, keeping the tire's surface contact.
The reinforced ply construction also maintains the shape of the tire under load and driving pressure preventing it from any form of deformity thus significantly boosting its load carrying and withstanding ability.
Pros
Great strength for heavy loads
Low noise
Good traction
Puncture and tear resistant
Great handling
Affordable price
Cons
It's a new tire hence no negative comments yet.
Warranty
The new Fury tire comes with no Manufacturer's tread-life warranty for now.
Tire Sizes (AVAILABLE NOW)
14"
32X10.00R14
15"
28X10.00R15
34X10.00R15
Tire Sizes (TO BE RELEASED LATER)
14"
28X10.00R14
30X10.00R14
15"
30X10.00R15
32X10.00R15
Conclusion
Fury Tire Manufacturing Company utilized various technologies to ensure that Fury Country Hunter exhibits good performance throughout its lifetime.
As a tire that continuously performs on off-road terrains, Fury comes with excellent controllability and stronger durability to withstand the pressures at all times.
Fury Country Hunter UTV is an all-terrain tire with impressive traction. Its tread elements enhance the tire's soft, loose and uneven terrain grip, guaranteeing the model's forward motion at all times. This combination improves its exceptional performing ability on different terrain surfaces.
Checking out its prices against other top brands such as Firestone, Goodyear, BFGoodrich, Bridgestone, Toyo, and Continental you will find the tire a better and cheaper choice than others with additional discounts.
We hope you find our write-up informative and supportive to you in your decision-making. If you have any question, comment or review of this tire, kindly leave it in the box below, we will be glad to hear from you.