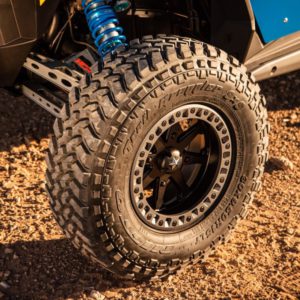 Trail Grappler SXS is Nitto's new mud terrain tire designed for half-ton pickups, full size SUVs and large trucks. This tire is Nitto's first tire for side by side vehicles and it is built with 3D computer simulation adopting the excellent Trail Grappler M/T pattern.
With race proven technology used in building trail grappler light truck tire, trail Grappler SXS brings Nitto performance and reliability to the power sports market.
This tire has been tested in the harshest off-road racing environments and it has proven it carries the racing ability of its predecessor. Let's get to know more about this Nitto Trail Grappler SXS tire in this article.
Tire size
15" 30×9.50R15LT, 32×9.50R15LT
FEATURES
3D computer simulations to give this tire the pattern specifically for a side by side vehicle and to get the tread block arrangement with some inspiration from the excellent Trail Grappler M/T.
Nitto proprietary automated manufacturing system gives uniform construction of the tires and this gives balance to the vehicle hence smooth ride.
Its balance void ratio removes mud and dirt from the tread for continuous off-road traction.
About Nitto Brand
Nitto tire was established in 1945, and years later in 1966 it expanded to the United States as Toyo Tire Corporation. By the year 1999 Nitto North America was established and using the state-of-the-art technology is testing facilities in both Japan and United States.
They manufacture car tires, industrial rubber and synthetic resin products, waterproof sheets, soft and rigid products, seat cushions, anti-vibration rubber for automotive parts and sporting goods.
Also, well-known for performance tires that are built for all users including racing, off-road and on-road tire consumers. Nitto manufactures and markets high quality performance tires for enthusiast.
About Nitto Trail Grappler SXS tire
Earlier this year Nitto displayed this tire at SEMA alongside its NT420V that is replacing the NT420S which is an all season ultra-high performance tire designed for luxury SUV and light trucks.
This tire eventually took third place out of the top ten at the 2019 Can-Am UTV king of the hammers that was presented by HCR race. It is available in few popular sizes now but there will be additional sizes soon.
The trail Grappler SXS is Nitto's first tire for side by side vehicle and as stated earlier its design is inspired by that of trail grappler M/T.
The technologies embedded are similar as well just like its reinforced shoulder groove that aids better off-road performance without sacrificing its stiffness and its computer design tread block that cleans the tread from mud and dirt sticking to it.
Although, Nitto is a leading manufacturer of off-road and on-road SUV performance tire, the trail grappler SXS is Nitto's first ever powersport tire that is built to support the demands of side by side vehicle.
"Nitto Tire is excited to enter the booming powersports market with the Trail Grappler SXS," said Angelo Naval, Nitto Tire U.S.A.'s Senior Director of Product Planning and Business Development.
"We've drawn on our years of experience in race-winning and proven off-road tire construction to bring signature Nitto performance to an entirely new market segment."
Nitto Trail Grappler SXS proved its performance and off-road reliability in the harshest possible condition when tested on high speed desert running and rock crawling.
Conclusion
We hope you find this Nitto Trail Grappler SXS tire article informative, this tire will be a good choice to pick as it has a lot in common with its predecessor (Trail Grappler M/T) which was an excellent tire. If you have a comment or review of this tire, leave it below, we will be glad to help.