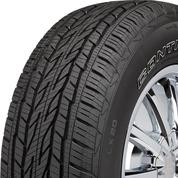 The Continental CrossContact LX20 is an all-season touring tire built with an eco plus technology which gives a great all-season performance on the highway and is designed to deliver good fuel economy.
Designed for light trucks, SUVs, pickups, and crossover vehicles, we bring you in-depth Continental CrossContact LX20 reviews from its performance on all driving surfaces to its functions and warranty.
---
Continental CrossContact LX20
The EcoPlus CrossContact is a sporty tire built with an aggressive symmetric tread design that can handle rough pavement and deliver great traction and grip on dry pavement.
Also, you get a comfortable and quiet ride from these tires when driving.
Performance
The CrossContact is your answer if you need a tire that is great on the highway, yet can handle a light off-road driving condition.
The EcoPlus technology also helps it to get even wear and excellent traction while driving.
This Continental tire was constructed with an Eco tread compound that has +silane additives and Tg-F polymers and this helps to deliver better traction while lowering the rolling resistance of the rubber.
It comes with four wide circumferential grooves and additional traction grooves that help improve its grip and handling while driving.
These grooves are strategically placed around the tread to aid in reducing road noise and increase overall ride quality.
Also, it is built with a continuous center rib that has independent tread blocks which aid in delivering good handling and enhanced traction while driving.
On the inside, there are two steel belts that are reinforced with spirally wrapped polyamide for added strength and durability.
Traction is great on all types of road conditions, including snow.
Also, if you find yourself wanting to drive on a light off-road terrain, this model is up to the task.
On Dry Surface
It gives good brake and good steering handling with good grip when on a dry surface.
However, if you have a high-performance car built for speed, then you should go for a high-performance tire, except that, you are good to go any day with these tires.
On Wet Surface
You will probably love these tires more on wet driving roads than on dry roads because they do not float or skim on wet roads, they are just great on a wet surface.
They deliver steady traction and grip with great steering feel when driving on wet surfaces.
On Snow
The Continental CrossContact LX20 tires are great on light snow.
For heavy snow, you will need snow chains, all-terrain tires, or winter tires.
However, they are great on rough roads, rough patches, and rough terrains.
Warranty From Continental
The LX20 has a 6-year or 70,000mile tread life warranty, and it also comes with a 30 days customer satisfaction warranty, which means you can get it replaced after 30 days if peradventure you are not cool with the tires.
Tire uniformity is guaranteed for one year or the first 2/32 inches of wear.
Materials and workmanship are warranted for 6-years and include free replacement during the first year or first 2/32 inch of wear.
A prorated amount is given for the remaining time period or until the final 2/32 inch of tread depth.
If you are not satisfied, you can get your tires replaced with another Continental tire, they also provide a one-year road hazard warranty.
Technology
The EcoPlus Technology built into the tread design improves its treadwear, traction on slippery roads, comfort, and road noise.
Continental Traction Groove Technology allows it to maintain a good grip during the winter season.
EcoPlus Technology +Sliane gives an optimum balance of exceptional wet grip and extended tread life.
Traction Grooves also provide gripping teeth inside the groove that lock snow for improved snow grip and better mud performance.
Inside the tires, there are two steel belts that are reinforced with spirally wrapped polyamide which improves its strength and durability.
Four circumferential grooves help to improve traction on both wet and snow-covered roads. These grooves are strategically placed around the tread to help in reducing road noise and increase overall ride quality.
Built with asymmetrical tread design pattern.
EcoPlus Technology reduces rolling resistance with Tg-F polymers and its +Silane additives enhance traction, provide improved fuel efficiency, give better treadwear, help it gain a little extra fuel mileage, and lower CO2 emissions.
Continuous center rib and independent tread block aids in better grip on dry surfaces while perfecting steering response.
Tire size
This tire is available for pickup trucks/crossovers/SUVs, 16" to 20", touring, all-season tires.
15"
195/65R15 91H BSW
16"
215/70R16 100S OWL, 225/70R16 103S OWL, 235/65R16 103T BSW, 235/70R16 106T OWL, 235/75R16 108S OWL, 245/70R16 107S OWL, 245/75R16 111S OWL, 255/65R16 109S OWL, 265/70R16 112S OWL, 265/75R16 116T OWL
17"
225/65R17 102T BSW, 235/65R17 108H XL BSW, 235/65R17 108T XL OWL, 245/65R17 107T OWL, 245/70R17 110S OWL, 255/65R17 110S OWL, 265/65R17 112T OWL, 265/65R17 112T BSW, 265/70R17 115T OWL, 265/70R17 115T BSW, 275/60R17 110S OWL
18"
235/60R18 107H XL BSW, 235/65R18 106T BSW, 245/60R18 105T BSW, 255/55R18 109H XL BSW, 255/65R18 111S BSW, 255/70R18 113T OWL, 265/60R18 110T OWL, 265/65R18 114S OWL, 265/70R18 116S BSW, 275/60R18 113H BSW, 275/65R18 116T OWL
19"
245/55R19 103S BSW, 255/50R19 107H XL BSW, 255/60R19 109H BSW
20"
275/55R20 117S XL BSW, 275/60R20 115S OWL, 285/50R20 112H BSW
Pros
Great traction on dry, wet, and snow driving surface
Gives a smooth and quiet ride
Responsive steering and great response when cornering
Good warranty up to 70,000 miles
Cons
It sometimes could give some vibration problems

Alfred's Take
You find these tires giving you a smooth and noiseless ride when driving, even when speeding on the highway you find them silent.
The tires are also quiet over rough terrains or potholes on the concrete road.
They are smooth and stable on rough roads and they can handle a bit of mud, snow, and dirt.
---
Conclusion
Overall, after our Continental CrossContact LX20 reviews, we hope you will make the best choice because if you are looking for a touring all-season tire that delivers a smooth, quiet ride to go with dependable traction and good handling, you will not be disappointed with the Continental LX20.
You can also check out the new LX25 with some similar features, but also an improved version of the LX20 or the new TerrainContact H/T.
The combination of fuel efficiency, traction, and a quiet ride make the CrossContact LX20 a powerful choice for your light truck, crossover, or SUV.
We really like this model and will suggest it as a good choice to buy, if it suits your driving conditions.
---