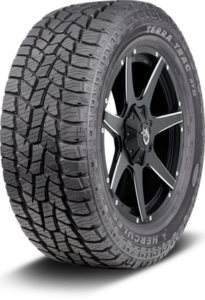 The Hercules Tire & Rubber Company was founded in 1960 and has its head office in Findlay, Ohio, USA.
A leading tire marketer of repute, Hercules has branches in Canada and more than other 90 countries of the world.
Hercules' choicest selections include UHP, light truck, medium truck, trailer, off the road, industrial, and specialty tires manufactured by its worldwide supplier network.
The only all-terrain tire built by Hercules is the Terra Trac AT II, so we will get to that in a minute in our Hercules Terra Trac AT II review.
---
Hercules AT
Let's help you get to know more about the brand.
Its strong reputation build among its customers over the years, as well as quality products dealt in, had made the company one of the most sought-after in the industry.
Hercules has its regional wholesale warehouses in California, Texas, Illinois, Ohio, Florida, Oregon, Ontario, and New Brunswick, under the name TDW (Tire Dealer's Warehouse).
There is also Hercules Tire Canada on an international basis from warehouses in the USA, Canada, and China under the name Hercules Tire International.
Hercules is considered the first private brand tire buying group and today are owned by FDG Associates.
Hercules Terra Trac AT II Performance
The Hercules Trac AT II is an all-terrain tire built for excellent off and on-road performance.
It is good for all types of light trucks, SUVs, Jeeps, and other 4×4's while keeping the price lower for any budget-minded driver.
The tire comes with a variety of features designed to deliver all-year-round performance and comfort you will enjoy.
It is good on snow, rough, mud- and gravel-filled roads with perfect handling capability and is available in 46 SUV and LT sizes.
All sizes of the Hercules Terra Trac AT II have a 60,000-mile limited mileage warranty, road hazard protection, and Hercules' 30-day "Trust Our Ride" test drive.
The aggressive tread design digs in and gives you a confident drive through most terrains.
Other premium features include a new AT-C compound, more siping, tusk grooves, and a stone ejection device.
However, our concern is on the not-so-good tread-life which may be as a result of the price.
Some vehicles that can easily use the tire include Acura MDX, Chevrolet Silverado, Tahoe, Avalanche, S10, Suburban, K2500, Colorado, Blazer Dodge Ram, Durango, Dakota Ford Expedition, Escape, Ranger, Edge, Bronco, F-150, Excursion, Explorer GMC Yukon, Sierra, Canyon, Envoy, Honda Element, CR-V, Pilot Hummer H3, H2 Isuzu Trooper, etc.
Technology
Its aggressive tread design digs in and gets you through most terrain.
The tire is stocked with tied tread blocks, EKG siping, and a mold profile shape that creates a more stable contact patch for greater stability.
The tread pitch sequence lowers heavy and annoying outside road noise to give pleasure to the wheel while the tread profile provides good stability and firm control at higher speeds.
Hercules comes with an exclusive AT-C tread compound engineered with added silica to increase snow, ice, and all-weather traction, as well as providing good tread-wear.
The tire's tread design provides a mix between being a more durable and rugged off-road performer, thus delivering mild-mannered highway handling and comfort.
Warranty
All sizes of Hercules Terra Trac ATII have a 60,000-mile limited mileage warranty, road hazard protection, and Hercules' 30-day "Trust Our Ride" test drive.
Tire Sizes
15″
235/75R15 105T OWL
LT235/75R15 104/101R C6 OWL
235/75R15 XL 109S OWL
30X9.50R15LT 104R C6 OWL
31X10.50R15LT 109R C6 OWL
16″
LT215/85R16 115/112R E10 BLK
215/70R16 100T OWL
225/70R16 103T OWL
LT225/75R16 115/112R E10 BLK
225/75R16 104T OWL
235/75R16 108T OWL
235/70R16 106T OWL
LT235/85R16 120/116R E10 BLK
LT245/75R16 120/116R E10 OWL
LT245/75R16 108/104R C6 OWL
245/70R16 107T OWL
245/75R16 111T OWL
255/70R16 111T OWL
265/70R16 112T OWL
265/75R16 116T OWL
LT265/75R16 123/120R E10 OWL
LT265/75R16 112/109R C6 OWL
LT285/75R16 126/123R E10 OWL
LT305/70R16 124/121R E10 OWL
LT315/75R16 127/124R E10 OWL
17″
LT235/80R17 120/117R E10 OWL
235/70R17 XL 111T BLK
235/65R17 104T OWL
LT245/70R17 119/116R E10 OWL
245/70R17 110T OWL
245/65R17 107T OWL
LT245/75R17 121/118S E10 OWL
255/70R17 112T OWL
255/65R17 110T OWL
265/65R17 112T OWL
265/70R17 115T OWL
LT265/70R17 121/118R E10 OWL
LT265/70R17 112/109R C6 OWL
LT275/70R17 114/110R C6 OWL
P285/70R17 OWL 117T
LT285/70R17 121/118S E10 BLK
LT315/70R17 121/118R D8 OWL
18″
265/70R18 116T OWL
265/65R18 114T OWL
265/60R18 110T OWL
275/65R18 116T OWL
LT275/65R18 123/120S E10 OWL
LT275/70R18 125/122S E10 OWL
LT285/65R18 125/122S E10 OWL
20″
LT275/65R20 126/123S E10 BLK
275/60R20 115T BLK
275/55R20 RE 117T BLK
LT285/55R20 122/119R E10 BLK
305/50R20 XL 120S BLK
LT305/55R20 121/118S E10 BLK
Pros
Solid performance on all terrain
Good on the wet and dry surface
Low noise
Affordable price for all sizes
Good and comfortable handling
Good on a paved surface, mud, rough, dirty, and stony roads.
Traction on all types of terrain is quite commendable
Cons
Not having commendable tread life.

Alfred's Take
The Hercules Trac AT II traction in all-terrain is commendable with its deep-digs designed to grip firmly onto the terrain surface.
Its low noise vibration gives you a clear audition while driving to ensure your additional comfort.
---
Conclusion
Our overall advice will be to pick this tire being that it performs well and comes at a lower price.
You will find it more suitable for your use if budget is a major issue in your decision-making in getting a new set of all-terrain tires, as you will save a good amount with these.
The value for the money is pretty good.
We highly recommend this tire if it suits your driving conditions.
We hope you find our  Hercules A/T Tires review helpful, if you have any questions or comments, leave them in the box below and we will be glad to hear from you.
---