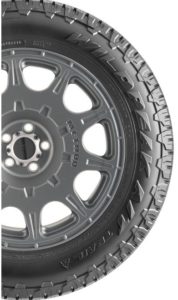 The Wildpeak A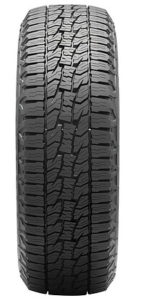 /T trail is an all-terrain tire designed for crossover vehicle. This tire provides all-terrain abilities, off-road traction, and all weather performance as well as on road abilities. Falken equipped this tire with warranty of 65,000 miles tread life and even 30-day free trial.
The tire is available in 30 sizes and it provides snow capabilities and durability as it is branded with 3PMSF which symbolizes a tire with winter excellence.
Let's get to know more about the Falken Wildpeak A/T trail tire speaking of its features and what exactly it has to offer its consumers.
For what car driver
The Wildpeak A/T trail is designed for drivers of CUV that desires an adventurous tire with rugged off-road abilities without compromising it's on road traction. Also, the tire can serve well through snow, providing good snow traction and even performing well through all weather.

About the new Wildpeak AT trail
Falken tire is owned by the Japanese company Sumitomo rubber industries, launched in japan in the year 1983. The tire company is well-known for its production of quality tires for cars, trucks, SUV and crossovers. Like the Wildpeak A/T3W that has proven nothing short of quality over the years to its consumer and many more.
The A/t trail is the newest addition to the family; it is engineered to match the dynamic characteristics of modern crossovers, aggressive off-road traction and good all-weather performance with on-road abilities.
This tire has been chosen by Toyota to be the original equipment on the new 2020 Toyota RAV4. The A/T trail is the first all-terrain tire from Falken designed specifically for crossover vehicles.
Falken stated that most tire manufacturers put their focus on trucks and SUVs when producing all-terrain tires, but there is more demand of all terrain tires for rugged and capable crossovers.
The A/T features USTMA severe snow rating, and it supports modern crossover utility vehicle with the off-road confidence, durability and snow capability.
This tire is available in 30 sizes and can be purchased in the US and Japan, it will appeal to owner of new crossovers with even old crossover models.
Can be fitted on this vehicle and many more
Chevrolet Equinox, Ford escape, Honda CR-V, Jeep Cherokee, Jeep Renegade Trailhawk, Mazda CX-5, Nissan Rogue, Subaru Crosstrek, Subaru Outback, Toyota Rav4
Warranty
The WILDPEAK A/T TRAIL is equipped with limited tread life warranty of 65,000 miles. With this tire you get a 30-day free customer satisfaction trial from Falken and road hazard protection however, check Falken for terms and condition.
You will find the A/T trail with the 3PMSF symbol that denotes winter excellence which means you can expect a good snow performance from this tire.
Features
Upper sidewall protection
Off-road capabilities and durability
Good On-road performance
3PMSF symbol for good snow performance
65,000 miles tread life warranty
All weather traction
Technology
CUV Unibody construction and higher center of gravity for year round superb handling when mounted on your crossover vehicle.
Its optimized tread design features Falken's silica enriched tread compound to deliver better on-road performance and longer wear.
Durable 2-ply polyester construction and rugged upper sidewall for off-road durability by protecting the tire from cuts and chip on off-road terrain
3D Canyon sipe technology and increased tread depth for enhanced winter and all-weather traction.
Optimized tread also help maintain the efficiency and versatility of CUV.
Tire Sizes
SIZE          WIDTH    DIAMETER
205/70R16                8.2"             27.3"
97H SL BSW
215 65R16                 8.6"            27.1"
102H XL BSW
215/70R16                 8.8"           27.8"
100H SL BSW
215/60R17               8.8"           27.2"
96H SL BSW
215/65R17                 8.6"         28.0"
99H SL BSW
225/55R17                 9.2"          26.8"
101V XL BSW
225/60R17               9.0"           27.7"
99H SL BSW
225/65R17                8.9"         28.6"
102H SL BSW
235/55R17                9.7           27.2"
103V XL BSW
235/60R17               9.6            28.1"
102H SL BSW
235/65R17                9.4           29.2"
108H XL BSW
245/65R17               9.8"          29.5"
107H SL BSW
225/55R18               9.2"         27.6"
98V SL BSW
225/60R18                9.0"         28.7"
100H SL BSW
235/50R18                9.6"         27.3"
97V SL BSW
235/55R18               9.7"         28.1"
100V SL BSW
235/60R18                9.4"         29.3"
107H XL BSW
235/65R18               9.4           30.2
106H SL BSW
245/60R18                9.8          29.7
105H SL BSW
255/55R18                10.5        28.9
109V XL BSW
255/65R18                10.2         31.1
111H SL BSW
225/55R19                 9.2           28.8
99V SL BSW
235/55R19                9.8          29.1
105V XL BSW
245/55R19               9.9           29.7
103V SL BSW
255/55R19               10.5         30
111V XL BSW
255/60R19                10.3        31.1
109H SL BSW
245/50R20                9.9          29.8
102V SL BSW
255/50R20               10.4         30.1
109V XL BSW
255/55R20               10.5         31
110V XL BSW
265/50R20                11           30.6
111V XL BSW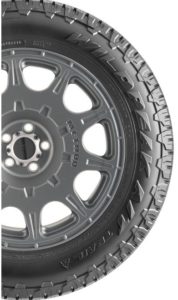 Conclusion
The Falken Wildpeak A/T trail tire is designed for crossover vehicle and engineered with the finest technology to deliver a great performance to its consumer. You can take advantage of the customer 30 days trial to check out this tire as it is designed to deliver all weather traction including winter traction.
If you have any question, review or comment leave it in the box below, we will be glad to hear from you.