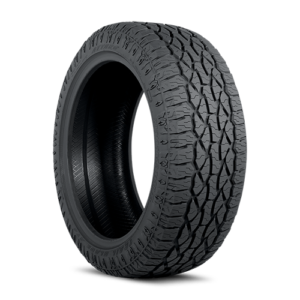 Trail Blade ATS is the second in the series of Atturo's new Trail Blade Sport tires.
It is a new all-terrain model recently designed to be fixed on SUVs and Pickup trucks.
The ATS which followed the Trail Blade MTS mud tire is an extension of Atturo's Trail Blade all-terrain tire and is the second tire in Atturo's new Trail Blade sports series.
Read on to learn about the new trail blade in this Atturo trail blade Ats review.
---
Atturo Trail Blade ATS
Performance
Trail Blade ATS is built with a deep 12mm tread, providing it with superior traction on all surfaces, ranging from asphalt to mud or gravel.
The 12 ply construction (on some selected sizes) and durable tread compound suggest that the tire can withstand the wear and tear that ¾ and 1-ton trucks demand out of a tire.
Taking a more performance-based approach to an all-terrain tire, the Atturo ATS combines performance-focused features of an all-season tire with the off-road capability and durability of an all-terrain tire.
This differs from current HT or Highway Terrain tires, which combine the off-road capability of an AT tire with the comfort and longevity of an all-season.
The Trail Blade ATS has wide channels between its blocks that flush water away from the contact patch for consistent traction on wet surfaces.
To maximize on-road performance, the tread makes use of larger center rib sections to help with directional stability with enhanced steering response while small raised bars between its tread reduces road noise and force out debris.
Trail Blade ATS features a unique tread pattern designed for digging traction and steady handling on all surfaces.
On either side of the center tread section are double tread blocks that are designed to offer both off-road grips, and a stable on-road feel.
On the outside of each of these double-block sections are large circumferential grooves to evacuate water and prevent hydroplaning.
These tread blocks are linked with stabilizing blocks to maintain rigidity at highway speed and on rocky and hard-pack surfaces.
The unique multi-Levels on the alternate-shaped shoulder blocks help distort noise, resulting in a remarkably quiet all-terrain tire.
On the outside of the shoulder tread, the slope of the block is gradual which helps with stable road handling, and sipes that run through the side for improved traction in soft surfaces.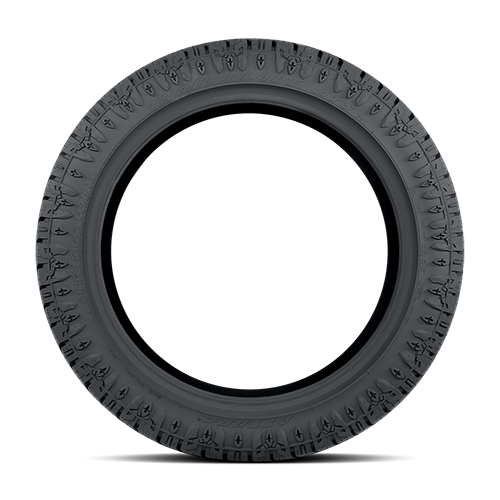 Technology
Trail Blade ATS features large tread blocks and multiple sipes that enhance traction and handling.
Aggressive sidewall modeled after the Quartermaster QSE-5 knife protects the sidewall.
The small raised bars between the tread blocks distort noise and help to remove debris from taking a free ride.
The stepped edges of the shoulder treads evacuate mud and slush.
The tie bars between the shoulder and center tread blocks reduce road noise and improve the stability of the tread blocks for even wear.
Better performance on wet terrain is achieved by wide channels between tread blocks, flushing water from the contact patch.
The tire comes with 3-Dimensional sipes which opens wider as the tread wears to maintain all-season traction throughout the tire's life span.
Double tread blocks provide digging traction on any terrain, even on asphalt.
The large center rib creates an optimized center patch to enhance steering response and tire rigidity.
Stabilizing blocks link tread together to maintain rigidity at highway speeds, and rocky or hard-pack surfaces.
The four main lateral grooves with both straight and jagged portions provide consistent traction in all types of conditions.
Unique multi-levels and alternate-shaped shoulder blocks distort noise and provide a quiet ride.
The tire's tread pattern is optimized for digging traction and steady handling on all surfaces
Warranty
Atturo Trail Blade ATS comes with a 50,000-mile limited manufacturer tread life warranty.
Tire Sizes
17"
245/65R17 111Q, LT245/70R17 119/116Q
245/65R17 111T LT245/70R17 119/116S
18"
245/60R18 109Q XL
245/60R18 109H XL
265/60R18 110S
265/60R18 110Q
265/35R18 116T XL
LT275/65R18 123/120S
LT265/70R18 124/121S
20"
33×12.50R20LT 121Q
LT285/60R20 125/122Q
35×12.50R20LT 126Q
22"
285/45R22 114H XL
305/35R24 112H XL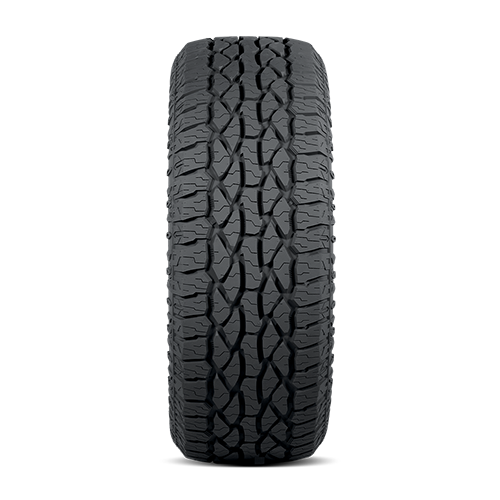 Pros
Good traction on dry and wet terrain
Low noise
Longer tread life
Great handling
Good tread and wear life
Cons
The protection expected from QSE-5knife on the sidewall is unsure.

Alfred's Take
The first phase of sizes for the Trail Blade ATS will include both metric and flotation sizes ranging from 17" up to 24" diameter.
Select sizes will utilize the heavy-duty 12-ply construction to allow for higher load capacity and air pressure required by 2500/3500 series trucks.
Trail Blade ATS tire comes with a 50,000-mile tread life warranty.
Most light truck and SUV drivers desire tires that are built to be driven smoothly on- and off-road.
Atturo's Trail Blade ATS comes with a unique tread pattern that enhances traction and handling on all surfaces.
---
Conclusion
In terms of off-road performance, the natural design of the tire with large and deep tread blocks combined with big areas of the void between the tread makes for an ideal level of grip on rock, loose dirt, and gravel.
Unarguably, the technology employed with improvements on the previous brand makes Trial Blade ATS a good choice for your SUV and or light truck any time you desire to change your tires.
We hope you will find our Atturo Trail Blade ATS review informative in your decision-making.
If you have a comment, question, or review of this tire kindly drop it in the box below.
We will be glad to hear from you.
---