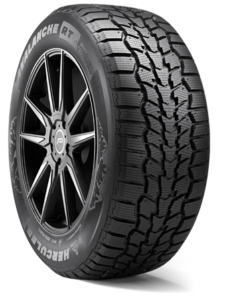 The Avalanche RT is Hercules's latest studdable winter tire designed for passenger cars, minivans, and CUVs.
The tire is built with the latest technologies like its sawtooth tread design and Snow Grip technology among others for it to withstand the harsh winter conditions.
The Hercules Avalanche RT is an improved version of its predecessor the Avalanche Xtreme winter tire and it is available in 41 sizes from 14 – 18 inches.
Let's get to know more about this winter tire in this article.
---
Hercules Avalanche RT
Features
Saw tooth-shaped Snow- Grapper grooves for clutching snow in its tread to improve its snow to snow traction.
Hercules Snow Grip Technology is integrated with features that help the tire withstand serious winter conditions.
Multi-pitched directional tread pattern with 60% more sipes and triple polymer with cold-weather compound for overall traction, good steering, and precise handling in winter driving conditions.
Thin-gauge sipes for increased flexibility and small ribs biting edges that bite into the snow for superior control.
Warranty
This tire comes with 45 days of customer trial satisfaction so if the tire does not suit you, it can be returned for exchange with another Hercules brand.
It is also covered by the industry road hazard protection guarantee and this provides free replacement for up to two years or the first 50% of tread life.
About The Brand
Hercules Tire and Rubber Company was founded in 1952 and is currently owned by American Tire Distributors, Inc.
Hercules Tire Co. is renowned for making affordable OEM replacement tires, SUVs, trucks, and winter tires.
Hercules tire company has been around for over 60 years in the production of cars, light trucks, and SUV tires.
While delivering a unique combination of cutting-edge expertise and old fashion integrity, the company is giving its customers the performance they desire with affordability and quality.
Hercules has a wide selection of tires, so you can find any kind of tire you desire in their company, no matter what you drive or your driving conditions.
About The Avalanche RT
The Hercules Avalanche RT winter tire is engineered to withstand extreme winter driving conditions while delivering durability.
It is designed for drivers of passenger cars, minivans, and CUV that desire safety and less hassle when driving through does winter conditions.
This tire is a successor to the Avalanche Xtreme which proved to be a good choice during winter.
Unlike the Avalanche Xtreme that was designed for passenger cars, CUVs, SUVs, and light trucks, the Avalanche RT is only for passenger cars and CUVs.
The Avalanche RT is an improved version of its predecessor with incorporated new technologies that aid better performance.
With its Snow Grip technology, triple polymer compound, and sawtooth tread design, this tire is enriched with features that enhance its winter capabilities.
When testing this tire it shows the capability of stopping 10 feet shorter than its predecessor on the snow surface and 7 inches shorter on ice.
This tire has earned favorable reviews from dealers after it was tested on extreme winter conditions, especially in the U.S and Canada.
This tire is affordable so you can check it out at your local store or order online and it will be delivered to you.
This tire has also earned the industry's three-peak mountain snowflake symbol which shows it met the industry winter requirements like every other notable winter tire.
It is available in 41 popular sizes, from 14 to 18-inch diameter which covers most sizes in CUVs and passenger cars.
As Stated By Hercules
"When we initially previewed the Avalanche RT at our product evaluation event earlier this year at the ICAR tire test facility in Mirabel Canada, it received rave reviews from our dealers in attendance," says Steven Liu, senior director of proprietary brands.
"Even our own internal testing showed the Avalanche RT stopped 10 feet shorter in snow and seven feet shorter on ice compared to its predecessor so we're extremely confident in its performance."
Tire Sizes
14''
175/65R14 SL BW, 175/70R14 SL BW, 185/65R14 SL BW, 195/70R14 SL BW

15''
175/65R15 SL BW, 185/60R15 XL BW, 185/65R15 SL BW, 195/60R15 SL BW, 195/65R15 XL BW, 205/65R15 SL BW, 205/70R15 SL BW, 215/70R15 SL BW, 235/75R15 XL BW
16''
205/55R16 XL BW, 205/60R16 SL BW, 205/65R16 SL BW, 215/55R16 XL BW, 215/60R16 SL BW, 215/65R16 SL BW, 215/70R16 SL BW, 225/60R16 SL BW, 225/65R16 SL BW, 225/70R16 SL BW, 235/60R16 SL BW, 235/65R16 SL BW, 235/70R16
17''
205/50R17 XL BW, 215/45R17 XL BW, 215/50R17 XL BW, 215/55R17 SL BW, 215/60R17 SL BW, 215/65R17 SL BW, 225/45R17 XL BW, 225/50R17 SL BW, 225/55R17 SL BW, 225/60R17 SL BW, 225/65R17 SL BW, 235/45R17 SL BW, 235/55R17 SL BW, 235/60R17 SL BW, 235/65R17
18''
225/45R18 XL BW, 225/55R18 SL BW, 225/60R18 SL BW, 235/50R18 SL BW, 235/55R18 SL BW, 235/60R18 SL BW, 235/65R18 SL BW
Pros
Generous company warranty
Excellent snow and ice traction
Very affordable
Latest technology to deliver quality snow performance
Branded with the industry 3PMSF
Cons
Average performance on a dry surface
A bit noisy on a dry surface

Alfred's Take
Hercules also promises their customer a Road Hazard Protection guarantee with a 30 day "Trust Our Ride" satisfaction trial.
You will find this tire branded with the industry three-peak mountain snowflake symbol (3PMSF).
Although you should not expect perfection from this tire when driving on a dry surface but then the tire will keep you in control of your vehicle when driving on a winter surface.
And you will not have to worry about losing traction as it gives you maximum winter traction and optimum performance in snow.
---
Conclusion
You can take advantage of Hercules's generous 45-day customer trial warranty to check out this tire.
It is a good choice as long as what you desire is a tire that offers excellent winter performance and compared to some tires, it is actually affordable.
It can be used across the U.S and Canada and any other countries that experience extreme winter conditions.
If you need excellent snow chains you can also check out this article.
In case you have any questions, reviews, or comments, leave them in the box below, and we will be glad to hear from you.
---