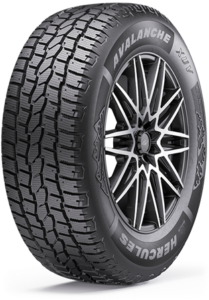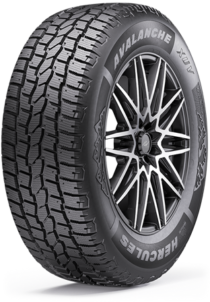 The Avalanche XUV is Hercules studdable winter tire designed specifically for CUV and SUV vehicles.
It is engineered to deliver confidence on snow, ice, and worst winter driving conditions and branded with the three-peak mountain snowflake (3PMSF) symbol which shows it met the industry requirements for having snow tire capabilities.
It is available in 8 popular sizes and is dedicated to the most popular style of the vehicle on an American street.
The tire is engineered with the latest technologies and features some friendly warranty like free replacement within two years in place case of road hazard.
Let's get to know more about this winter tire in this Hercules Avalanche XUV review.
---
Hercules Avalanche XUV
Technology
Snow Grip Technology delivers an array of cutting-edge features that aid faster acceleration and shorter stops when needed.
Winterized tread pattern featuring Snow Grabber Grooves for trapping snow in its grooves for better snow-to snow traction.
Thin gauge sipes aid better road contact which gives the driver confidence and better grip in a slippery situation.
Tailored tread compound developed for CUVs and SUVs which aids responsive ride
Warranty
The Avalanche XUV is covered by the company's road hazard protection, which guarantees free replacement for up to two years or the first 50% of tread life.
The tire also comes with 45 days of customer trial, which means customers can make a return for exchange with a comparable set of Hercules tire brands within 45 days if they are not satisfied.
About The Hercules Avalanche XUV
Because of the continuous demand and growth in the CUV and SUV market, Hercules decided to build a winter tire specifically for CUV and SUV drivers.
Hercules builds on the legacy of the previous generation which is the Avalanche X-Treme to bring this Avalanche XUV to the market.
And as stated by Hercules, this tire is made in the U.S, and the sidewall is branded with the three-peak mountain snowflake (3PMSF) symbol.
When tested during a performance, this tire delivered a shorter stopping distance in the snow in comparison to its predecessors.
They are studdable winter tires which means they are built to accept optional metal studs for additional ice traction as studs are restricted or banned in some states.
"CUV sales surpassed passenger cars as the most popular light-duty vehicle type for the first time in 2018. Even several years ago, in 2014, Hercules saw the trend emerging in the CUV and SUV market and introduced our premium all-season SUV/CUV/LT product, the Hercules Terra Trac Cross-V," says Steven Liu, senior director of proprietary brands at American Tire Distributors Inc. "As the CUV continues to reshape the automotive landscape, the challenge for the replacement tire market is to keep up. We have taken that challenge head-on and created the Avalanche XUV winter tire that specifically optimizes the performance of SUVs and CUVs when the weather turns cold.
About Hercules Brand
Hercules tire company has been around for over 60 years in the production of cars, light trucks, and SUV tires while delivering a unique combination of cutting-edge expertise and old fashion integrity.
It gives its customers the performance they desire with affordability with quality.
Hercules has a wide selection of tires, so you can find any kind of tire you desire in their company, no matter what you drive or your driving conditions.
Tire Size
18''
245/60R18SL 105 BW, 255/55R18XL 109 BW
19''
235/55R19XL 105 BW, 245/55R19 SL 103 BW, 255/50R19XL 107 BW
20''
245/50R20 102 SL, 255/50R20XL 109 BW, 265/50R20 107 BW
Pros
Great warranties
Strong
Equipped with Exclusive Snow Grip technology
Excellent traction
Features Sawtooth tread pattern
Good value for money
Cons
Average ride quality
Noisy

Alfred's Take
The Avalanche XUV also features advanced technology and snow grip technology which all works together to improve its performance on harsh driving conditions mostly on winter surface.
This tire is branded with the mountain snowflake symbol which means it met the requirement of the industry for delivering great traction on the harshest driving conditions.
---
Conclusion
We hope you find our review on the Hercules Avalanche XUV helpful.
You can take advantage of their 45-day customer trial guarantee to check this tire out this season.
If an excellent winter tire is what you wish for, then this will be a great choice once it suits your driving condition.
In case you have a question, comment, or review, leave it in the box below, and we will be glad to hear from you.
---