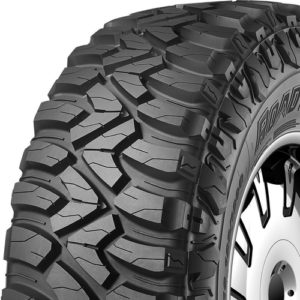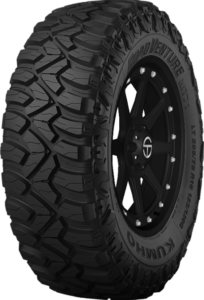 MT71 Road Venture is an off-road tire optimized for good off-road handling and extreme mud-terrain performance. The tire take your off-road adventures to a new level as tackles the most extreme environments in absolute confidence and reliability. The tire improves its mud terrain performance with the aggressive tread block placement with the high-void tread pattern making way for maximum traction.
This product is not covered by a manufacturer's tread-life warranty for now but is built with a 72-month even-wear uniformity warranty or first 2/32" (which ever come first) and a 30-day trial test drive satisfaction warranty for buyers' quality assurance. Kumho Road Venture MT71 is an LT tire available in a broad range of sizes from 15 to 20 inches diameter.
With the new Road Venture MT71, Kumho focuses heavily on creating an attractive sidewall for consumers' safety, security and comfort ride.
Performance
Introduced early 2020, Kumho Road Venture MT71 is a new mud-terrain tire designed to tackle the harshest off-road conditions which has come to replace both Road Venture MT51 and Road Venture KL71 at once with a convincing promise to surpass their previous performances and other possible expectations.
It is the ideal tire for a number of light trucks, pick-up trucks and SUV applications as its better year-round performance offers a secure performance in versatile weather.
Company source revealed that the tire, which is considered to be Kumho's premier mud-terrain light truck brand will further be expanded with additional 22 more sizes totaling 27 in a couple of months while planning to release more new brands such as Kumho Ecsta NV72, Kumho Ecsta NV720 and Kumho Solus TA51 in the next two years.
MT71 is considered the extreme mud terrain champion because of its aggressive tread design for enhanced climbing performance and off-road traction.
The increased circumferential and lateral ruggedness of the tread pattern blocks featured by the new Road Venture model ensures better handling response, while the stone ejectors and the jagged edges of the blocks increase the tire's resistance to various types of road hazards.
Being tested, MT71 guarantees an impressive performance in wet, dry and snow braking and handling, steering and highway stability, OTR tread-wear, mud and sand traction, ride-and-noise comfort as well as rock crawling ability categories with incredible results.
The tire's aggressive tread design makes for increased climbing performance and off-road traction. The tire comes with a self-cleaning tread that protects it against damage by preventing stone retention.
These tread elements eject rocks and stones stuck between the tread elements thereby avoiding their drilling into the casing, which can easily shorten the model's usability and life span.
The steering becomes faster and more precise in its response to the driver's commands, while the structure is secured against the driving pressure affecting the model.
Its stronger structure not only boosts the structural stability, but also improves the load and driving durability.
The ideal tire shape does not deform under the load and driving pressure thus enabling the model to carry and withstand heavy loads with ease thus significantly ensuring a safer driving experience.
Note however, that as a mud-terrain tire specifically built for off-road use, Road Venture MT71 is not designed for regular highway driving.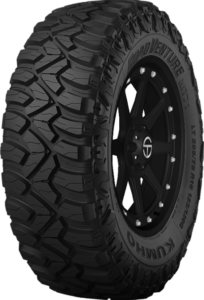 Technology
The staggered tread blocks and ideal surface contact enhances good dry, wet and winter weather grip, while the stronger compound keeps the rubber flexibility in various conditions.
The zigzag center block offers maximum off-road traction while the vertical and lateral block rigidity offer improved handling.
Its stone-ejector bar and stepped shoulder prevent stone penetration and allows for lower road-noise.
Its boulder crawl-spec development was constructed to ensure maximum capability and longer durability on the road. Ability to successfully crawl over size-able slick-rocks, semi-circular cliff walls and deep or steep pits are some quality performance accredited to the new MT 71 tire.
Tough tread compound improves durability while the cut-and-chip resistance enhances exceptional off-road performance and highway safety and stability.
The arrow-shaped tread blocks and their staggered placement work together with the high void ratio and the detailed upper sidewall to improve the soft, loose and uneven terrain surface traction.
MT71 tread design and dual side-biters ensure a secured off-road traction thereby guaranteeing its forward motion in deep mud and loose dirt.
The additional sideways biting edges boost the tire's grip on the terrain surface, guaranteeing a safer performance.
The staggered tread elements also ensure the tire's self-cleaning ability, which prevents mud and snow from blocking the surface contact.
The Increased block stiffness accounts for an improved off-road handling
MT71 uses its durable compound and ideal tread design to protect the tire against damage and increase its tread life length.
The optimal footprint allows the tire to evenly distribute the driving pressure along the tread area while equally spreading out forces of acceleration, cornering and braking to avoid irregular wear formation across the tread area and resist uneven wear formations.
Its two-miles polyester cord used in every 35×12.50R17 MT71 tire is constructed with seven integrated steel and fabric layers in both the tread and lower sidewall to dispel water hydroplaning.
Pros
Good mud-terrain traction
Long lasting tread life
Enhanced handling
Damage resistant technology
Good all-weather traction
Low noise
Cons
Warranty
Kumho Road Venture MT71 is not covered by a manufacturer's tread-life warranty for now but built with a 72-month even-wear uniformity warranty or first 2/32" (which ever come first) and a 30-day trial test drive satisfaction warranty.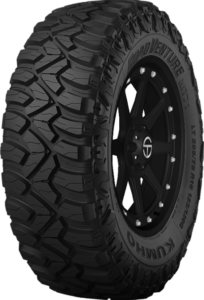 Tire Sizes
15"
LT31/10.50R15 109Q BW, LT33/12.50R15 108Q BW
LT35/12.50R15 113Q BW
16"
315/75R16 127Q BW, 265/75R16 123Q BW
235/85R16 120Q BW, 285/75R16 126Q BW
17"
LT35/12.50R17 121Q BW, 255/75R17 111Q BW
265/70R17 121Q BW, 285/70R17 121Q BW
295/70R17 121Q BW, 315/70R17 121Q BW
18"
LT33/12.50R18 122Q BW, LT35/12.50R18 128Q BW
275/65R18 123Q BW, 275/70R18 125Q BW
295/70R18 129Q BW
20"
LT33/12.50R20 119Q BW, LT35/12.50R20 125Q BW
275/65R20 126Q BW, 295/55R20 123Q BW
305/55R20 125Q BW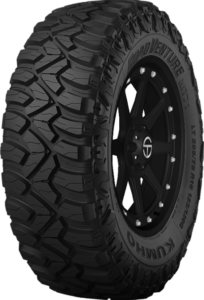 Conclusion
Kumho Road VentureMT71 is the recent product of Kumho Tire Company Limited, a South Korean tire company headquartered in Gwangju, South Korea.
The tire is built with staggered tread blocks that maintain good surface-contact throughout the drive which aimed to significantly upgrade the steering responsiveness and stability while allowing for an easy control on various terrains.
Much as the company will not release the pricing information until December 2020, the competitive cost structure and its expected first-class performance may brand Road VentureMT71 one of the most expensive mud-terrain tires in the market.
If you are therefore looking for a tire that could get you through natures' toughest obstacles with high void tread pattern and maximum off-road traction coupled with lesser road-noise then look no further than the Road Venture MT71.
We hope you'll find our piece informative and supporting for your decision-making. If you have a comment, question or review of this tire kindly drop it in the box below, we will be glad to hear from you.