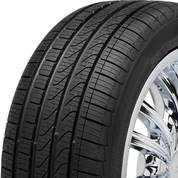 The Pirelli P7 All Season Plus is an all-season touring tire that is designed to give all season feel and a great deal of traction in most weather driving conditions.
This tire is made for luxury and touring cars, giving the driver a comfortable ride, precise handling, and all-season traction.
It comes with the Pirelli's eco-impact icons which indicate the Pirelli Cinturato P7 is environmentally friendly and therefore its existence does not cause havoc to humans and their environment.
Find out more about this tire in this Pirelli Cinturato P7 All Season Plus review.
You might just find this tire interesting.
---
Pirelli Cinturato P7 All Season Plus
Warranty
The Pirelli Cinturato P7 comes with a 30 days customer satisfaction warranty, so you can give it a try and if it does not suit your driving style or performs less than expected, then you can return for an exchange.
It has a 70,000-mile tread life warranty and a one-year or first 2/32-inch wear guarantee on the tire's uniformity.
There is no road hazard warranty.
However, it comes with an unlimited number of years of materials and workmanship.
Also, first-year or first 2/32-inch wear comes with a free replacement then it is prorated until the last 2/32-inch tread depth
Technology
The Cinturato P7 All Season Plus tire tread is built with a compound that has low oil and high silica content which helps in better rolling resistance and reduces their braking distance.
Features asymmetric tread design that has a 5-rib tread pattern that gives improved handling and better traction on wet and winter driving surfaces.
Its continuous outboard shoulder improves its steering response.
Four wide circumferential grooves help evacuate water and thereby avoid hydroplaning.
Lateral and longitudinal sipes increase the number of biting edges to improve wet and winter traction.
Polyester cord body for comfort while driving.
Multiple siping around the tread gives this tire added biting edges which increases traction on snow or ice.
Pitch sequencing and phasing of multiple inboard tread block sizes reduces noise pattern.
Two steel belts in the interior of the tire for added strength and durability.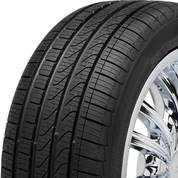 Features
Reduction in rolling resistance for improved gas mileage.
Features good tread wear.
There is a reduction in road noise while driving so you get a quiet comfortable drive.
Produced using 6% less raw materials for a greener tire.
Features flexible sidewall which help reduce deformation and unnecessary dispersal of energy.
Pirelli's Eco Impact icons mean the tire is environmentally friendly and cannot pose a danger to humans and their environment.
Performance
The Pirelli P7 All Season Plus is an exceptional all-season tire with eco-friendly technology.
It does not fall short in its performance in most driving conditions, and we say it is one of the best Pirelli tires.
It delivers minimal noise when driving, thereby giving a comfortable ride, high fuel efficiency, and longer tread life.
The P7 All Season Plus gives its driver a smooth, quiet and comfortable ride.
On Dry Surface
You will not be disappointed with the P7 All Season Plus when it comes to its performance on dry driving surfaces.
Traction on a dry surface is good, and you get a good cornering grip.
Plus, steering ability is precise in any speed range, you get stability and feel in control while driving this tire on a dry surface.
On Wet Surface
This tire gives good traction on a wet surface, and you cannot be bothered by hydroplaning risks.
A good wet grip while driving and great overall performance is what you get on a wet driving surface.
On Snow
You get a good performance when driving on light snow, but these tires are not recommended on extreme winter driving surfaces, as you will be better off with a winter tire.
Tire Sizes
The Cinturato P7 All Season Plus is available in sizes from 16 to 20 inches, and with H or V-speed ratings.
Size 16''
195/55R16 87V SL BSW, 205/50R16 87V SL BSW, 205/50R16 87H SL BSW, 205/55R16 91V SL BSW, 205/55R16 94V XL BSW, 205/55R16 91H SL BSW, 205/60R16 92H SL BSW, 205/60R16 92V SL BSW, 215/55R16 97H XL BSW, 215/60R16 95V SL BSW, 215/60R16 95H SL BSW, 225/55R16 95H SL BSW, 225/55R16 95V SL BSW, 225/60R16 98H SL BSW
Size 17''
205/50R17 93H XL BSW, 205/50R17 93V XL BSW, 215/45R17 91V XL BSW, 215/50R17 91V SL BSW, 215/55R17 94H SL BSW, 215/55R17 94V SL BSW, 225/45R17 94H XL BSW, 225/45R17 94V XL BSW, 225/50R17 94V SL BSW, 225/55R17 97V SL BSW, 225/55R17 97H SL BSW, 225/60R17 99V SL BSW, 225/60R17 99H SL BSW, 225/65R17 102H SL BSW, 235/45R17 97H XL BSW, 235/45R17 97V XL BSW, 235/50R17 96V SL BSW, 235/55R17 99H SL BSW, 245/45R17 99H XL BSW, 245/50R17 99V SL BSW
Size 18''
215/50R18 96V XL BSW, 215/55R18 95H SL BSW, 225/45R18 95V XL BSW, 225/55R18 98H SL BSW, 225/60R18 100H SL BSW, 235/45R18 94H SL BSW, 235/45R18 94V SL BSW, 235/50R18 97V SL BSW, 245/45R18 100V XL BSW, 245/50R18 100V SL BSW
Size 19''
225/55R19 99H SL BSW, 235/40R19 96V XL BSW, 245/40R19 98V XL BSW, 245/45R19 98V SL BSW, 255/40R19 100V XL BSW, 255/45R19 100V SL BSW
Size 20''
245/40R20 99V XL BSW, 245/45R20 99V SL BSW
Pros
Exceptional grip on the wet and dry driving surface
Low road noise and comfortable driving
Better fuel efficiency
Precise handling and all-season traction
Good cornering grip
Stability when driving
Cons
It is a bit pricey
Noise could get louder as the tread wears off
Not for heavy snow

Alfred's Take
This tire is designed for luxury and touring car drivers, that appreciate an all-season touring feel with great traction on most driving surfaces and precise handling.
The tire is made for all seasons; therefore, you get good traction on dry driving surfaces, wet driving surfaces, and even on light snow.
---
Recommendation
The Cinturato P7 All Season Plus tire has proven itself beyond adequate when it comes to a touring all-season performance.
Also, in fuel efficiency, comfortable driving, snow performance, steering abilities, and environmental friendliness.
From our consumer experience point of view during this Pirelli Cinturato P7 All Season Plus review, we say it is an excellent touring tire and a good choice to buy.
If you have any comments, reviews or questions leave them in the comment box below.
We will be glad to hear from you.
---