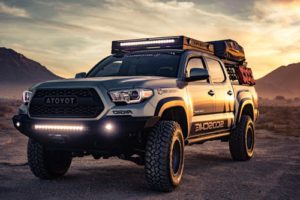 There are numerous truck tires available out there. Although, sometimes we are faced with the challenges of picking the choice of tire which will be best for our vehicle when there is need for a replacement.
Here is our best truck tires review, every tire has its uniqueness and functions. All you have to do is pick the one that best suits your priorities, fits your driving conditions and your truck.
1) Hankook DynaPro ATM RF10 Off-Road Tire
2) Cooper Discoverer STT Pro Radial Tire
3) Bridgestone Dueler H/L All-Season Tire
4) Falken Wildpeak AT3W All Terrain Radial Tire
5) Goodyear Fortera HL Radial Tire
6) Federal Couragia Mud-Terrain Radial Tire
7) Milestar Patagonia Mud-Terrain Radial Tire
8) Thunderer TRAC GRIP M/T Mud Tire
9) Michelin XPS RIB Truck Radial Tire
Truck tire buying guide
There are wide variety of truck tires available out there, so many options that can easily confuse truck owners and make them indecisive. This guide will help you make the right tire selections by pointing you to factors to watch out for.
What do I consider when picking my truck tires?
If your truck is basically for on road and not dedicated to off-roading, then you should pick a tire that deliver comfortable ride on road and on dry pavement and wet driving conditions regardless if they are all terrain tires or all-season tires. You can check the new federal Xplora MTS as it is built in an aggressive off road style but it is dedicated to on road driving.
Truck tires require a good grip in all driving conditions; on wet pavement, off-road, high way or gravel. The best truck tires should provide its driver a good grip in all driving conditions. Even though some perform well on snow but for heavy snow or winter driving areas where there is more of cold season, a tire specifically designed for winter will serve you better.
You want to go for a tire with a great tread warranty. The best option will feature a great tread wear warranty. This will guarantee the tread to last up to a set number of miles. The longest warranties cover truck tires for over 70,000 miles which will last for years. However, you might not get a guarantee for your off-road tire, because most tires designed for off-roading have no tread wear warranty.
If gas mileage is a priority for you, then you should check out a low rolling resistance, this might reduce the traction performance but it sure will boost your miles per gallon.
You should check the UTQG ratings for the truck tire you want to purchase. UTQG simply means uniform tire quality Grade, this specifies the tread wear, temperature and traction of your tire. This also tells how hard the tire compound is, the harder the compound the longer the tire will last. However, this isn't beneficial for all drivers, a softer tire compound means more grip while a high-performance tire gives more traction but has lower tread wear rating.
To check your UTQG here is an illustration;
For example, a UTQG – 400AA, the three-digit number is a measure of how durable the tire is. The higher this number, the more durable the tire will be and the letter grades show how good the tires are at offering traction and handling temperature. Like normal grades, the closer the grade is to A or AA, the better.
Tire size
Quite better to replace your tires with the same size as the size of the set that was paired originally with your vehicle. If you don't know the exact size you can refer to your owner's manual or the sticker on the Inside by the door on your driver's side. However, if you want to go for a bigger size then you should check with your dealer to know which is pair able with your vehicle.
Categories of tires
Every tire has their specialty, there are different tires for different driving conditions. You should have an understanding of the tires available to you for you to be able to make a good choice based on your driving conditions and preference.
Are your tires for on-road or off-road performance? To decide which is best you should consider the terrain you will be driving on, your weather and the purpose.
Here are truck tire types that can bring clarity to your choice making;
All season truck tires have better performance on road. Therefore, they are ideal for drivers who drives more on road than off-road and won't experience higher truck performance limitations.
If your truck was paired with all season tires from the factory, then you must have had some experience about it to know if they are good in other driving conditions like off-road, winter season, snow, ice. Etc.
They might fall short when you use them for hauling or towing situations. However, if its purpose is for on road driving and you will prefer a moderate performance, basically great on road handling, fuel economy, good grip on light snow, great comfort, or any other driving conditions then you should rather choose all season truck tires.
These tires are built for a good on-road and off-road capabilities, they are for drivers who use their trucks on road and off-road and also in driving conditions that demands a durable tire and requires higher performance.
Advantages of all terrain tires
— Rough or potholed road driving conditions
They have a tougher sidewall and durability that are built to deliver a great performance when you have to drive through a pothole or while driving on rough roads.
—They are built to endure deep snow
Most all terrain tires are built for great performance in severe snow. They can do great through some cold or winter driving conditions.
However, like numerous tires they have their imperfections too, when you decide to choose all terrain tires you should also expect possibilities of decreased fuel mileage and more road noise and less handling and responsiveness in some driving conditions due to its style of tread blocks and heavier weight.
This are built basically for off-roading. If you expect the best off-road performance and you want aggressive looking tires then mud tires are your best bet.
This is not to say mud terrain tires are not used on-road, they are sometimes used on road however when used on road the driver is to expect possibilities of it been less responsive on road, less grip, more road noise and less fuel mileage.
Therefore, mud terrain tire users are expected to be on more off-roading drive than on-road. Mud terrain tires however gives more comfort by their recent advancement.
There has been an introduction of noise canceling tread pattern technologies which has made them more comfortable and an everyday easy use.
This advancement has birthed more hybrid tires, these recent tires combine the best of all terrain tire and mud terrain tire technology.
List of best truck tires
 
1) Hankook DynaPro ATM RF10 Off-Road Tire:
Speaking of a tire that delivers quality with good miles on them. If properly rotated you can get 70,000 miles out of them.
This will be a great buy for off-road drivers and for regions with winter, they drive just great on snow, they serve you well in snowy, cold, freezing and icy driving conditions.
Dynapro ATM RF10 gives a smooth ride, gives you a good handling and gives your car a good grip even on wet surface. Delivers a smooth ride on dry pavement, wet pavement, gravel road, high way, on snow, on ice, and for off-road driving.
It gives good traction and wears evenly. Quite aggressive and yet it gives little road noise. Quite affordable and a high-quality tire.
2) Cooper Discoverer STT Pro All-Terrain Radial Tire:
This is an all terrain tire that has proven itself to be of great quality. These tires are aggressive and they have low road noise.
They possess great capability on all terrain, in the sand, mud, ice, snow and also great on-road capabilities. It has a good grip and great traction.
The Discoverer STT PRO features large depth side bitters, specially-designed cleats of rubber on the shoulder area of the sidewall, this enhance traction and grip in muddy or soft terrains and in rock crawling situations where maximum grip is essential.
Also, it features flex groove- This gives ability to flex in a predetermined location which provides a smoother ride by helping to dampen the impact generated by inconsistencies in pavement, potholes and gravel, also in tough off-road situations where tires are sometimes aired down, this groove allows the tread and side biter to work together when traversing irregular, tough obstacles.
It also features asymmetrical scallops on alternating lugs which direct mud into the mud scoops to allow the Discoverer STT PRO to pull through muddy terrains with ease.
These scoops act as shovel that dig in as the tire rotates, the Discoverer STT PRO can confidently pull your vehicle through the toughest driving conditions.
3) Bridgestone Dueler H/L All-Season Tire:
The Bridgestone Dueler H/L is designed to deliver a quiet and comfortable highway ride. This tire delivers improved fuel efficiency.
This dueler is an all-season tire that will suit your truck. They are long-lasting and durable and they give you a good handling while driving.
However, it can be a bit noisy but it is great on snow. It has up to 80,000 miles tread wear warranty. An all-season performance tire that gives you a comfortable ride.

4) Falken Wildpeak AT3W All Terrain Radial Tire:
Wildpeak AT3W is Falken's all-terrain tire, that gives a smooth drive in any driving condition. The all-terrain combines aggressive off-road ability with rugged terrain driving without compromising a good handling on pavement.
Features rugged and rigid tread blocks which enhances the stability of your vehicle in all weather and gives you a good handling while driving and also designed to prevent stones from been trapped in them.
Features aggressive upper sidewall with offset shoulder blocks that protects the tire from sharp rocks. Deep treads which provides long-lasting wear. Delivers great performance on wet surface. Quite durable and can withstand various off-road driving conditions.
5) Goodyear Fortera HL Radial Tire:
This Fortera is built to deliver an all-season traction. Comes with a tread life warranty of 60,000 miles.
Great on road handling, it features deep blades and grooves which helps extend its tread life and still gives your vehicle a good handling.
With these tires you can be certain of stability because its high buttressed tread block elements help provide stable handling and this tire wear evenly.
Features optimized tread pattern that helps in delivering a quiet ride and also intricate blading in the riding ribs and center line which enhances its handling, reduce road noise and gives all season traction. It has a good grip in the rain and on snow driving. This is a high performance all season tires and it is quite affordable.
6) Federal Couragia Mud-Terrain Radial Tire:
The Federal Couragia mud terrain tire is an off-road tire. They are great mud terrain tires with an aggressive tread design that offers above average traction in various off-road driving conditions.
This tire ride well and give minimal road noise. Quite built with a unique tread design which offers excellent mud traction, it also features the combination of a large, stepped and siped lugs spaced out by voids large enough to help it in self-cleansing itself from mud and debris that might have been attached while driving.
The void contains a groove that helps in cleaning of mud and rock particles. It also features a large aggressive shoulder lugs which aids in strong protection block to protect the tire from bruise, cut resistance, and other off-road hazards.
These tires give great performance even under heavy truck load. You can get a good performance out of them even on a highway, although you might find it gives a little road noise on on-road driving, they also give your truck a good look.
7) Milestar Patagonia Mud-Terrain Radial Tire:
For great traction in harsh terrain, look no further than the Patagonia mud terrain tire. In the mud, on rock, on snow, or sand the Patagonia mud terrain is one tough tire and will provide maximum traction in any terrain.
The Patagonia mud terrain has all the attributes to overcome any terrain. Its high-void tread design is engineered to provide aggressive biting edges while self-cleansing, it possesses an off-center tread blocks which provide increased traction while enhancing on-road driving.
The Patagonia as a 3-ply sidewall which provides additional protection against impact damage, also it has stone ejectors, it is useful for rock crawling and all-terrain exploration.
Designed for rugged terrain anywhere you may want to explore, the tires will allow you to push your vehicle to the limit. Treads are aggressive, and it as a good grip on wet driving surface.
8) Thunderer TRAC GRIP Mud Tire:
This might not sound like a big brand to you but this thunderer tire are quality tires. Quite a mud terrain tire with an aggressive look and it will be a good buy because it is affordable despite the high value and great performance it delivers.
Quite great on highway, snow, mud, ice. You won't have to deal with high road noise with these tires because you get low road noise well as a smooth ride and they have great looks which will compliment your truck nicely.
Tread wear of this tire is great. These tires are worth the money if you are not looking to spend a ton of money on tires but need a set of good tires.
Heavy truck tire/ commercial truck tire
9) Michelin XPS RIB Truck Radial Tire:
Michelin as made his presence known greatly in the industry as they deliver quality tires for your different driving conditions and this XPS RIB Truck radial tire is no exception.
This is a commercial truck tire, a great choice if you are looking for a quality trailer tire. These tires will serve well in hauling heavy loads, they are heavy-duty tires. Great tread pattern design is what you get with this tire. Its tread compounds are specifically built for commercial purpose which helps the tire to last longer.
Conclusion
Here is our list of best truck tires review, for your all season to the all-terrain, to your aggressive mud tires and also for your heavy trucks. What is your preference for your truck based on performance? And which brand will you go for? Leave us a comment below and if you have any question, we will be glad to help out.