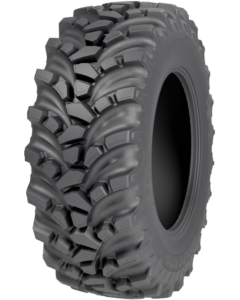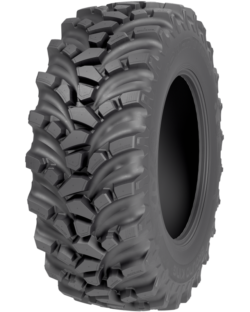 Another quality product from Nokian Tire manufacturing company, the Ground King Tractor tire is made for tractors use in heavy forestry, earthmoving, and road maintenance work with high-speed road transportation.
The Nokian Ground King is an all-terrain, all-season; an all-around contracting tire that combines mobility and good traction on soft soil with comfortable, precise handling on-road transports.
Wearing a daring and aggressive look, the new Ground King tractor tire is marked as an ideal OEM tire due to its all-terrain quality.
The machine manufacturers can be confident that the tire will further improve the versatility of any multi-purpose machine.
It is more versatile, rugged, durable, and cost-effective for agricultural and contracting usage.
---
Nokian Ground King
Performance
The Ground King has a high-strength structure that is stable for heavy loads.
Besides having good features on various surfaces, it is desirable for a modern contracting tire to be ready for a heavyweight.
It has a superb load-bearing capacity that allows for high loads which enhance the use of heavy work implements.
Its wear-resistant tread compound and extended ground contact area give good operating hours even in extensive on-road use.
The Ground King has a good self-cleaning facility which is more desirable for a tractor tire to minimize dirt transition on the road.
The contact with the driving surface is exceptional, contributing positively to grip both on soft surfaces and on-road.
This helps the tire to maintain its properties even when wearing out (or worn out, as the case may be).
Fast highway transports are an essential part of modern contracting work and the Ground King is designed to support this aspect better than most competing all-terrain tires.
Apart from offering 2-in-1 benefits to drivers and contracting owners, the Ground King tire has a high load-bearing capacity that allows the use of heavy work implements carrying heavy loads at the same time.
This all-around performance further expands the diversity of the tasks to which you can apply the tire.
Technology
The Nokian Ground King comes with the Hybrilug technology which combines the best features of lug and block patterns that offer all-terrain mobility, good traction, precise handling, great road properties, and long operating life.
The amount of high-grade, wear-resistant tread compound in the Hybrilug technology together with the extended ground contact extends the tire's effective operating life to a whole new level.
One of the distinguishing features of the new Ground King tire is a whole new type of tread pattern which combines the better features of lug and block type patterns that actually facilitates durability, uncompromised field performance, and highway comfortable handling and endurance.
The Ground King utilizes a high-grade, wear-resistant tread compound in the pattern which offers extended ground contact compared to the standard traction pattern. This results in excellent operating hours even in extensive on-road use.
The tire's stylish look and design also ensure pleasantly silent road noise with longer wearing tread-life and tread-wear when compared to others.
The tire comes with TPMS Sensor and other digital technologies that help in monitoring tire pressure.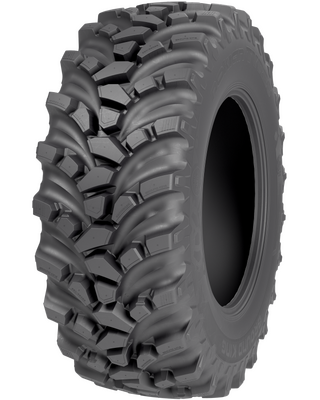 Warranty
Tire manufacturer Extended warranty promised a year of "an extended warranty" for all Nokian Tires Intuitu mobile app users because they believe that the app will help to prevent tire damage by ensuring operating parameters are always in optimal performance.
Tire Sizes
28"
540/65R28
30"
540/65R30 600/70R30
34"
600/70R34 600/65R34 650/65R34
38"
650/65R38 520/70R38 580/70R38
42"
650/65R42 710/70R42 710/75R42
Pros
Stable for heavy loads
Offers all-terrain mobility
Good traction
Better road surface gripping
Precise-handling
Great road properties and longevity
Aggressive good-looking tread design
On and off-road performance
Better Tread-life and tread-wear
Affordable

Alfred's Take
All multi-purpose machinery is expected to bring a good return when it lends itself to a wide variety of different uses and seasonal contracting with speed and durable tires.
This tire brings new opportunities for tractor and machine contracting by combining on-road endurance, good traction, and firmer grip on soft terrain with a high load-bearing capacity.
---
Conclusion
The Ground King comes with great technology and versatility.
It is durable with a longer wear-life, offers all-terrain mobility with its aggressive look that facilitates good traction and better surface gripping.
In addition to its precise handling, the tire is affordable and performs well both in on-and-off-road conditions.
For more efficient utilization of the machinery, we believe the Nokian Ground King will be a truly universal tire.
We hope you will find our piece of information very useful in your decision-making.
If you have a comment, question, or review of this tire, kindly leave it in the box below, and we will be glad to hear from you.
---