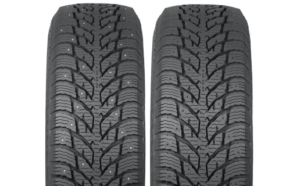 Nokian Tyre Company released the new Nokian Hakkapeliitta Lt3 winter tire this fall, engineered to deliver exceptional grip and stability on the winter surfaces.
This tire is designed for 4×4 and pickups and is equipped for lifting heavy loads or plowing the road with its strong sidewall construction and increased tread depth.
The Hakkapeliitta Lt3 is available in 16 different sizes from 16 inches to 20 inches and is available in studded and pre-studded versions.
Let's get to know more about the Nokian Hakkapeliitta Lt3 tire from all the newest technology used in building it to its features and performance.
---
Nokian Hakkapeliitta LT3
About The New Hakkapeliitta LT3
Nokian Tyres has their headquarter at Nokia, Finland, and has been around for years.
They are well-known for their production of tires for cars, trucks, buses, and heavy-duty equipment, but are even more recognized for their winter tires, especially their Hakkapeliitta brand that is widely recognized in Finland as a reputable trademark.
The new Hakkapeliitta LT3 replaces its predecessor which is the Hakkapeliitta LT2 that was launched in 2012.
This new tire features friendly technology, the latest technology, and technology that is first incorporated by Nokian in this tire.
The arctic technology is the first stainless steel stud innovation and it is used in building this tire for it to have heavy-duty abilities.
The Nokian Hakkapeliitta LT3 has good braking abilities with enhanced grip while maneuvering your way through the snow.
As we know, traction is of importance for heavy-duty vehicles or when a truck is carrying a load, and this tire is designed to give you safety while you are in control of your truck in this driving condition.
For enhanced safety, there is a winter safety indicator (WSI) in its tread.
Its stud concept offers a good grip on a slippery surface with more safe miles and this keeps them effective and durable.
It is branded with the snowflake symbol which makes it officially qualified for winter driving and its indicator displays the percentage of tread depth and this keeps you notified of the extent of wear.
Technology
This tire is equipped with a new arctic stud concept from Nokian which is a combination of a new stud model and body material.
This stud is with a bottom flange shape and star-shaped metal pin, for enhanced durability under heavy-duty use in winter conditions.
The tire has a stud body made of stainless steel that is corrosion resistant to protect the stud from getting rust so this tire can withstand salty road conditions without getting rust quickly and thereby retaining its stylish appearance.
These studs are12.7 millimeters in length which makes them 2 millimeters longer than the older model and this length is to aid longer wear.
The Hakkapeliitta is designed with an aggressive tread pattern to remove snow and slush between the tire and road.
Also, for enhanced stability and better steering response.
This tire comes with an increased tread depth of 13.5 millimeters.
The increased tread depth and increased stud retention give the tire enhanced durability with better mileage.
Its siping is built to offer excellent traction and better cornering grip.
It boasts a narrow-shaped pattern as a deeper groove for better slush planning resistance and self-cleaning capability when driving on snow.
ARAMID SIDEWALL TECHNOLOGY
The Aramid sidewall technology and its strong synthetic aramid fiber are used in building the tire sidewall compound and this gives enhanced durability by protecting the tire from cuts and chips and rock that could damage it.
The Nokian Hakkapeliitta LT3 is built with a strong and durable LT body structure for good performance when the tire is under heavy-duty use.
The arctic grip compound offers excellent mileage, enhanced resistance toward cut and chip, and better durability.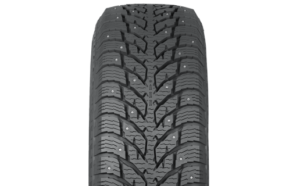 Features
Safe and reliable on the worst winter surface.
Engineered with the newest technology.
Designed with the world's first stainless steel studs to reduce corrosion from salty roads.
Low rolling resistance for fuel mileage.
Constructed to possess strength and ability for heavy loads.
Winter safety indicator (WSI)
Branded with the 3PMSF which makes it officially approved for winter use.
Tire Sizes
16″
LT225/75R16 115/112Q
LT235/85R16 120/116Q
LT245/75R16 120/116Q
LT265/75R16 119/116Q
LT285/75R16 122/119Q
17″
LT235/80R17 120/117Q
LT245/70R17 119/116Q
LT245/75R17 121/118Q
LT265/70R17 121/118Q
LT275/70R17 120/117Q
LT285/70R17 121/118Q
LT315/70R17 121/118Q
18″
LT265/70R18 124/121Q
LT275/65R18 123/120Q
LT275/70R18 125/122Q
20″
LT275/65R20 126/123Q
Pros
Treadwear indicators
Controllability
Strong sidewall structure

Alfred's Take
This is designed for drivers of heavy 4×4 and pickup truck that wants great traction on winter surface.
Also, it delivers excellent traction, great grip, driving stability on icy and snow-covered roads.
It is ideal for drivers that use their 4×4 and light truck for heavy-duty use because it is designed with the latest technology to be capable of driving in the worst winter condition with heavy loads.
---
Conclusion
The Nokian Hakkapeliitta Lt3 tire is specifically designed for demanding weather and heavy-duty use, so if it suits your driving condition you should check it out.
If you have a question, review, or comment, leave it in the comment box below, and we will be glad to hear from you.
---