The Discoverer True North is a studless ice and snow winter tire from Cooper.
It is designed for coupes, sedans, crossovers and SUVs.
The True North is engineered with latest technologies to provide exceptional winter performance, excellent snow, slush and ice traction.
Also, it gives good grip, confident handling and responsive steering.
It is branded with the three-peak mountain snowflake symbol (3PMSF) which confirms it meets the industry winter performance abilities.
The True North is available in sizes 15 to 20.
In this Cooper Discoverer True North review, we will get to know more about the tire, from the technology used in building this tire to its features and performance.
---
Cooper Discoverer True North

About Cooper Discoverer True North
As stated earlier, the True North Cooper is a studless ice and snow winter tire, engineered for daily commuters who drive on plowed and treated roads and have to deal with slush black ice and drive through the toughest winter conditions.
The Cooper Discoverer True North gives a great winter performance and still, you will get the comfort of a touring tire when driving.
It has high-density siping, snow groove technology, noiseless abilities on a dry surface, severe winter rating, and resistance towards hydroplaning.
The tire is created with the feedback gotten from experienced drivers on what a quality winter tire should be.
If you speak of quiet winter tires, tires that can handle snowstorm, tires that can plow their way without slipping, tires that will give you safety, put you in control of your vehicle, tires with exceptional stopping grip, that give you a nice soft ride, tires that will improve your braking and handling dramatically, then you can speak of the Discoverer True North.
Features
Great grip and performance on the wet driving surface
Superior grip on ice and snow
M+S rated
Snow to snow traction
Good stopping distance
Good handling when braking, accelerating, and turning
Good steering response
Great traction on slush-covered roads
Off-road capabilities on unpaved surfaces such as dirt, mud, or gravel.
3PMSF brand for excellent winter performance.
Technology
The Discoverer True North has the highest silica content of any cooper winter tire in the compound used in its construction.
Wide tread blocks in its outboard shoulder enhance its lateral grip and this gives better traction on a dry surface
A higher void ratio in the middle of its tread and inboard shoulder aids better-wet performance.
Winter compound with high sipe density for enhanced traction on wet, snow, and ice driving surface.
Circumferential center groove and wide lateral notches to improve hydroplaning resistance by evacuating water or slush out of its path.
Two-ply polyester casing in its internal construction for tire durability and enhanced comfort when driving.
Two wide steel belts and single-ply nylon reinforcement for better handling and high-speed capabilities.
Warranty
This tire is not equipped with a tread life warranty from Cooper.
However, it comes with the first 2/32 inch of wear workmanship and material warranty then prorated until the last 2/32 inch of depth remaining.
And it also comes with 45 days road test warranty, so you can try it out and if you are not satisfied within this number of days, you can return them.
Tire Sizes
15''
195/65R15  91T, 195/60R15 88T
16''
225/65R16 100T, 205/60R16 92H, 215/60R16 95H, 225/60R16 98T, 205/55R16 91H, 215/55R16 97H
17''
245/70R17 110T, 225/65R17 102T, 235/65R17 104T, 245/65R17 107T, 225/60R17 99T, 235/60R17 102T, 205/55R17 95H, 215/55R17 94H, 225/55R17 97H, 235/55R17 95H, 205/50R17 93H, 215/50R17 95H, 225/50R17 98H, 215/45R17 91H, 225/45R17 94H
18''
235/65R18  106T, 255/65R18  111T, 265/65R18  114T, 225/60R18  100T, 235/60R18  107T, 245/60R18  105T, 265/60R18  110T, 225/55R18   98H, 235/55R18    100H, 245/55R18  103H, 225/50R18  95T, 235/50R18     97H, 225/45R18    95H, 235/45R18    98H, 245/45R18    100H
19''
235/55R19  105H, 245/55R19  103T
20''
235/55R20 102H, 245/50R20   102H, 265/50R20  107T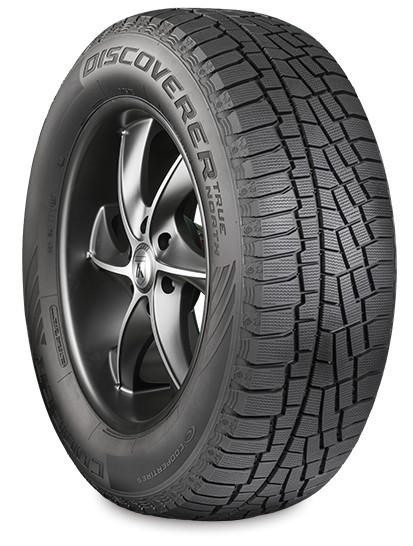 Pros
Quiet on the dry driving surface
Comfortable
Excellent winter performance
Good grip on snow, ice, and wet

Alfred's Take
The Discoverer True North is designed for drivers of coupes, sedans, crossovers, and SUVs that desire an exceptional winter tire that will be able to plow through winter driving conditions, cut through the ice with ease, give confident handling and deliver great performance.
This is one of the best winter tires and it will be a good pick for you this winter.
However, Cooper recommends that the Discoverer True North should be mounted in sets of four only to provide the optimum performance and give the best handling.
---
Conclusion
From all the information we got while compiling this Cooper Discoverer True North review for you, we say this tire will be a good pick this winter season, especially if you experience snow and ice or drive through the toughest winter conditions.
If you have a review of this tire, question, or comment, drop it in the comment box below.
We will be glad to hear from you.
---