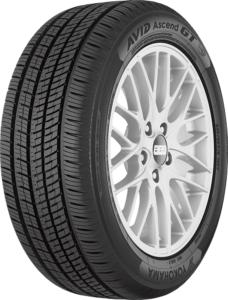 Yokohama company is widely known for their good reputation and quality tire product over the years in the industry. Yokohama tires are designed to deliver excellent performance and good traction when driving. They are built for variety of vehicle drivers with advanced technologies embedded for it to deliver excellent performance.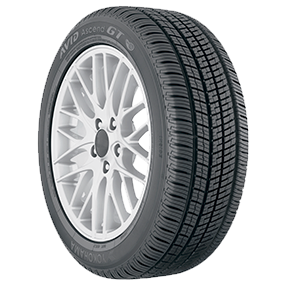 Among the Yokohama series is the avid ascend gt, we bring you the Yokohama avid ascend gt reviews from its technology to its performance and features. The Avid ascend gt is an all-season touring tire with an excellent all-season traction.
Technology
Built with an asymmetric tread design that comes with an asymmetric groove arrangement which allow water to escape the contact area and this give better wet braking and better handling.
Its 3D sipes helps it deliver good grip even on snow surface.
Internally, twin steel belts are reinforced by spirally-wrapped nylon on top of polyester body plies.
Tread Life, it is built with Triblend compound and an ultra-square contact patch which provide it with even wear and a good all-season

traction.
Developed for which drivers
The Yokohama avid ascend gt is developed for drivers of sedan, coupes, crossovers and minivans.
Performance
Avid Ascend GT is an all-season built tire that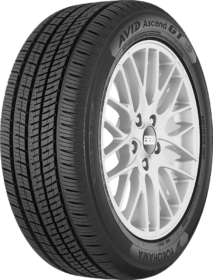 delivers good grip on dry and wet surface, even on light snow. Its triblend compound technology and all-season compound aids good grip. Its triple 3D sipes and notched tread blocks create the biting edges needed for light snow traction.
On Dry Driving Surface
The Yokohama avid ascend gt will give you a nice all-season feel with awesome summer grip on dry surface along with a good traction.
On Wet Driving Surface
You get precise steering feel, good grip and good brake traction from this tire when you take a drive on a wet road after or during rainfall.
On snow surface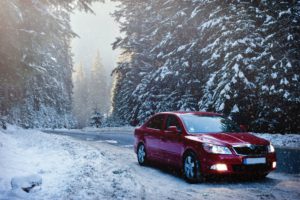 You can get a good level of confidence with this tire on mild snow, it does give good snow traction. However, do not expect a good performance from these tires when it is freezing or in heavy snow.
If you want a great tire during heavy snow then you will be better of with tires built specifically for snow.
Pros
Excellent wet traction, great traction even with heavy rainfall
Good grip even on snowy roads
Advanced technology that aids better performance
Cons
It sometimes gives high road noise
Less traction on heavy snow and when it is freezing
Features
Asymmetric tread design with a distinct circumferential groove
3D sipes and a notched block design w
Longer tread life with Yokohama's "TriBLEND" tread compound
Sizes available for this tire
15″
175/65R15 84H, 185/55R15 82V, 185/65R15 88H, 195/60R15 88H, 195/65R15 91H, 205/60R15 91H, P205/65R15 92H
16″
185/55R16 83H, P185/60R16 86H, 195/50R16 84V, 195/55R16 87V, 205/50R16 87V, 205/55R16 91H, 205/60R16 92H, 205/60R16 92V, 205/65R16 95H, 215/55R16 97H, 215/60R16 95H, 215/60R16 95V, 225/55R16 99V
17″
205/50R17 93V, 215/45R17 91V, 215/50R17 95V, 215/55R17 94V, 225/45R17 91V, 225/50R17 94V, 225/55R17 97V, 225/60R17 99V, 235/45R17 97V, 235/50R17 96V, 235/55R17 99H, 235/60R17102H, 245/45R17 99V, 245/50R17 99V
18″
P215/55R18 94H, 225/40R18 92V, 225/45R18 95V, 225/50R18 95V, P225/55R18 97H, 225/60R18 100H, 235/45R18 94V, 235/50R18 101V, 235/55R18 100V, 245/40R18 97V, 245/45R18 96V, 245/50R18 100V, 255/45R18 99V
19″
235/40R19 96V, 235/45R19 99V, 245/40R19 94V, 245/45R19 98V, 255/40R19 100V, 255/45R19 100V
20″
245/45R20 99V
Buying advice
What's my car tire size? Determine your correct tire size before paying.
Don't buy used tires. Used tires have an unknown service life and recall history.
It is advisable to purchase four like tires at a time for the best performance out of your vehicle.
Why we recommend it
We will recommend this tire to drivers who wants tires that gives good handling in most driving conditions with great steering response.
It gives good handling even on wet road, spirited driving and comes with good warranty policy. Yokohama AVID Ascend GT tires are your solution for all-season performance, wet braking, and extended tread life.
These next-generation touring tires feature Yokohama's all-new TriBLEND compound technology along with hundreds of 3D sipes and a notched block tread design which deliver extraordinary handling and traction in any weather.
Yokohama is redefining the expectations for touring tires with the AVID Ascend GT. We hope you find our Yokohama Avid Ascend GT reviews helpful.
Do leave us a comment below if you have any question, we will be glad to help also tell us which is your favorite and best choice from Yokohama tires.