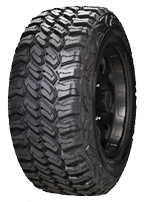 Here is one of the best mud terrain Radial tire that continue to set high standard performance to various kinds of cars like 4×4 and SUV's. Fitting for light truck vehicles, SUV and 4×4. The Ultra-modern is featured with a two steel belts and a spiral wound nylon over wrap to provide superior stability and load carrying ability at high way speeds.
Built with a unique tread pattern component that is complemented with silica; which enhances its ability to navigate on wet roads, slick rock and deep mud. The tire is featured 3-ply construction polyester components that provides greater puncture safety in the sidewall and ensures that the tire can handle good grips even in the most rugged terrain.
The Pro Comp is indeed one of the most advanced tires as it offers you a good traction with its tread patterned style.