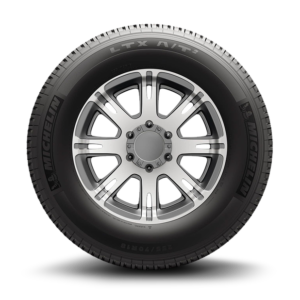 Michelin, named after its founding brothers – Edouard and Andre Michelin, is the second-largest tire manufacturers in the world after Japanese Bridgestone.
It is larger than both American Goodyear and German Continental.
A well-known tire manufacturer, Michelin was founded in Clermont-Ferrand, France in 1889 and has to its credit a wide range of premium brands preferred by most buyers.
In this article, we will be talking about Michelin AT tire model – Michelin LTX A/T2.
But first, let get to know a bit more about the brand.
In addition to the Michelin brands, quality brands like Kleber, Uniroyal-Goodrich, SASCAR, Bookatable, and Camso are other products credited to the company.
Michelin thrives on continuous improvement of sustainable mobility, innovative designs, and quality products while offering a full range of innovative services and solutions that help make mobility safer, more efficient, and more environmentally friendly.
Parts of Michelin's numerous innovative brands are removable tires, the pneurail (a tire for rubber-tired metros), and radial tires.
The company manufactures tires for motorcycles, aircraft, space shuttles, automobiles, earthmovers, heavy-duty construction trucks, farm equipment, and bicycles.
---
Michelin LTX A/T2
The LTX A/T2 Michelin is an all-terrain tire designed specifically for trucks, SUVs, and recreational light trucks built for drivers that desire their tires to work all year round.
The Michelin LTX A/T2 is a low-noise brand that allows your maximum comfort while driving.
Its tread design collects small rocks on a gravel road while moving faster and smoother on highways.
It's an On-/Off-Road All-Terrain light truck tire developed to meet the needs of today's recreational and commercial pickup, van, and SUV drivers.
LTX A/T2 is rugged, durable with smooth wheel handling.
It is fuel-efficient even in commercial applications.
It is fair on wet concrete, good on all road conditions, except on wet asphalt surfaces and wet pavement.
However, you need not worry about uneven wear as these tires deliver even-wear and great tread-life up to about 70,000km on average.
These tires are great on most terrains but you cannot expect good performance on heavy snow and wet surface as it does not grab snow.
If you want a snow tire, you will be better off with a dedicated winter tire.
Moreover, if your usage is majorly for farms and other agricultural products, then you are in luck because these tires are most suitable for farm implements.
It has good traction on a dry surface, delivers stable and comfortable handling on the wheel and it consumes fuel reasonably.
Technologies
Michelin LTX A/T2's Advanced MaxTouch Construction results in a unique tire footprint shape that allows long-lasting, even tread-wear.
Comfort Control Technology uses computer-optimized design and precision manufacturing to reduce vibrations and road noise to deliver a comfortable ride.
The advanced light truck tread rubber compound molded into an independent tread block, which is the Michelin Biting Edges, enhances traction on dirt, mud, gravel, wet grass, and snow.
The tire's internal structure includes two or three steel belts depending on the tire's Load Range and manufacturing location which enhances durability and tread puncture resistance.
Warranty
LTX A/T2 comes with Michelin 6 years or 60,000 miles tread-life warranty or half mileage if the rear and front size differ.
Also, it has a wearing uniformity warranty of a year or first 2/32".
You get a 6 years workmanship and materials warranty or free replacement the first year, 2/32" or 25 of wear and prorated until the last 2/32 inch of the remaining depth.
LTX A/T2 comes with a 60-day customer satisfaction Warranty or 3 years flat changing.
Sizes
15''
P 235/75R15 108S XL OWL, LT 31X10.50R15 109R C OWL
16''
LT 215/85R16 115/112R E BSW, LT 225/75R16 115/112R E BSW, 104S SL OWL, LT 235/85R16 120/116R E BSW, P 245/70R16 106S SL OWL, LT 245/75R16 120/116R E OWL, LT 245/75R16 120/116R E BSW, P 245/75R16 109S SL OWL, P 255/70R16 109S SL BSW, P 265/70R16 111S SL OWL, LT 265/75R16 123/120R E OWL, LT 265/75R16 123/120R E BSW, LT 285/75R16 126/123R E OWL
17''
P 235/65R17 103S SL OWL, LT 235/80R17 120/117R E BSW, 245/65R17 107S SL OWL, LT 245/70R17 119/116R E OWL, P 245/70R17 108S SL OWL, LT 245/75R17 121/118R E BSW, LT 245/75R17 121/118R E OWL, 255/70R17 112T SL BSW, 265/65R17 112S SL OWL, LT 265/70R17 121/118R E OWL, P 265/70R17 113S SL OWL, LT 285/70R17 121/118R D OWL
18''
P 255/70R18 113T SL BSW, P 265/60R18 109T SL BSW, 265/65R18 114T SL BSW, LT 265/70R18 124/121R E BSW, LT 275/65R18 123/120R E OWL, P 275/65R18 114T SL BSW, LT 275/70R18 125/122R E BSW, LT 275/70R18 125/122R E OWL, LT 285/65R18 125/122R E OWL
20''
LT275/55R20 113T SL BSW, P 275/60R20114S SL BSW, LT 275/65R20 126/123R E OWL, LT 285/55R20 122/119R E BSW
Pros
LTX A/T2 has a good traction
Provides even wear
Great tread-life of over 70,000 km
It is good on mud pits, rocky terrain, and soft deep sand.
Suitable for farm implement, trucks, and SUVs
Its handling is stable and decent
Its fuel efficiency is good even in demanding commercial applications.
Durable, rugged, and last longer than other brands compared.
Cons
Not great in severe winter condition
Not branded with 3PMSF (Three-Peak Mountain Snowflake symbol).
Loses grip on wet/rainy roads, wet asphalt surface, and pavements.

Alfred's Take
According to the reviews, we can only conclude that this tire is one of the best models in this category and you will not be able to find a better one for driving on gravel roads.
We assure you that putting this tire on your truck, van or SUV will not be a wrong decision as it is definitely among the top tires in this class and will not disappoint you.
---
Conclusion
Michelin LTX A/T2 comes with notable features that give comfort to users and assure safety on roads.
Its good traction and stable handling feature make it appealing to many buyers.
This tire's performance on mud, rocky and soft deep sand makes it a good buy for you if using on-farm implements, heavy trucks, and SUVs.
We hope you find our review of Michelin AT tires helpful and informative in making your buying decision.
If you have any questions, comments, or reviews of this tire,  kindly drop it in the box below, we will be glad to hear from you.
---