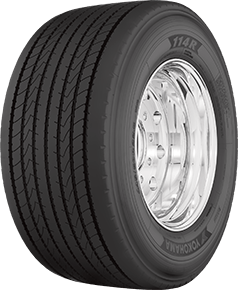 The Yokohama 114R ultra wide-base (UWB) tire is manufactured by Yokohama Tire manufacturing company, (North America), an arm of Tokyo-based Yokohama Rubber Company.
This tire is made for trailers, off-road, and construction applications.
The tire is replacing the Yokohama RY407 with improved technology and standard features.
With its superior cut and chip resistance, extended tread life, and an overall optimized fuel-efficient design, the tire is sure ready for duty.
---
Yokohama 114R UWB Trailer Tire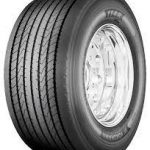 Performance
The newly-designed tread pattern allows for a uniformly distributed contact pressure resulting in greater stability, flawless tracking, and improved fuel efficiency.
The tire's 16/32" groove depth provides a long tread-life which guarantees its long-lasting performance.
Also, its zero-degree belt, which is the cornerstone to its durable and retread-able casing, creates a consistently stable footprint for long and even wear.
Ground contact pressure is uniformly distributed which results in greater stability, tracking, and fuel efficiency.
The 114R UWB tire features modern cut-and-chip resistance and a longer tread-life giving room for fuel economy.
The tire's construction is further strengthened with funnel-shaped step grooves to prevent stones and other debris from reaching the bottom of the grooves and damaging the casing.
Technology
Its 16/32" optimized tread depth delivers maximum efficiency and extra-long tread life.
The zero degree belt creates a consistent stable footprint and durability
The Yokohama 114R UWB comes with a cut and chip resistant compound which resists cut and chip without compromising rolling resistance or wear performance.
The funnel-shaped stepped grooves prevent stones and other debris from reaching the bottom of the grooves where casing damage can occur.
Warranty
This tire is not covered by a manufacturer's tread-life warranty.
Company's Review
Yokohama Tire Corporation is the North American manufacturing and marketing arm of Tokyo, Japan-based The Yokohama Rubber Company Limited.
It is a global manufacturing and sales company of premium tires since 1917.
Servicing an extensive sales network throughout the United States, Yokohama Tire Corporation is a leader in technology and innovation.
The company's complete product line includes tires for high-performance, light trucks, passenger cars, commercial trucks and buses, and off-the-road mining and construction applications.
For over a century, Yokohama has been a world leader in the development of outstanding tire designs and technology that give drivers better road handling and comfort.
Since its establishment in 1917, it has devoted itself to leading the industry with high-tech improvements in the industry.
The company was the first Japanese tire manufacturer to be granted ISO9001 certification in recognition of a quality-assurance, model design, innovative development, manufacture installation, and related services.
Driven by people's needs, Yokohama pride itself with a swift response to environmentally-compatible solutions engineered to outperform others without compromising safety.
It has also made quality ultra-high performance winter tires for medium and heavy trucks, buses, earthmover, and off-road industrial and specialty applications.
The company has more than 700 reputable tire dealers in about 2,000 retail locations globally.
Pros
Stones and other debris injecting technology
Fuel efficiency
Flawless tracking
Greater stability
Cons
As a new tire, none is available for now.

Alfred's Take
The Yokohama 114R UWB is made for drop-deck, closed-axle, and spread-axle trailers and is specifically designed to meet the demands of high scrub operations.
Many of the quality tires the company has produced include those for passenger cars, minivans, light trucks, and SUVs.
This tire comes in one size of 445/50R22.5 for now with other sizes coming up afterward.
---
Conclusion
The tire comes with modern technology that supports the aspiration of drivers' special interest in a convenient road drive, fuel efficiency, greater handling, and durability.
Its funnel-shaped step grooves prevent stones and other debris from reaching the bottom of the grooves where casing damage does occur more often.
We hope you will find our Yokohama 114R UWB review helpful in making a good choice when the need arises.
If you have a comment, question, or review of this tire, leave it in the box below, and we will be glad to hear from you.
---