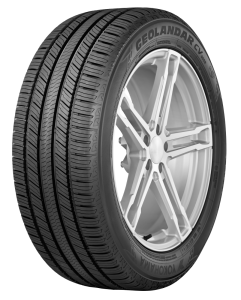 Yokohama recently announced an expansion of its market with Geolandar CV G058 as an addition to its line-up of tires for touring all-season CUVs, SUVs, Pickup trucks, and Crossovers drivers who are looking for reassuring year-round traction combined with a comfortable and quiet ride.
The Geolandar CV G058 is designed to deliver balanced dry performance with dependable wet and wintertime traction, as well as longer tread-life providing confident drive even in light snow.
The tire is a successor to the Geolandar SUV unveiled in 2012 and combines suitability for city driving in an upgraded grand touring status which offers greater comfort in long journeys.
You will get to know more about the new Geolandar in this Yokohama Geolandar CV G058 review.
---
Yokohama Geolandar CV G058
Performance
Complementing the improved basic performance features of a highway tire such as safety and noise reduction, the new tire's total performance has been elevated by enhancing its wear resistance and fuel efficiency.
It has secured the M+S (mud & snow) designation that indicates excellent performance even during snow.
The Yokohama Geolandar CV G058 focuses on refinement on the road plus confidence in inclement weather and extended tread life.
The force needed to be applied over bumps and protrusions is lower, thereby contributing to a smoother and more comfortable ride.
Compared with its predecessor, Geolandar CV G058's wet braking has been improved as well as wet handling stability.
Also, road noise has been reduced by 34%, pattern noise by 9% and vertical axial force has been reduced by 7%.
Yokohama Geolandar CV G058's newly developed profile achieves a wide and flat contact shape that further improves its durability and resistance to uneven wear.
Technology
The tire comes with an advanced CV-2 compound featuring Micro Silica molded into a five-rib symmetric pattern utilizing chamfered edges and rounded rib blocks on the shoulders and intermediate ribs to promote even wear and longer tread life.
Geolandar CV G058 comes with a carefully constructed block profile that increases dry traction and spreads out load characteristics to further support even and longer tread life.
The tire is designed with a distinctive five-pitch variation pattern to help cancel noise that naturally develops as the tread elements roll along the road surface.
Its hydroplaning resistance is managed by large circumferential and pass-through grooves which are constructed to efficiently evacuate large amounts of water from the tread face.
A combination of 2D and 3D sipes works in conjunction with the wet-focused CV-2 compound to boost the tire's traction in wintry and slippery conditions.
Geolandar CV G058 comes with biting edges created by the sipes combined with serrated outer grooves to promote wintertime traction and stability.
The tread pattern is optimized for a quiet, comfortable driving experience and the internal construction helps deliver engaging handling characteristics.
The internal construction of the Geolandar CV G058 consists of a two-ply polyester casing providing a robust and responsive package.
Twin steel belts are reinforced by a nylon cap ply to further enhance handling and high-speed stability.
The tire's tread pattern features Yokohama's proprietary "sipe-based pattern" which increases edging efficiency.
Warranty
Geolandar CV G058 comes with 5 years or 65,000 miles tread-life warranty, uniformity warranty of first 2/32" of wear and workmanship & material warranty of 5 years or free replacement if the tire wears the first year of purchase or 2/32" of wear which will then be prorated to 2/32" of the remaining depth.
The tire also comes with a 30-day Test Drive manufacturer's special warranty.
Tire Sizes
16"
215/65R16 98H, 215/70R16 100H, 235/70R16 106H
17"
215/60R17 96H, 215/65R17 99H, 215/70R17 101H, 225/55R17 97V, 225/60R17 99H, 225/65R17 102H, 235/55R17 99H, 235/60R17 102V, 235/65R17 108V, 245/65R17 107H, 255/60R17 106H
18"
225/55R18 98V, 225/60R18 100H, 235/50R18 97V, 235/55R18 100V, 235/60R18 107V, 235/65R18 106V, 245/60R18 105H, 255/55R18 109V
19"
225/55R19 99V, 235/50R19 103V, 235/55R19 105V, 245/55R19 103H, 255/50R19 107V
20"
235/55R20 102V, 245/50R20 102V, 255/50R20 109V, 255/55R20 110V
Pros
Comfortable and quiet ride
Great handling
Longer tread-life
Wears evenly
Balanced dry performance
Dependable wet and wintertime traction
Cons
It is a new tire, hence no negative reports yet.

Alfred's Take
Geolandar CV G058 comes with 5 years or 65,000 miles tread-life warranty and uniformity warranty of first 2/32" of wear.
The new tire is available in 43 sizes, ranging from 265/50R20 107V to 205/70R15 96H.
All in all, it can be said that the Geolandar CV G058 tire is a luxury all-season tire ideal for your crossover or minivan.
---
Conclusion
Yokohama Tire Company came up with Geolandar CV G058 to add more value to consumer options.
The tire is built with the company's new technologies that enhance its total performance.
The 2D/3D combination Sipes enhance the tire's resistance to uneven wear while also improving traction on wet and snow-covered roads.
Its use of four combination grooves further enhances traction while also preventing hydroplaning and the tread pattern's five-pitch variation eliminates annoying pattern noise.
We hope you will find our Yokohama Geolandar CV G058 review helpful in your buying decision-making.
If you have a review of this tire, comment or question kindly leave it in the box below.
We will be glad to hear from you.
---