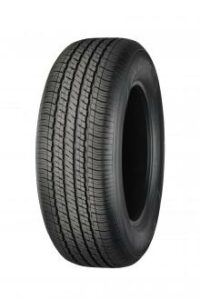 Avid S34RV is Yokohama's touring and all-season passenger car, SUV, and light truck tire that comes with superior drivability, safety, and higher fuel efficiency.
Yokohama applied basic design and materials technology as obtained in its "bluEarth" global brand based on the human and environmentally friendly concept in developing the new Avid S34RV.
The tire is best for all-season drivers who care for a combination of a smooth ride, good wear, and 'S' or 'T' speed-rated durability along with good traction even in light snow.
It is branded with the M+S symbol, often used as Original Equipment (O.E.) on standard coupes, sedans, and family vans, as well as some entry-level pickup, crossover, and sport utility vehicles.
It comes with a workmanship and materials warranty of 5 years or free replacement first year or 2/32" of wear which can be prorated to 2/32" of remaining depth.
Get to know more about this new Yokohama tire in this Yokohama Avid S34RV review.
---
Yokohama Avid S34RV
Performance
The tire promotes a comfortable driving experience as the ribbed pattern manages to channel the airwaves through the footprint, disallowing any contact with the tread elements to generate low noise and enhances passengers' driving enjoyment.
Its close road contact absorbs the shock of driving while the tires are in motion. This significantly lowers the road vibrations felt in the vehicle's cabin.
This combination guarantees a quiet and enjoyable performing capability.
The tread design enhances better handling and on-road controllability.
The ribbed design maintains the ideal road contact throughout the tire's performance, thus allowing the tire to increase the steering responsiveness and driving stability.
Its symmetric ribbed tread design and the all-season compound promote the tire's all-weather traction while the detailed sipping and grooves also increase its dry, wet and wintry weather road gripping and power.
The tire is manufactured for passenger vehicles such as the latest-model sedans, SUVs, sports cars, and compact cars.
It is also good on cars like Hyundai, KIA, Honda, Isuzu, BMW, Chrysler Voyager, Acura, Cadillac, Dodge, Mercedes-Benz (ML series), Mitsubishi, and Volvo.
Technology
The tire's rock-solid casing and tread pattern construction feature multiple sidewall plies, steel belts, and a full nylon cap for strength that provides protection even in the harshest off-road conditions.
The tire enjoys longer-lasting tread wear as a result of its high-density, wider and flatter compound.
The tire promotes excellent all-weather traction through the symmetric ribbed tread design.
The detailed sipping and groove placement and the all-season compound increase the dry, wet, and winter weather road gripping ability and power.
The tread elements improve the grip on the road surface throughout the year, while the compound keeps its rubber flexibility in versatile weather.
The tread's circumferential groove pattern manages to prevent hydroplaning. These grooves disperse water and slush from below the footprint and enhance the wet and winter performing safety thus ensuring a safer year-round drive.
The ideal shoulder tread block placement upgrades the cornering ability. These blocks boost the number of biting edges gripping the road surface during maneuvering, which ensures a secured vehicular control at all times.
The tire's ideal symmetric ribbed tread and its close road contact help to absorb driving shock while in motion, thus significantly lowering the road vibrations felt in the vehicle's cabin.
Its aggressive sidewall armor protects the tire from punctures, thereby prolonging its life span.
Warranty
Avid S34RV has no tread-life warranty for now but is equipped with 5 year workmanship and materials warranty and Uniformity warranty of free replacement for the first year or 2/32 inch of wear then prorated until the last 2/32 depth.
Pros
All-season traction
Enhanced controllability
High driving comfort levels
Remarkable road handling
Cons
Not good on snow driving surfaces.

Alfred's Take
If you choose to buy a Yokohama Avid S34RV tire, you can be sure that it will provide you with an outstanding ride even in the harshest off-road conditions.
Plus, you will be enjoying longer-lasting tread due to a high-density compound and wider, flatter profile.
---
Conclusion
Yokohama Avid S34RV is an all-season tire with the assured all-year-round ability with a quicker and more accurate response to the driver's commands.
Its ideal symmetric ribbed tread and closeness to the road surface helps to absorb driving shock while in motion and reduces road noise significantly.
However, the tire has a relatively poor grip and directional stability in light snow as it may be stationary in anything deeper than ½ inch, thus not recommend unless you live in a snow-free climate.
We hope our Yokohama Avid S34RV review will help in your decision-making.
If you have a comment, question, or review of this tire, leave it in the box below.
We will be glad to hear from you.
---