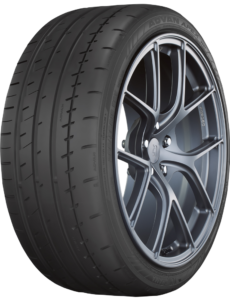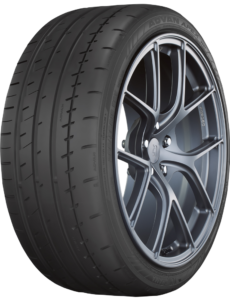 Yokohama Advan Apex V601 is a Y-rated ultra-high-performance tire made specifically for the summer season and designed for sports cars, performance sedans, and sporty coupes.
This tire is built to deliver precise handling with maximum grip when on wet and dry driving surfaces.
In this Yokohama Apex V601 review we will get to know more about this tire, its features, and what it has to offer.
---
Yokohama Advan Apex V601
Designed For What Driver
The Yokohama Advan Apex V601 is designed for drivers of performance cars, from sports cars to performance sedans and sporty coupes, who desire the summer feel when driving while retaining a good grip on wet and dry driving surfaces.
Season
The Yokohama Advan Apex V601 is an ultra-high-performance summer tire, specifically for the summer season which delivers ultimate traction and good performance on dry and wet roads.
Technology
An optimized groove is built to help reduce noise when driving, thereby giving a quiet ride.
The Advan Apex V601 high-grade silica tread compound is molded into an asymmetric compound.
Wide outboard rib for lateral grip.
The narrow outer groove dissipates heat.
The solid center rib improves the handling and helps keep stability even under high speed.
Circumferential grooves help evacuate water when driving on wet surfaces or rain to reduce the risk of hydroplaning.
Single-ply casing and two-ply sidewalls for improved handling and stability.
Two wide steel belts reinforced with two spirally wound nylon cap plies support the tread.
About The New Advan Apex V601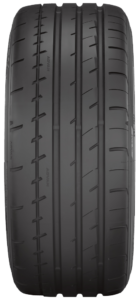 As stated by Yokohama, the new Advan Apex V601 is a Y-rated ultra-high-performance summer tire is built upon the legacy of the A008, AVS Intermediate, and the AVS Sport.
The company boasts 100 years of experience rolled into one tire designed to conquer the U.S. roads.
This tire is built for performance cars and gives the summer feel on a dry and wet road when driving.
With the technology in place, you do not have the fear of hydroplaning risk when driving in the rain.
You get a good grip in wet and dry conditions and the optimized groove angle is in place to reduce the road noise when driving.
It has a strong sidewall that gives superior handling and precise cornering without any hassle.
Warranty
The Advan Apex V601 comes with 5 years or 25,000 miles warranty, combined with a uniformity warranty for the first 2/32 inch of wear.
Workmanship and materials warranty is available for 5 Years and free replacement for the first year or first 2/32 inch of wear then it is prorated until the remaining 2/32-inch depth.
Yokohama gives consumers 30 days free trial, so you can give it a trial and if it does not suit your driving style then you can have it returned.
If this tire is exposed to temperatures of 20 degrees F (-7 degrees C) or lower it should be given time to cool to a temperature of at least 40 degrees F (5 degrees C) or left for 24 hours before they are used in any way.
Either to drive or just inflate after it is being exposed to cold, the cold could cause the compound to crack.
There is no warranty for compound cracking.
If it does then the tire should be replaced.
Features
The rounded rib improves the tire's contact pressure with the road and reduces uneven tread wear.
Y rated ultra-high-performance tire.
Superior handling
25K limited warranty
Tire Sizes
Size 17
225/45R17 94Y, 245/40R17 95Y, 245/45R17 99Y
Size 18
225/40R18 92Y, 225/45R18 95Y, 235/40R18 95Y, 235/45R18 98Y, 235/50R18 101Y, 245/40R18 97Y, 245/45R18 100Y, 255/35R18 94Y, 255/40R18 99Y, 255/45R18 103Y, 265/35R18 97Y, 275/40R18 103Y
Size 19
225/35R19 88Y, 225/40R19 93Y, 225/45R19 96Y, 235/35R19 91Y, 235/40R19 96Y, 245/35R19 93Y, 245/40R19 98Y, 245/45R19 102Y, 255/30R19 91Y, 255/35R19 96Y, 255/40R19 100Y, 265/35R19 98Y, 275/35R19 100Y, 285/30R19 98Y, 285/35R19 103Y
Size 20
235/35R20 92Y, 245/35R20 95Y, 245/40R20 99Y, 245/45R20 103Y, 255/35R20 97Y, 265/35R20 99Y, 275/30R20 97Y, 275/35R20 102Y, 275/40R20 106Y, 285/30R20 99Y, 285/35R20 104Y, 295/30R20 101Y, 305/30R20 103Y, 305/35R20 107Y
Pros
Summer feel on a wet and dry surface
Supper handling when driving
Good grip
High performance
Cons
Low tread life warranty
Will crack when exposed to freezing temperature

Alfred's Take
It is necessary that tires are properly used and stored.
In case of compound cracking, you will not be able to make use of the warranty, as this is not a warrantable condition.
Make sure you replace the tire with compound cracking, so as to have a safe ride.
---
Conclusion
You can give this tire a try on your performance vehicle using the 30-day trial if it suits your driving style.
If an ultra-high-performance tire that gives a summer and sporty feel is what you need then this tire will be great for you.
We hope you find our Yokohama Avid Ascend V601 review helpful.
If you have a review of this tire, comment or question leave it in the comment box below.
We would like to hear your thoughts and be of help.
---