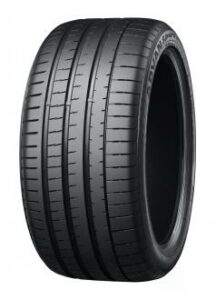 Yokohama Rubber Company Limited developed and recently introduced a high performance Advan Sports V107 primarily for use on high-powered premium cars. It came as a replacement to Advan Sports V105 tire that have been used as OE on the BMW models since 2018.
Suitable for minivans, passenger cars, SUVs, CUVs, Acura, BMW series, Mercedes-Benz, Boxsler Cayman, Toyota cars and jeeps, Mazda 323, 626 series, pick-ups and light trucks. You will get to know more about this new Yokohama tire in this Yokohama advan sports V107 review.
Advan Sports V107 tire is available in three sizes of 275/50ZR20 113Y or 285/40ZR22 110Y (front) front tires and 325/35ZR22 114Y tires.
The tire is backed by a 70,000-mile or 110,000-kilometre limited warranty and supported by the industry leading Firestone 90-Day Buy & Try Guarantee which allows customers to return their tires within 90 days for a full refund or exchange if they are not satisfied with their purchase.

Performance
Advan Sport V107 tire is built to perform and to deliver an exceptional driving experience. Its wider tread blocks on the outside of the tread enhance dry performance while the increased groove area on the inner portion maximizes wet performance.
The tire delivers perfect balance of sports and comfort with exceptional handling and braking both in dry and wet conditions. Its matrix body ply structure enhances steering ability.
The company recently announced that Mercedes-AMG has selected Advan Sports V107 tire as its original equipment for the new Gle 53 4matic+ cars.
Sports V107 improves upon the already excellent driving performance necessary for premium cars delivered by its predecessor (Advan Sport V105) while maintaining the superior comfort, smooth drive and safety of the V105.
The tire was jointly developed with Mercedes-AMG and bears the automaker's "MO1" mark of approval on its sidewall.
Technology
Advan V107 is built with high rigidity rayon carcass material that improves precision in steering without compromising comfort. This contributes to excellent performance in the dry by conveying power to the road's surface.
The tire's cross-sectional shape of the tread was optimized to maintain and deliver strong and perfect grip in the dry condition as well as enhancing outstanding hydroplaning resistance.
Its mound profile is built with asymmetrical pattern to strengthen wet and dry performance.
V107 is built with microsilica+ dispersed material which controls excessive heat for wet grip and high mileage.
Its variable pitch tread reduces pattern noise thus offering a quiet and comfortable ride.
Sports V107 new compound is jointly developed with one of the world's leading automakers assists to achieve enhanced grip performance.
The thin slit sipes positioned on the side of the ribs suppresses external vehicle rolling noise
The asymmetrical pitch variation optimizes pitch on the outside and inside of the tire to achieve both enhanced maneuverability and quietness.
Pros
Great handling in both wet and dry conditions
Good traction
Quiet ride
Good resistance to wear
Good dry and wet performance.
Cons
Relatively new tire hence no negative comments yet.

Warranty
This Advan tire is backed by a 70,000-mile (110,000-kilometre) limited warranty and is supported by the industry-leading Firestone 90-Day Buy & Try Guarantee.
Which allows customers to return their tires within 90 days for a full refund or exchange if they are not satisfied with their purchase.
It is also covered by this warranty for the life of the original usable tread down to 0/32″ (0mm) remaining but not exceeding 5 years or 60 months from date of purchase.
Tire Sizes
18"
225/60 R18 W
20"
275/50 R20 Y
22"
325/35 R22 Y
285/40 R22 Y
325/40 R22 Y
285/45 R22 Y
Conclusion
The Advan Sports V107 although replaces Sports V105 but still retain and built upon the technologies that deliver smooth ride, comfort and durability to give customers great value for their money.
The tire is suitable for your passenger car, SUV light truck or commercial bus that are faced with a wide array of seasonal, surface and other conditions in order to deliver in urban environment.
Yokohama Advan Sports V107 tire will offer you quieter and more comfortable ride with great handling in both wet and dry conditions if you decide to get some for your choice of vehicle.
We hope you find our Yokohama advan sports V107 review supportive and informative enough as desired.